Three Common Thoughts Everyone Has About Winter Driving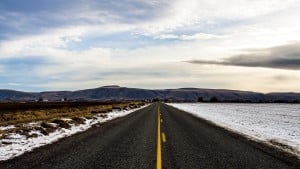 It's the most wonderful time of the year! With festive lights adorning the streets and lots of holiday cheer in the air, we almost forgot about the onset of cold weather and worsened driving conditions.
Yikes!
But don't fret – We're all in it together! Here at Number 1 Plates we bet you could identify with at least one of the following most common thoughts people have about winter driving….
I wish my window would defrost faster! Blasting the heat while sitting in the drivers seat waiting to see through a frosted in window and shivering uncontrollably. Oh, we've all been there!
What's that noise?! Oh, that?! That would be the cars way of yelling at you for leaving it out in the cold over night. Long gone are the days where the car starts without stammering and stuttering giving you the creeping anxiety that today is the day it may not start. So you sit and you whisper "Come On, Come On, Come On!" until all of a sudden….Voila!
Have you got that smug feeling that you're capable of navigating the roads without winter tyres? Sure your confidence may be high now, but wait until that second snowfall hits and you become one of those people slipping and sliding! Gulp!
You're not alone in your winter driving adventures! Be sure to bundle up, keep the tunes fiery and give yourself enough time to get to and from your destination to stay safe and happy this season on the road!