Unveiling The New Aston Martin DBR22
Revealing The New Aston Martin DBR22…
Let's Take A Look!
The Exclusive Q branch of Aston Martin is 10 years old and they have unveiled a special car named the DBR22 Speedster to commemorate the anniversary.
The British Sports Car Manufacturer have said that the DBR22 is traditionally Aston, with design cues reminiscent of the DBR1 and DBR3. However, this time the coach-built body is made of carbon fibre, which they sculpt into an aggressive shape to giving car a real muscular appearance.
Moreover, the DBR22 has a 5.2 litre twin-turbo V12, that produces 705bhp and 753Nm of torque. Quite feisty isn't it? Especially as the rear wheels retain the power! This power and torque will get you from 0-60 in 3.4 seconds and will top out at 198mph – absolutely incredible!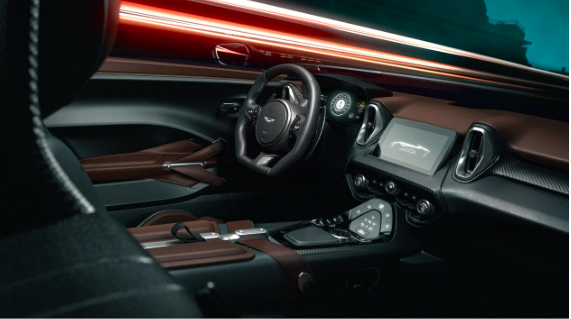 How Exclusive Is It?
Have you got a favourite colour or a favourite piece of material in your home? Good, because Aston's Q division will colour match this and replicate it on the car's exterior paintwork. The centre-lock nuts on the 21' wheels are fully customisable from an extensive colour palette. The wheels have a unique 14-spoke design, with a low racing car windscreen and small, slim wing mirrors.
In addition, on the rear, there's a full width light bar which is very inkeeping with the times. Even the newest Seat Leon gets this design on it's rear. The Aston's diffuser has a central exhaust system, with a single piece of bodywork on the rear… To keep the car looking smooth and improve airflow around it's backside.
Smart doesn't even come close..
The interior is all new and could be the sign of things to come for new Aston Martin's, with a central touchscreen, giving the dashboard a cleaner look. All of the components contain a leather shell with parts of carbon, giving it a classic yet modern feel. 
3D printing has been used for the first time by the British manufacturer, with aluminium 3D printed components being bonded together to form the rear subframe; this creates a stiff yet lightweight subframe. The car has adaptive dampers and an engine map that has been tweaked to give the DBR22 a manner and delivery unlike any other model. Could this map mean that it gives a more authentic feel to the power application?
What do you think to the DBR22? We think it's a thing of beauty.