Affordable & Cheap Number Plates Builder
Cheap Registration Plates & Number Plates Maker
Cheap Replacement Number Plates – Saving on Cost, Not Quality!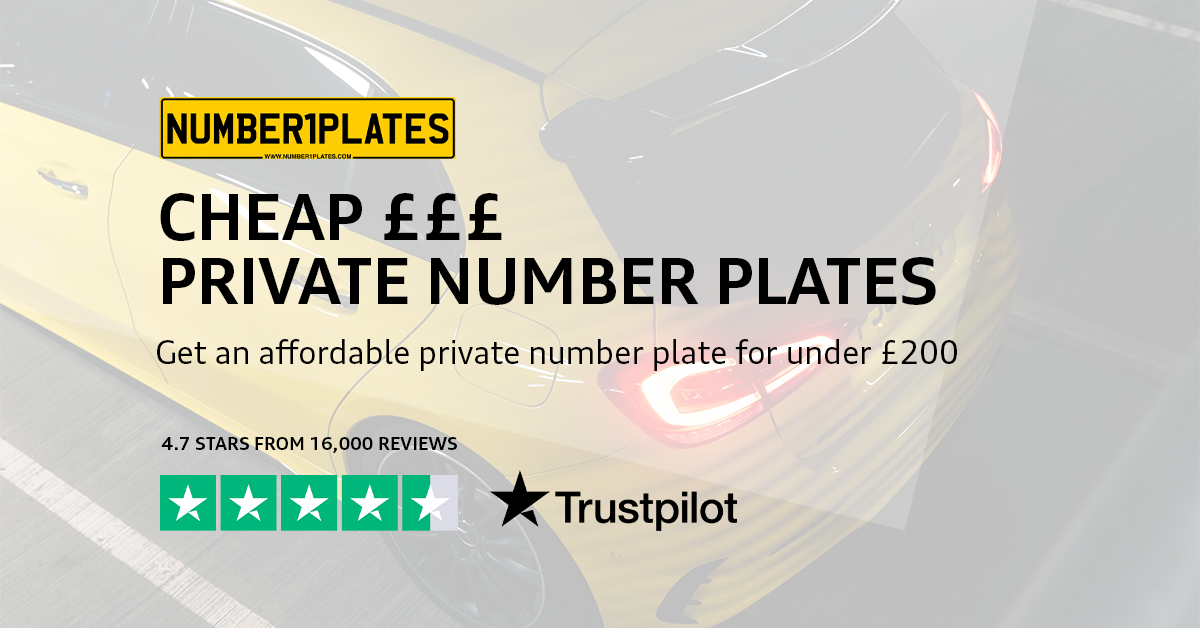 When we refer to the cheapest number plates, we speak about both tangible registration plates, and private registrations. In both cases, they are not cheap because we make cuts on the quality. Sometimes all that a customer may need is a no nonsense product, that does that job and does it well. We offer cheap number plates that are great on a budget and will no doubt impress any buyer.
Our replacement number plates are our budget solution that do exactly what you require of them. Maybe you're selling your vehicle and you need to ensure that you tie up all of the loose ends and have it in respectable condition for the sale, these cheap plates are perfect for you.
Where can I buy cheap number plates?
Shopping with Number1Plates couldn't be simpler. As a DVLA registered supplier of both licence plates and private registrations, we have the regulators behind us, so you know we are well prepared. We use British Standard grade reflective and acrylics to ensure that this products is fully road legal and will stand the test of time, with no issues. If you were to encounter any problems, which we are sure you won't, then take comfort in our 3 year guarantee.
How do I buy cheap registration plates?
All of our cheap number plates are made here in our factory using the latest technology, meaning all of our cheap number plates only leave after going through strict quality control. So don't wait around, use our cheap number plate maker now to build your desired items. Once you have placed your order and provided your documents, we can dispatch your order right away. Cheap replacement number plate prices start from just £18.98.
Cheap private number plates under £200
Price checked against all of our competitors, you will not find cheaper number plates for less. If you are going to buy number plates from any UK suppliers then you should be using one of the most popular and reputable companies. If you're lucky enough (or earn enough) to own the rights to 'A1' show plates then you can purchase the simple, clean look, cheap registration plates to match from us, your one stop number plates shop.
Visit our private number plates pages to begin your search for the perfect new registration. With over 50,000,000 dateless, cherished, suffix and prefix styles to choose from, it will be harder to not find what you are looking for!
It must be mentioned though, if you are looking for a cheap personalised registration plate for under £200, then you may need to look at plates that are not dateless. As these are the old style of plate, dating all the way back to 1903, they often have an increase value than other plate types.
These cheaper styles don't mean that there is less room for personalisation. Many of these cheap reg plates actually give people the opportunity to include their initials, name and important dates within their registration to make it a much more sentimental product. This way, you know that it really is worth every penny.
If by any chance you find your desired number plates cheaper elsewhere, please get in touch. We don't offer a price-match guarantee, although we will do all that we can to give you the deal that you truly desire. We will also give you a full breakdown of all of the costs that are required to be completed by yourself to transfer your new reg to your vehicle.