Cherished Number Plates
Discover and buy the perfect cherished plates today!
Welcome to our cherished number plates page, where you can find the perfect personalised registration for yourself or a gift to a loved one. As a registered private number plate supplier we can now offer you your dream personalised registration plate at the very best prices. We have an endless amount of private regs for sale.
What are cherished number plates?
Cherished number plates (often referred to "dateless number plates") can be the perfect finishing touch to your new vehicle. Or a great addition to make your car timeless with the ideal dateless personalised registration. They have also often served as great investments. Many cherished plates have massively increased in value over the years. So if you find the right buyer, then you could earn yourself a huge amount of profit!
As cherished plates were original implemented, they were provided in a variety of formats. To start with, they consisted of an area code, followed by one to four numbers that were given out sequentially. For example "A 1", "AJ 112" or even "L 998". When this collection and variants was fulfilled, the combinations were reverse. With the new cherished registrations beginning with number of 1 to 9999 followed by a space and one to three letters. 
Although there are many plates out there that are upwards of £10,000, you do not need to be put off. Some of the registration in our database can sell for as little as £170. There is something out there for everyone and we will ensure no stone is left unturned in the search for your perfect plate. They also make a great match for our vintage number plates, for vehicles manufactured before 1979.
How do I buy cherished plates?
It all starts with a search. You can browse our enormous selection of over 50,000,000 different registration and find your perfect match whether you're looking for something to match your name, an important date or someones initials. 
If you are unable to find what you need then don't hesitate to call our Private Number Plate sales team. They have access to a live system, that is updated daily making it the best place to find exactly what you need. As one of the most used number plate suppliers in the UK, we pride ourselves on our customer service so you will have an easy going experience with us. To sell your plates you could consider the world best and most used auction site. Ebay's cherished plate auctions have proven a great way to make profit on your registrations. .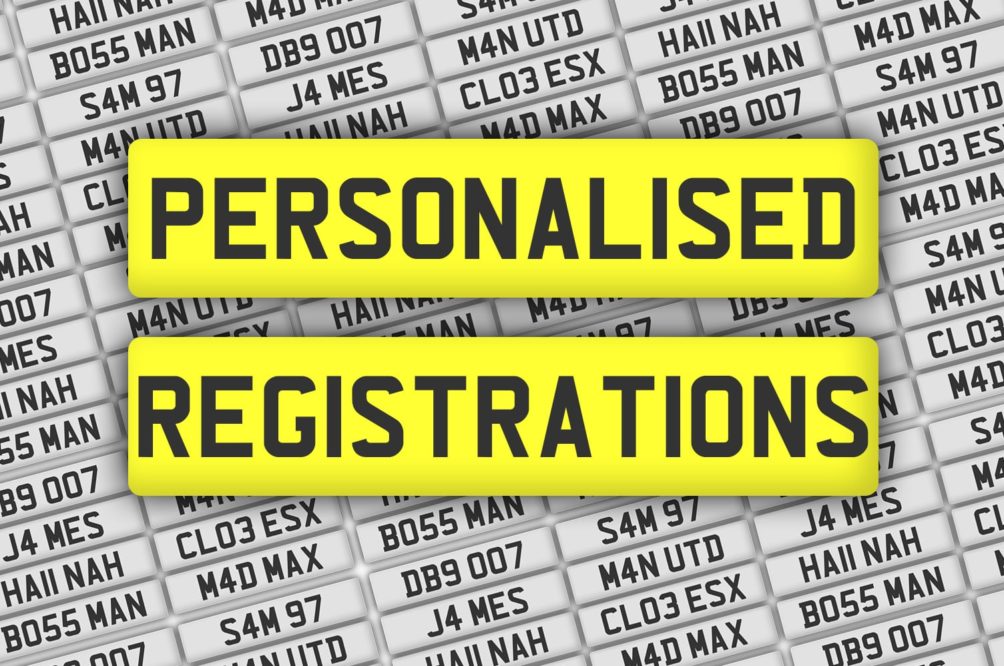 How do I transfer cherished registration plates?
You can have your registration in two forms. Either assigned to your vehicle and on your vehicle logbook or on a certificate of entitlement. The certificate of entitlement is the legal document that you will receive after you purchase a new cherished reg. Maybe you have purchased it as a gift for somebody else. In this case you can present them with the certificate and the plates, and allow them to assign it to a vehicle of their choice. 
When you buy buy from us, we can take care of all of the paperwork for you. Meaning we can take your order, transfer it to your vehicle, and deliver your private reg plates to you. Without you having to do any of the leg work! But remember, you will have to pay a transfer fee whenever you are looking to put the plates onto another car!
This is the best place for you to buy number plates online. We are a one stop number plates shop covering all of your cherished number plates and replacement plate needs. Get searching!
Standard Price
VAT
Total
Call
£6316.00
(+£80 DVLA Tranfser Fee)
£360.00
(+£80 DVLA Tranfser Fee)
£1119.20
(+£80 DVLA Tranfser Fee)
£440.00
(+£80 DVLA Tranfser Fee)
£144.00
(+£80 DVLA Tranfser Fee)
£159.20
(+£80 DVLA Tranfser Fee)
£239.20
(+£80 DVLA Tranfser Fee)
£200.00
(+£80 DVLA Tranfser Fee)