Cherished Number Plates
Discover and buy the perfect cherished plates today!
Cherished number plates make a perfect gift, whether that's for a family member, friend, partner or even yourself! As an official DVLA Registered Number Plate Supplier, we are fully authorised to buy and sell cherished plates, and have our own exclusive database which we can search for your perfect cherished plate!
What are cherished number plates?
A cherished registration contains a sequence of characters which forms a registration mark of significant age, and typically have some sort of value to their owner. When number plates were first introduced in 1903, prior to the suffix system coming into play in 1963, all cars displayed a registration number which contained an area marker and a randomly assigned number, which meant that there was no way of identifying the age of the vehicle it was assigned to.  For this reason, cherished reg plates are otherwise known as dateless number plates. 
Cherished registration plates can appear in a number of different styles, with either 1, 2, 3 or 4 numbers, followed by 1, 2 or 3 letters, or the reverse, with the letters coming first prior to the numbers. For example, DAD 1, RW 25 or 702 TCR could all be considered as dateless or cherished registrations. 
One of the benefits of a cherished number plate is that it really does make your car stand out from the crowd, with it impossible for anyone to identify the age of your vehicle just by looking at it. This makes cherished numbers popular with classic and vintage car enthusiasts and owners who want to hide the age of their vehicle or make it a little more personal to them. If this sounds like you, then once you've purchased your cherished reg, then you may be interested in a vintage style plate to have it printed on, although this can only happen if your vintage car was manufactured prior to 1980!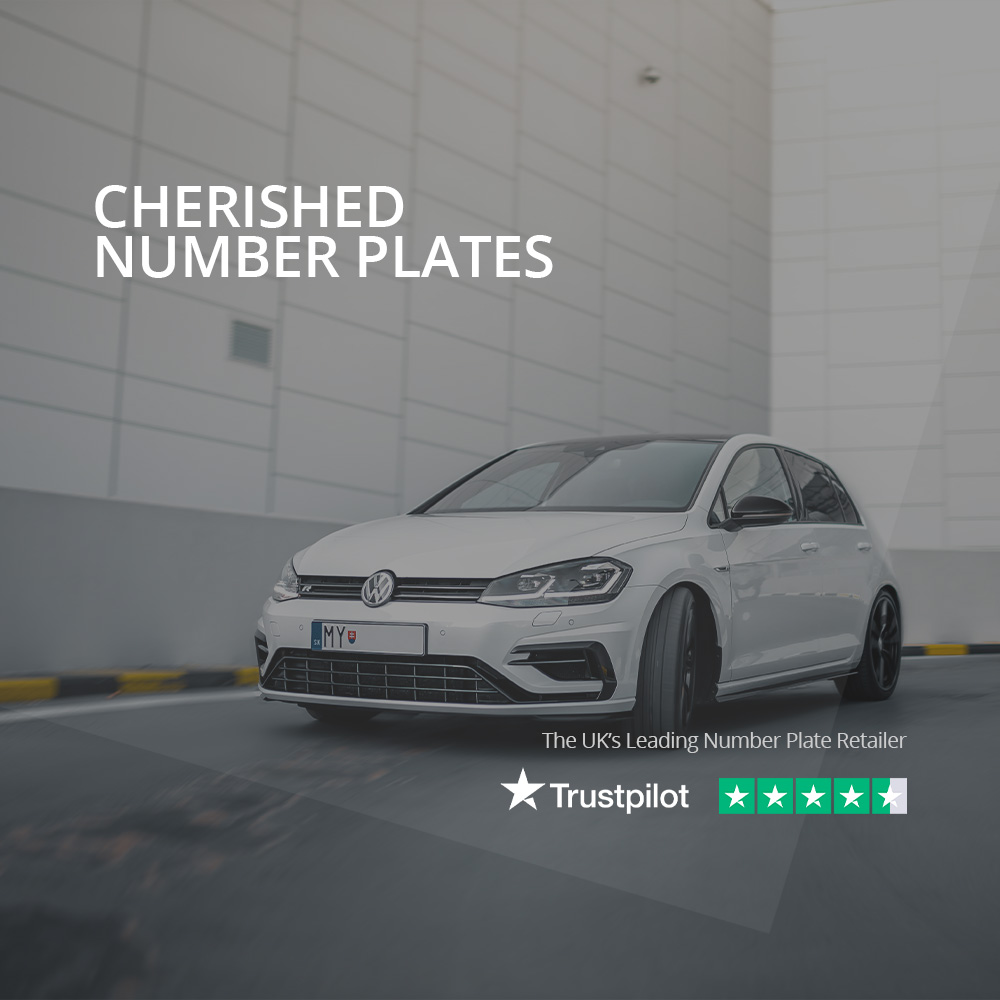 Cherished plates can also make a fantastic opportunity too! Although they are typically more expensive than suffix, prefix or current style plates due to their rarity, sometimes it's possible to grab yourself a bargain, particularly at auction, and reap the rewards in years to come!
How much are cherished registrations?
Typically cherished registrations are the more expensive option when it comes to private registrations, simply because of their age and rarity, so if you've come looking for cheap cherished number plates, you might be in for a bit of a shock! The cheapest cherished number plates typically start well over a thousand pounds, so if you're prepared to spend that on a private registration, then we're sure we can help. Whether you're you're looking for one of the cheapest cherished plates or one of the rarer, more expensive options, we have a considerable number of cherished registration numbers on our database, and we're sure you won't be disappointed with the options available to you.
Put simply, if you're looking for cherished number plates for sale, then you've come to the right place.
How do I buy cherished registration numbers?
Buying cherished car number plates and cherished registrations is easy, but it's made even easier by the tools, knowledge and expertise at your disposal via the Number 1 Plates team!
Firstly, it all starts with a simple search. If you have an idea of what you're looking for, be it a name, initials or significant date, then just enter it into our search function, and click the search icon. We'll then display the most relevant results to your search, with over 50,000,000 registrations available in our database. Then, all you have to do is pick one of our many cherished plates for sale! It may be that you're looking for cheap cherished plates or something a bit pricier as an investment, but if you can't find what you're looking for though, then feel free to get in touch with us and one of our friendly, helpful team members will be able to help you find your perfect dateless reg. 
Historically, if you wanted to sell a cherished registration, Ebay's cherished plate auctions were a long standing method of people offering cherished numbers for sale. Now though, we offer a unique sales service, allowing you to advertise your registrations to thousands of potential buyers.
How do I transfer cherished registration plates?
Transferring your new cherished registration is simple! Once you've purchased a cherished registration, you can then assign it to a vehicle either by post or online. To do this, you'll need your V750 certificate of entitlement, or if you already own the registration, then you'll need a V778 retention document.  Of course, you'll also need your vehicle's V5C document in order to assign a registration. We'd always recommend that you do this online rather than by post as it's significantly quicker than waiting for the postman! Of course though, here at Number 1 Plates we can take care of all of this for you, so you don't need to do anything.
If you're not ready to assign the registration, you can keep it on retention. You'll receive a V778 retention document which proves you're the person who is entitled to own the registration, which will allow you to assign it at a later date.
So, if you're looking to buy cherished car number plates, cherished registrations or dateless registration plates, whatever combination of letters and numbers you're searching for, here at Number 1 Plates, we can help! Try us today!