Car Crime Hotspots: The Riskiest Postcodes in the UK
Vehicle thefts across England and Wales have soared by more than a fifth in the last three years, according to police data. However, vehicle crime varies wildly depending on the area.
Here at Number1Plates, we've looked at the vehicle crime rates across UK postcodes to find out the most unsafe streets to park your car. The research was conducted using data from UKCrimeStats, and analysed to find the vehicle crime per person in each UK postcode.
The research revealed London as by far the riskiest area to leave your car parked, with postcode areas across the capital and surrounding areas taking the majority of the top spots, closely followed by Birmingham streets.
The UK's Most Dangerous Postcodes For Parking
We've ranked the postcodes with the most vehicle crime per person, to find the worst places to park your car: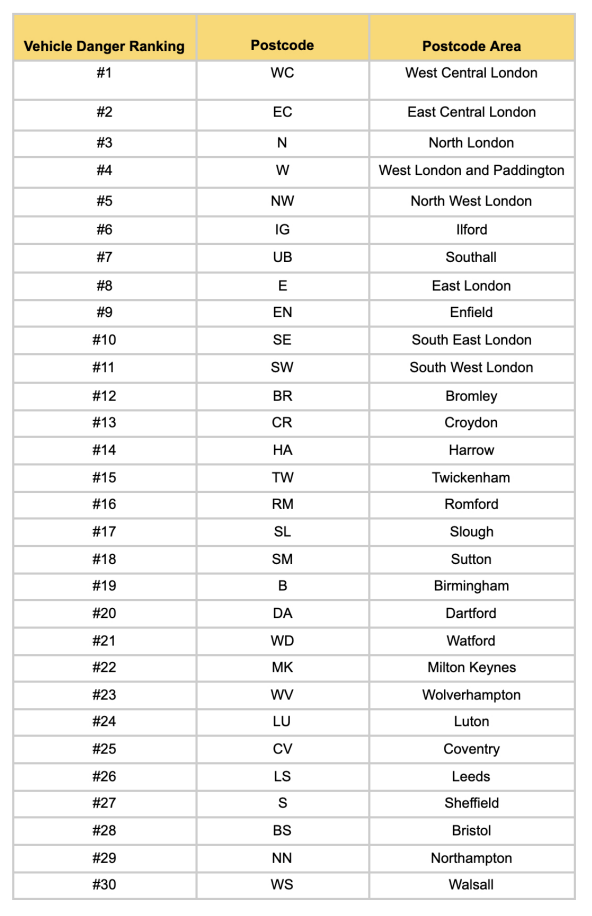 London dominates dangerous postcodes 
The City of London is the most dangerous place to own a car in the UK, with central London and its surrounding areas dominating the top 16 spots on the risky postcode list. 
Crime rates in your area also feed into your insurance risk factor, so a London postcode can not only make you more likely to fall victim to a car crime, but it'll also push up your insurance premiums.
London's Most Dangerous Boroughs For Parking
With London topping the dangerous parking postcodes, we delved deeper and looked into the riskiest boroughs for car owners.
We analysed vehicle crime rates using Metropolitan Police data, and identified the riskiest London boroughs to park in: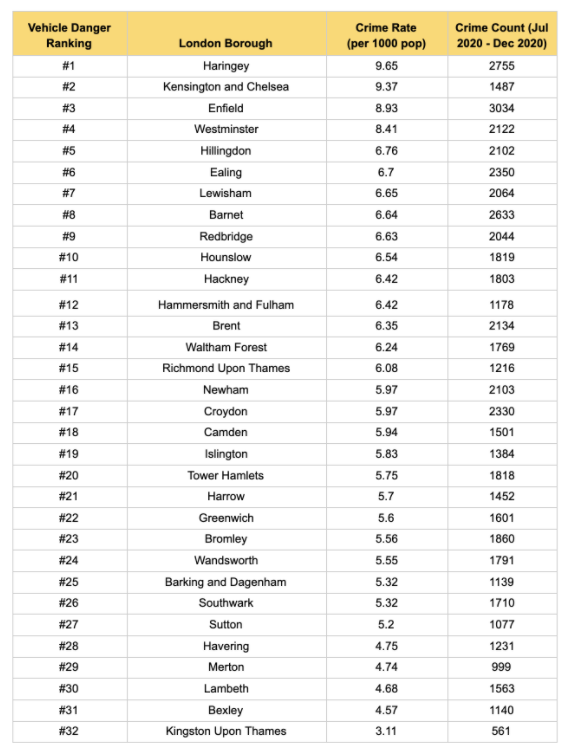 Leeds has the riskiest postcode in Yorkshire
There is more vehicle crime per person in Leeds than any other area in Yorkshire. The Sheffield postcode wasn't too far behind, coming in as the second most dangerous place to park in Yorkshire.
Not only is vehicle crime rife per person, but thieves are getting away with it. According to recent statistics, nine in ten cases are dropped by police in Leeds.
Danger in the Midlands
After London and the surrounding areas, the most dangerous postcode falls in the Midlands, with Birmingham in the top spot. Wolverhampton, Coventry and Walsall also all feature in the top 30 worst postcodes to park your vehicle.
Capital Cardiff tops Welsh risky postcodes
There's more vehicle crime per person in Cardiff than any other Welsh postcode. Cardiff is followed by Newport and Swansea as the next most dangerous postcodes for parking your car.
8 Top Tips to Keep Your Car Safe

Aldan Ibbetson, motoring expert at Number1Plates says, "Although having comprehensive insurance will minimise the cost of theft or damage, doing your best to prevent this in the first place is the most sensible way forward. There are a few simple ways to do this – including not leaving car keys accessible. Alongside this, we would always recommend people to use secure, theft-resistant number plates, and remove sat navs from the car when you park up."
Lock your vehicle

: It may sound obvious, but most thefts are opportunistic, with targeters checking rows of car door handles. Always double check your car is locked before you walk off, rather than just relying on your fob – some criminals use 'jammers' to intercept the signal between the fob and the car, leaving the vehicle unlocked. Also, never leave the engine running whilst the car is unattended.



Block key fob signals:

Smart car keys use a unique frequency to communicate with your car. Some experienced thieves can use a device to replicate these signals, and emulate the presence of the key. However, protect yourself from theft, by putting your keys in a signal blocking pouch, such as a Faraday bag.

Be wary of where you park: It's harder for criminals to steal your car from off-road parking or a garage. Where that's not possible, park in a well-lit area, that's relatively populated. If you're on an incline, park with your wheels turned towards the curb to make it harder for criminals to tow it.
Make sure your keys are safe and hidden: The easiest way to steal a car is for criminals to get their hands on your car keys. Keep them safely stowed away – don't leave them anywhere accessible, such as by the door, or visible through a window.
Add additional security measures: There's lots of technology out there to help. Enhanced protective glass is designed to prevent 'smash and grab' attacks, and tracking devices increase the chances of recovery. You could also invest in steering wheel, pedal or gear locks.
Don't leave any possessions on display: Make sure there is nothing on view in your car. Coats, bags, parcels, sat navs, earphones, and even loose change can be enough to tempt a thief to break in.
Don't leave your documents in the car: If you do end up having your car stolen, the log book and car documents will make it easier for the thief to sell the car on – or you could also become a victim of identity fraud.
Protect your wheels: Alloy wheels are often a target for car thieves. Protect your wheels with locking wheel nuts. They're difficult to remove without the right key, so this can help to prevent opportunistic attacks.
Keeping your vehicles safe is a top priority. We know they're your pride and joy, so alongside protecting your motor, we're here to make sure they look incredible and unique too. Get your customised number plates from Number1Plates and you're guaranteed to get a high-quality finish and exceptional service!
Methodology
We used data from UK Crime Stats to identify the vehicle crime rates in each postcode of the UK. We analysed the figures to find crime rate per person in order to rank the postcodes by most dangerous for parking.Following this, we delved deeper and looked into London's most dangerous boroughs to park in. We used data from the Metropolitan Police to identify the crime rates per 1000 in each London borough.