How to fit your number plate?
Step 1 – Choose your Preferred Fitting Kit
"Don't worry its really easy."
We have a range of number plate fitting kits, each one is practical and efficient, the choice is yours!
---
The Sticky Pad way: 6 x Sticky Pads £2.99
How to do it the sticky pad way.
First of all remove your old plates if you have not already done so. Clean the area where the plate is going to be stuck using a mild detergent or even white spirit for best results, let this evaporate, then stick the pads onto the first plate spacing equally. Pull of the backing tape and stick firmly into place. Take care to get it straight as the pads are very sticky and don't like to move once on.
Tip: Try to put them on when it is mild and dry as they don't like cold damp surfaces. Also Try and warm up the area if its cold with a hairdryer for 30–40 seconds. We recommend one set per plate. You can buy your Sticky Pads here.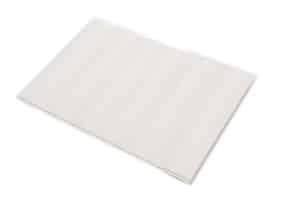 ---
The Screw and Cap Kit : £2.99 Consisting of 2 x Yellow Caps, 4 x Black Caps, 2 x White Caps, 4 x Screws
This way is really easy too. Using a 3mm drill bit (HSS/metal bits are recommended), carefully drill acrylic plates from the back surface through to the front, but drill aluminium plates from the front to the back. Ideally, support the plate on a flat surface that can also be drilled into. Do not apply too much pressure to the drill.
Then using the self tapper screws and caps just screw through the bumper plastic close the clip and you're done.
Tip: If you have already existing number plates with screws this way will be easier for you to fit the plate by using the Screw Kit. Just use your existing plate as a template, drill small holes with a 3mm drill bit where the existing holes are and then just screw it straight on your car. Job is done.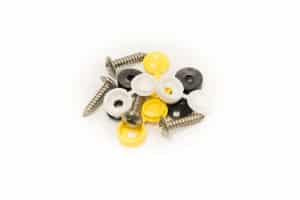 ---
Motorcycle Plate Screw kit:  £2.99
These are really easy to use as you just undo the old ones and replace with bright shiny new ones. Buy your Motorcycle Screw Fitting Kit here.
---
Anti-Theft Number plate screw kit: £8.95 "A Small Price to Pay to Keep Them Safe"
Due to popular demand and car cloning we are now stocking these great little devices. They are really easy to fit and really hard to take off without the little key. They also look stunning in Anodised Aluminium and give your car that little touch of class.
Buy your Anti-Theft Screw Kit here.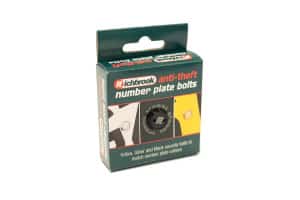 ---
Number Plate Holders £9.99
If you want a more solid look we also offer Number Plate Surrounds. This way of fitting is the most presentable and it also gives you the best custom look for your number plate you can have. Frames are very easy to fit and you can choose from various surrounds such as black, white, chrome, carbon, metallic pink and a new 4×4 surround in chrome.
Take your pick from a range of colours and buy a Number Plate surround here.

---
Step 2 – Remove old number plates and clean:
Sticky pads are very strong when applied to a clean and dry surface. Remove the old number plates from your vehicle and use your surface cleaner to remove any residue, dirt or used sticky pads from your bumper. Ensure that the bumper is clean and dry when fitting your new number plates, especially when using sticky pads.
Step 3 – Fit Using Sticky Pads
Using 4-6 sticky pads even spaced across the back of the number plate, remove the protective backing of the pads. Ensure that you are placing the number plate central to the bumper, then apply pressure across the plate. Once stuck, test the strength by pulling on the plate, if the surface was clean and dry, you shouldn't be able to move it.
Step 4 – Fit Using Screws
Using your old plates as a guide, place on top of new number plate and use as a guide to drill the correct placement of screw holes. Once the holes have been drilled, line up to the screw through the new number plate and into the hole in the bumper. Screw until tight and secure.
Step – Fit Using Anti-Theft Screws
Using your old plates as a guide, place on top of new number plate and use as a guide to drill the correct placement of screw holes. In your anti-theft screw kit, there is a special kit that can only be used on this type of number plate screw. Line up the screw through the new number plate into the old screw holes in the bumper. Tighten until secure with special key.
Some of you may wonder what happens to your old number plate when you change it… simply put, it depends on the registration and your actions! If it's a standard registration, it ceases to exist, and will reenter the DVLA database for them to reassign to another car. If you have a personalised registration, you should always retain it and then you may opt to reassign it to a new vehicle. This can be done for a fee of £80 through the DVLA.
Do you require more information? Please do not hesitate to ask and we will be happy to help you. Alternatively, why not take a look at our fitting video below: