3D Domed & Gel Number Plates Builder
3D Number Plates and Gel Registration Plates Builder
What is a 3d number plate?
3D Gel Number Plates, alternatively known as 3D domed gel number plates or 3D gel resin number plates, are made by covering sheet cut characters with a polyurethane gel resin, giving them the raised profile from the number plate. This is why they are also sometimes referred to as 3D gel resin plates. Being the premium plate in the registration plate industry, we ensure the final product is made to the highest quality.
A truly custom finish in high gloss piano black. Make your plates come alive with 3d domed gel plates and be the envy of other motorists. These are at the top of the table when it comes to premium 3D car number plates.
Are 3D Gel Number Plates Legal? Are 3d number plates DVLA approved?
Sat wondering "are 3d number plates legal"? We often get asked questions around the legality of 3D number plates, such as "are 3d gel plates legal", "are 3d plates legal" or "are gel resin number plates legal", and put simply, yes they are. All of our 3D number plates are legal and meet the standards set by the DVLA.
3D car gel number plates are 100% road legal. All of the specifications and options that we offer are made to British Standards (BS AU 145E) and are legal for use on UK roads. As one of the UK's most popular legal 3d number plates suppliers, we ensure that the high quality standards are met on our 3d licence plates.
How to make 3D gel number plates?
Firstly, we print and cut legally sized characters.
Then, we apply our premium grade resin, that recognises the cut lines of the letters and numbers.
To remove bubbles, we place these finished characters into a purpose made low heat oven.
When we are happy with the results, we remove them and allow to cool.
Once solidified we can peel off the high strength 3M adhesive backing and place them on your plates.
Lastly, we roll them through our airtight rollers. And they are ready for dispatch!
What 3D number plates can I design?
As one of our many text styles, 3D Gel show plates can be added to a selection of number plates. We can add them to our 4X4 or large rear plates and all of our shapes. Ensuring that the characters are of the legal size to be displayed on a motorbike, you can add 3D plates and 3D private plates to your motorcycle too.
Previously, we've been able to create 3D looking characters without the raised gel appearance. This two-tone font effect gave the appearance of a 3D registration plate without the full premium domed effect. Unfortunately, this style of 3D reg plates is no longer road legal, and so we no longer sell them.
This text style would look amazing on your very own personalised registration mark. Shop our huge range of 50M+ DVLA number plates to see if you could find the one that you have sought after the most. If you are unable to find the cherished number plate that you truly love, give us a call and we will do what we can to help you.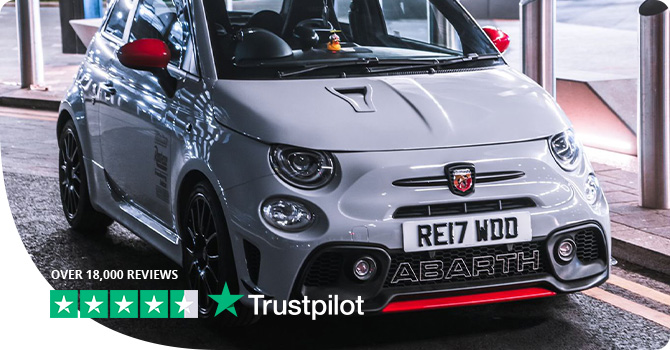 What is the difference between 3D and 4D number plates?
This is a question that we are often asked. The demand for both styles has multiplied over the years and some customers get confused as to which is which. Both are part of our raised character collection and offer a dynamic edge to your plates. The difference lay in the materials and methods use to manufacture the characters.
3D gel number plates as we have previously mentioned is made using a polyurethane gel resin, this leaves a smooth raised profile. 4D plates are different in that they are made from solid acrylic. This makes for a precise and 'boxed' cut around the characters. So although both are 3D in their appearance, 4D plates offer a completely different style.
Do you offer 3d effect number plates?
No, we no longer offer 3D printed number plates, as these are not legal under the BS AU 145e standard.
Do you sell 3D carbon number plates?
No, we do not sell 3D gel carbon number plates, or indeed any form of carbon style plates.
Are 3D carbon number plates legal?
3D carbon number plate and 3D carbon gel number plates are not road legal, and therefore we do not sell them. By law, characters must be solid black, and not have any sort of effect, including carbon and honeycomb, over the letters.
The only option we offer when it comes to 3D car reg plates is our resin gel plates.
How much do gel registration plates cost?
Prices for our 3D registration plates start at just £22.99, so if you're in the market for cheap gel number plates, you've come to the right place!
With a range of additional options available, including borders, slogans and plate sizes, we can supply you with cheap 3d gel number plates of the highest quality. When it comes to cheap 3D number plates, trust the experts here at Number 1 Plates.
3D Gel plates aren't the only premium product that we do, we use the latest laser cutting and CNC hardware to create some of the industries best quality number plates. If you're looking for gel 3d number plates for cars, the perfect fit for your caravan or you want to add a slogan with our lipped plates, there's not much that we can't do for you!
Want to create 3D car plates? Head over to our 3D number plate maker to build yours!
If you have any questions on our 3D show plates and gel license plates, get in touch with Number1Plates today.