Number Plates For Cars Online
Number Plates For Cars Online
Plates for cars – It's what we know!
If number plates for cars is what you need then you have come to the right place.
Over the past seven years we have have been working hard to build a long list of number plates for cars both well-known and not so. We have  the very latest laser cutting and CNC equipment that gives us the ability to manufacture a huge amount of car show plates and road legal registration plates.
There are millions of cars in the UK and we a striving to be able to cater for them all. From the standard 4×4 (11inch x 8 inch) sizes, the bespoke Lamborghini contoured acrylics we can push your order to its limit until we are left with a perfect match. You may want something slightly simpler than this though, and we have made it as easy as possible for you to put together your preferred number plate using our licence plate maker.
How much are plates for cars?
Our registration plates for cars start from as little as £10.99, meaning you can create bespoke designs for you cars for as little as a takeaway meal!
Remember that plates for cars have to be clearly readable and made to British Standards, this is what makes your plates legal to use on our roads. Now that you know that you may need replacement number plates, or maybe you have purchased a private registration and you need plates to fit to your car. Now one of the UK's most trusted sellers, and with our next day delivery service, you need not look anywhere else for today's buys. If you are unfortunate enough to encounter any issues with your plates, we are more than happy to take a look at them and work with you to find a solution. If issues are clear upon arrival then we would ensure replacement number plates are dispatched to you as soon as possible to make sure you do not encounter any further issues.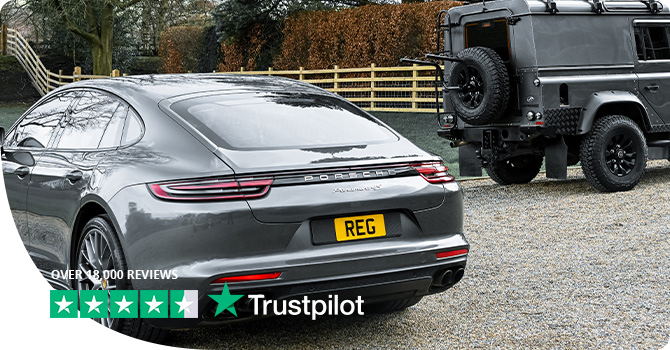 Did you know?
Since the inception of vehicle registration plates in 1903, the system has never had to be revamped. Though some of the schemes have altered slightly, this means that number plates that were registered from way back to that year are still valid and legal to own, and use to this day. This means that there are plates for cars out there that are over 100 years old! This article from The Telegraph notes that 'S1' number plate that apparently sold for a huge £400,000.
Do you offer personalised number plates?
We offer a range of options when it comes to car number plates, including private registrations and customizable plates. If you're looking to purchase an entitlement to a registration, then head over to our Private Registrations area, where you can search for any plate you like. If however you're looking to build custom reg plates using a registration you already own, then you can do this with our number plate maker online. When it comes to custom registration plates, we've got an unrivalled number of customisation options. Head over to our Plate Builder and start designing your custom license plates today!
Can I buy bespoke size number plates?
Yes! Here at Number 1 Plates, we're proud to offer a wide range of different sizes and shapes, depending on the make and model. Whether you're looking for a custom rear plate for cars such as a Range Rover Sport, a Mini Cooper or even a Tesla, we've got you covered!
Is it easy to get number plates online?
We'd like to think that we make it as easy as possible to reg plates made online. It works in much the same way as getting them made in an auto parts store such as Halfords, except you don't even need to leave the comfort of your home! When you get registration plates made online, all you have to do is enter your registration, design and build your plate using our Plate Builder, selecting various different options when it comes to letters, borders, sizes and slogans, and away you go. Then, we just need to see some documentation to prove your ID and proof of entitlement to the registration. It's really simple! You can find more information on what is required by clicking here. As soon as we have seen documentation, we can send you your new car number plate!
What are your credentials?
Here at Number 1 Plates, we've been in the business for nearly ten years, so we know a thing or two when it comes to number plates. Over the years, we've supplied thousands of motorists with new plates, as well as having provided plates on cars in TV and film for programmes such as X Factor and Top Gear. Not only this, but we're a DVLA Registered Number Plate Supplier, which means we're work completely to the DVLA's guidance and regulations, giving you that peace of mind.