Vintage Number Plates & Classic Car Registration Plates Online
Vintage Number Plates for Classic Cars
Black and silver number plates perfect for classic cars!
What is it about classic, vintage vehicles that make them so attractive?
If you stripped back a modern car to the bare basics, and drove it like you would a Ferrari 250 GT, or a Mercedes 300 SL Gull-wing, it would not compare, not even close. Maybe that's why they now come with 7+ figure price tags. You can look back on these cars knowing that the work, time and effort that went into building them was second no other era. And they wouldn't look the same without those timeless black and silver vintage number plates.
In order to keep up with ever rising demanding for new cars, manufacturers have had to adopt a different approach to building their vehicles. For a lot of companies, the use of intelligent technologies and machinery is essential to create the quantity of cars that they sell day to day. This does mean though that their products lose their authenticity and some of the cutting edge that came with designing and producing a now 'classic' car.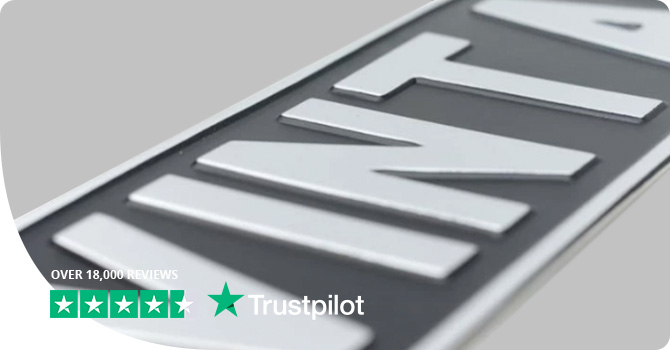 These common, now old style number plates still have a clear value. It shows through the vast amounts of money that is collected by companies like Bentley and Rolls Royce for the sales of their £150,000+ creations. Hand stitched leather seats and hand woven floor fabrics, Rolls Royce claim that the only element on their production line that is fully automated is the paint, purely for consistency, fair? One day, these cars will be worthy if displaying classic vintage number plates.
What is a black license plate?
A black number plate, or silver and black number plates, can typically be found on a vintage vehicle of a certain age. These are commonly found on classic cars such as the Triumph Stag, Jaguar E Type and the MG Midget.
Are classic black and silver number plates legal?
In order to legally display this style registration plate, your vehicle must have been manufactured and registered before 1980. Vehicles manufactured pre-1980 are classed in the vintage category and though they may have never originally displayed this type of plate, they will be giving permission by the DVLA and UK law. If you're looking for old number plates for a classic vehicle, then you're most likely going to want black and silver vintage car number plates from Number 1 Plates.
Some people want black show plates simply for meets and shows. Unfortunately, unless you can prove your car is of the correct age and provide the documentation, we can't manufacture black and silver plates for vehicles which don't meet the criteria.
When did black number plates stop being manufactured?
It could be said that black and silver plates haven't ever stopped, but they ceased being issued to new vehicles in 1968 when yellow and white plates were introduced. They can however now only be attached to any car which was built before 1st January 1980.
What are vintage license plates made of?
Our black number plates and vintage reg plates are pressed aluminium, and so they're a high quality, durable material which looks great too! Whether they're for your pride and joy which sits in the garage, or you take it out to shows, your vintage metal number plates are sure to make your classic car stand out!
Do you do motorcycle vintage plates?
The same goes for motorcycles, with a lot of the modern era of bikes being build on the foundations built by the bikes ridden by the likes of James Dean and Steve McQueen. Some of the coolest men in history rode motorcycles. And if you're lucky enough to own a motorbike like this then you know that standard number plates do not do it justice. Thankfully, we have got you covered with all your classic number plate needs and also offer motorbike sized vintage number plates! Vintage motorcycle number plates are the standard 9″ X 7″ size. Due to the legalities surrounding this plate type and our stocking capabilities, we are unable to provide any other sizes at this moment in time.
Similarly to our vintage car plates, this type of plate can be manufactured from pressed metal, standard ABS or premium acrylic!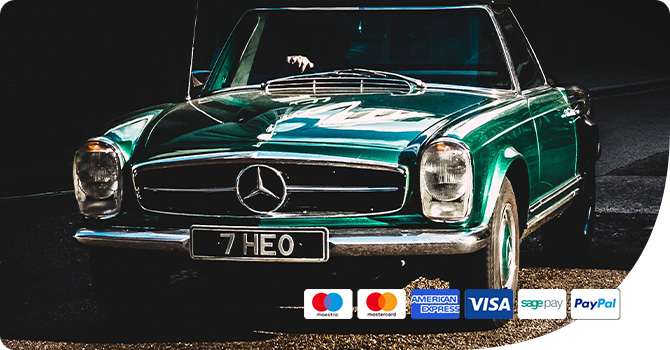 Can I put vintage number plates on my new car?
Many people come to us asking if we can provide our vintage number plates for their modern car. Unfortunately this is not legal. A vintage number plate can only be displayed on vehicles that were manufactured before 1980, but this is likely to change as it is a rolling regulation, meaning that the vehicle has to be over 40 years old from the current year to legally display the black and silver plates. You can create your own using our classic car number plates builder!
If you want to know more information about our retro number plates, classic number plates or black and white number plates, get in touch with Number 1 Plates today! If you're looking for more information on vintage number plates for sale though, then email us and one of our team will help you locate the perfect plate.
Vintage Registration Plates
During 2021, our team was working hard to develop our website to be able to offer you a selection of over 50,000,000 new and vintage registration numbers. A vintage registration number (or cherished number plates) can take many forms, but the format is relatively easy to understand. The reg is either 1, 2 or 3 numbers followed by 1, 2 or 3 letters. A vintage car registration can also take the reverse format of 1, 2 or 3 letters followed by 1, 2 or 3 numbers.
Our private registrations team sourced vintage plates uk wide and have build a unique network of sellers that we can tap into to find you the perfect reg. To buy vintage number plates, simply head to our private plates page where you can filter your search to find the perfect match.