Bespoke & Custom Number Plates Builder
Bespoke & Custom Number Plates Builder
Get number plates that are completely bespoke to you!
If you're wanting to customise number plates or are looking for a customised number plate, then you've come to the right place! Thanks to our trademark number plate customiser, we've made it possible to create amazing customised reg plates.
Here at Number1Plates, we're the UK's leading supplier of custom number plates. Whether you're looking for customised number plates for your car, van or motorcycle, we've got the perfect option for you! There's a lot more to number plates than a standard 520mm x 111mm UK plate with normal printed text, and with a number of options for your number plate, using our custom plate maker, you can design your perfect license plate. With hundreds of different customisation options available, we're convinced that you'll be able to construct your perfect customised plates in no time at all.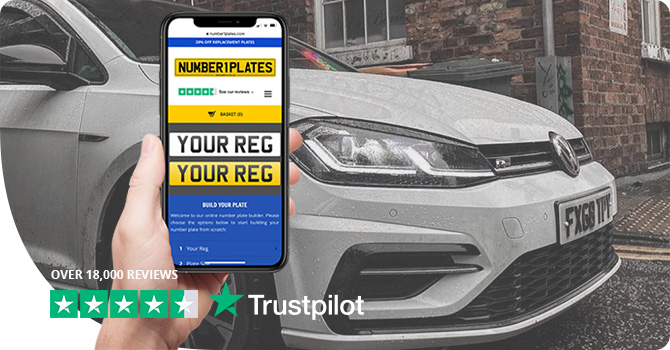 Our incredible selection of styles includes:
4D Neon plates, available in red, blue, green, white, orange and purple. 

4D Neon Gel plates, available in red, blue, green, white, orange and purple. 
Our 3D Gel custom plates have been popular for many years and are one of our most popular options, however in recent times we've seen an incredible surge in demand for 4D Neon plates, which have a 2mm layer of coloured perspex behind another layer of 2mm laser cut black perspex. We've also expanded our product range to include 5mm Laser Cut plates as well as 4D Neon Gel number plates, ensuring that we offer the most comprehensive catalogue of options in the market, and are in turn, one of the most popular manufacturers of custom reg plates in the UK.
Do you offer custom size number plates?
The options we offer when it comes to customised number plates don't just stop at text styles, borders and badges, as we are also able to provide a number of  custom shaped number plates for you too! Whether you're the proud owner of a mighty McLaren 720S or a humble Ford Fiesta, we've got a custom license plate for you. Most of our shapes are available to select on our Plate Builder, but if you can't see what you're looking for, then you're welcome to email us or contact us via our social media channels. We're constantly updating our list of custom shaped plates, and we're often happy to create bespoke plates for your vehicle if you can't find what you need. 
Are custom number plates UK road legal?
Provided your custom license plate meets the British Standard and the legal requirements for the road, then there is no reason why your customised license plate shouldn't be legal for use on the country's roads. Typically, all number plates should meet BS AU 145e, with any new plates from the 1st September 2021 meeting the BS AU 145e standard. 
There are certain parameters which must be met in regards to legality, such as the spacing between each character, the font, and the margins between the characters and edge of the plate. For more information, see Section 12 of our Terms and Conditions. 
As long as you follow the instructions when using our car number plates maker, you have no reason to worry. If you do have any questions about legality however, one of our team will be happy to help.
How do I build my custom car plates? How to get custom number plate…
If you're wondering how to get custom number plate and how to make custom number plates, then it's really simple! All you need to do is head over to our Plate Builder, our in-house built custom number plate maker, which provides you with all the options you could possibly need, right through from standard printed plates through to 4D Neon Gel plates! But it's not just custom car number plates we offer, as we're also able to build custom motorcycle plates too! 
Why should I buy custom plates?
Everyone loves their car, right? So why not treat it to some new number plates which reflect your style and personality too! Whether you've lost your original plates, or you simply fancy a change, you can use our custom number plates maker to build exactly what you need! 
Not only this, but bespoke number plates and custom made number plates make an imaginative gift too!
How much for custom license plates?
Custom number plates needn't be expensive. In fact, you can make a custom reg plate from as little as £23.98 for a set! All of our custom registration plates are made to the highest quality, and if they display a road legal registration, then they'll be made to the latest BS AU 145e standard.
Custom Plate Numbers
It can be confusing when you comes to buy custom number plates. But don't worry, we're here to help! Custom number plates and personalised plates must not be confused with private registrations or custom registrations. You must own the entitlement to the registration if you're looking into making a number plate. For instance, you must already have the registration on a vehicle, proved by the provision of a V5C, or on retention from the DVLA.
Our helpful search function makes it easy for you to find a custom plate number that suits your wants and needs. Custom licence plates can take a variety of forms. Current, dateless (cherished), suffix and prefix are the most prominent registration types that you will see on UK roads.
Why buy with Number 1 Plates?
All number plates customised to your needs
Premium selection of private registrations
We delivery custom number plates UK wide
Manufactured from the very best materials
State-of-the-art technology to make plates
If you would like to make a number plate, then head over to our intuitive Plate Builder and get your number plates custom made today! However, if you're looking to buy custom private plates, then head over to our Private Registrations section and search for your perfect customised registration plates today!