The ABC's Of Caravanning
With summer approaching rapidly and Covid restrictions lifting, the caravans will be out en masse. Whether you're a beginner or a pro, we're giving you all the knowledge you'll need!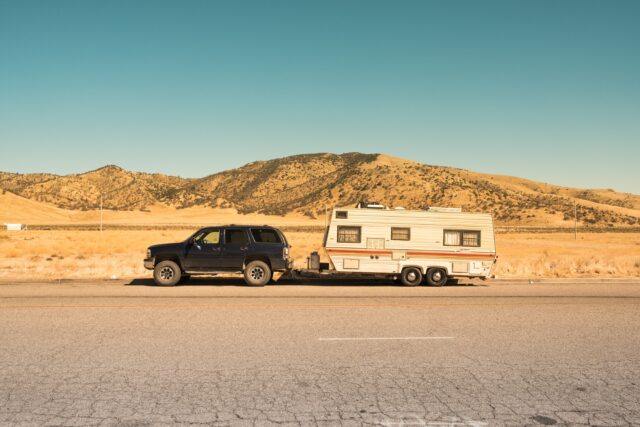 We'll go through some of our most frequently asked questions. They cover most of the basics of caravanning, from towing to securing. 
Q&A
I've never towed before, what do I need to know?
We would recommend having a few practice gos on your own before hitting the road. Either find an empty car park or somewhere with big open space and few obstacles. Practice parking, reversing and changing lanes to perfect the skill of towing. It's definitely not a hard skill to pick up. With good experience driving it should be pretty easy for you to get the hang of it! If you're still in doubt however, it could be a good idea to get some lessons and a few tutorials – we'd recommend "The Caravan Club" as they provide some really great and informative tutorials, for good prices too!
What tow bar should I be using for my caravan?
If a car has been registered on or after 1st August 1998, the law states that they must only be fitted with a towbar which has specifically been tested and approved by the EU 94/20 Directive/Regulation 55. We would recommend that you always read and check both the warranty and T&C's of your caravan before purchasing and fitting the towbar, to ensure that it complies.
Do I need towing mirrors?
Yes, yes, yes! The law requires you to have a decent view down both sides of the car and caravan. Extension mirrors are handy however additional towing mirrors are definitely a must. Towing mirrors provide a much better view of what is behind and around you. This is ideal when you're towing something this size of a caravan!
Mirrors on vehicles registered on or after 1st June 1978 must align and comply with certain ECE Regulations, and be marked accordingly with an appropriate 'e-mark'. We would highly encourage you to check for this, read the specifications and small print before purchasing and fitting!
What shall I do about my caravan number plates?
This is definitely one of our most frequently asked questions. Not to mention it's an area where so many people get it wrong all the time! First things first, it is essential that your caravan has a number plate on. The registration on the number plate must match that of your vehicle towing it. Or in some uncommon cases the caravan may have a registration of its own. However, usually you will have to match the car registration number, and so the easiest way to purchase an extra rear number plate is to head over to our plate builder. Enter your reg and follow the instructions! 
You will need to prove entitlement, (proof that you own the registration).  Do this with documents such as V5C, proof of purchase etc, just to avoid any fraudulent activity! You can find all information in our T&C's, or just send us an email and we'll be more than happy to chat it through with you!
How can I ensure my caravan tyres are in good condition?
We would strongly suggest that you replace tyres after 5 years, and DEFINITELY after 7 years! Tyres with lifespans of this long will have significantly deteriorated by then. Even if your gut tells you that "they're fine". As higher pressure tyres carry higher and heavier loads, they are more susceptible to damage. Thus you should inspect them regularly.
Of course, it also means that these tyres may have a shorter life-expectancy (around 2-4 years), so keep an eye on them! We highly encourage that when caravans are not in use, they should have their tyres removed and stored in a cool, dry place.
There are regulations in place for specific tyre pressures and tread depths, for more information head over to TyreSafe!
Do I need a stabiliser for safe towing?
Most of the time, there shouldn't be any stability issues, especially when the vehicle matches up with the trailer, with a good outfit weight ratio and the caravan rides nose down. If the vehicle which is towing also has its tyre pressures correct, then this should also help the balance.
Some cars and caravans however are naturally more stable than others, and so a stabiliser may provide additional support. If you are unsure or feel nervous about the stability then we would definitely recommend using a stabiliser as you can never be too safe!
What is noseweight? Do I need to worry about it ?
Each different car model will be provided with a maximum permitted nose weight (the maximum caravan hitch weight able to be on the car towball) – which will be provided by the manufacturer. The nose weight of the caravan needs to be heavy enough to ensure stability, however not too heavy to avoid any damage, injury or breakage. We actually recommend that the optimum for stability is around 5% – 7% of the caravan's actual laden weight.
You can appreciate that car manufacturers quoting a maximum noseweight of 50kg or less will restrict the choice of caravan quite considerably. Caravan manufacturers often quote a noseweight limit too – check this is compatible with the 5-7 per cent recommendation.
What is a safe outfit weight ratio for towing my caravan ?
You must have the heaviest possible tow car for a given caravan, otherwise the chances of a loose and freestyle trailer become scarily uncontrollable. Aim for a towed load of around 80-85% of the car's 'kerb weight' (KW), or the vehicle manufacturer's towing limit, if lower. 
The nearer the caravan laden weight approaches the one-to-one ratio, the more careful the driver must be.
Remember that the towed weight is the actual laden weight (ALW) that the car is asked to pull (empty weight of caravan plus what you add), not the theoretical Maximum Authorised Weight (MAW) or (from 1999 production models) Maximum Technically Permissible Laden Mass (MTPLM).
These are our most frequently asked questions with answers! Our tips are here to ensure that you are complying with the laws and regulations as well as making sure that you, other passengers and drivers are safe at all times!
If you have any other questions feel free to get in touch with us or alternatively speak to your caravan provider. We haven't managed to cover all questions that are out there, and so if you have any burning ones then just send us an email at info@number1plates.com

TOP TIPS!

Below we've compiled some of our best tips for you, now that we have answered your questions and you're raring to go, check through our checklist below and tick them off before you set off!
Is the caravan attached? It sounds silly but you'd be surprised at how often it happens!

Check all tyre pressures.

Make sure that the wheel nut is tight and secure – give it a forceful wiggle!

Switch off all gas cylinders and secure them upright.

Empty all water tanks in case of spillages.

Ensure that the nose weight is at optimum balance.

Lock all exterior locks – check them twice just to make sure.

Secure all loose items to ensure that they don't fall / spill / break.

Make sure that on the 12V control panel, the switch is on 'Car' or 'Off'.

Ensure that you disengage the electric manoeuvring device (if you have one!).

You have to fully engage the hitch mechanism.

Make sure that you wind up, unclamp and put the Jockey wheel up high.

You should connect and attach the break-away cable.

As you should always, check the system check function to ensure that there are no faults.

Check that your 12V cables are attached. You want them to be slack for turning but not too much that they're dragging on the floor.

Double check that all of your road lights are working fine and that you can see all of the way down your caravan sides! You should cover all blindspots.
We recommend that after a few minutes in the car (say 15-20), pull over and just go through all of this again. You can never be too safe, we can't stress this enough! It's crucial to ensure that you check all of these boxes, for your safety and all other people's. 
---
If you have any questions, drop our friendly customer service team an email and we will be happy to help. 
Happy Camping!