Pressed Metal & German Number Plates Builder
Pressed Metal Number Plates & German Registrations Plates Builder
Get Your Pressed Metal Number Plates
Are Pressed Metal Number Plates Legal?
Sat there with a head full of questions such as "are pressed plates legal" or "are pressed number plates legal"? Worry no more! Aluminium pressed number plates are 100% road legal for use in the UK. As a registered number plate supplier all of the number plates that we sell including our pressed metal number plates are made to pass DVLA laws and abide by British Standard (BS AU 145d) regulations.
Often incorrectly referred to as german number plates, each embossed number plate is hand-made by a member of our manufacturing team. A german number plate would have very different styling due due legislation that is adhered to in the country itself. All of our plates are made to strict BSAU 145e standards, with UK metal plates sharing the same font and dimensions as a standard plates.
How do you make pressed metal number plates?
The system works by machines pressing the plates to within a 1% pressure bar. The exposed raw plates are fed through another machine which burns hot foil onto the protruding letters at over 200 degrees. Then they are cooled. It is this process which makes our German style number plates highly durable.
Why do you make pressed number plates like this?
This production method is used by state departments and Governments worldwide as well as in Germany and other European countries. All of our machinery and associated supplies are from Germany; we do not scrimp on costs.
Our metal pressed plates are German made with 3M endorsement! 3M is the most expensive and best material approved for the distribution market. You won't find a more durable pressed metal number plate – ours can even withstand a close-up jet wash attack.
If you would like to know more about our German pressed number plates or German style license plates, then don't hesitate to get in touch.
Do you make pressed metal motorcycle number plates?
We certainly do. Using the same methods as with standard pressed aluminium number plates, though with dice (characters) that have been specially designed and manufactured for pressed metal motorcycle number plates. This ensures that the characters on our pressed aluminium motorcycle number plates adhere to the character sizes on a legal UK motorcycle registration plate, and meet the DVLA's requirements. For pressed motorcycle number plates, choose Number 1 Plates!
We offer more than just standard and motorcycle embossed number plates too. From the high demand of black and silver pressed metal number plates that we have had over the past few months, we have added these to our selection too. Unfortunately, we are unable to manufacture short pressed plates at this time though we are looking to hopefully add this to our site in the very near future.
You can however design and order bespoke pressed aluminium show plates from us. If you order a novelty version of German pressed plates, at your request we can remove the need for legal details. Remember though, this is only for pressed show plates displaying novelty characters, like your name.
Do you offer pressed steel number plates?
No, unfortunately we do not sell steel pressed number plates as all of our German style plates are made out of aluminium! Roughly speaking, aluminium is half the strength of steel at one third of the weight. Due to the strength of steel, our machinery wouldn't be capable of creating embossed number plates.
Can you make pressed metal show plates?
Yes, absolutely we can make pressed aluminium plates for show use! Of course, if you're displaying a registration, we'll still need you to prove your entitlement and provide ID when ordering, but we're happy to make novelty pressed reg plates too. Novelty plates should not have a registration mark on them, and instead should have a name or phrase on them. This isn't just for pressed plates for cars either, as we can also make pressed metal motorcycle show plates too!
Why buy your pressed aluminium number plates from us?
Durable, lasting aluminium plates that are sure to stand the test of time
Set yourself apart from the norm with raised 3D style metal number plates UK characters
100% road legal pressed number plates, which are fully compliant with DVLA Regulations and BS AU 145E.
Prices from £17.49!
Metal Show Plates, Pressed Metal and German Style Number plates manufactured using the latest top of the range hydraulic press system.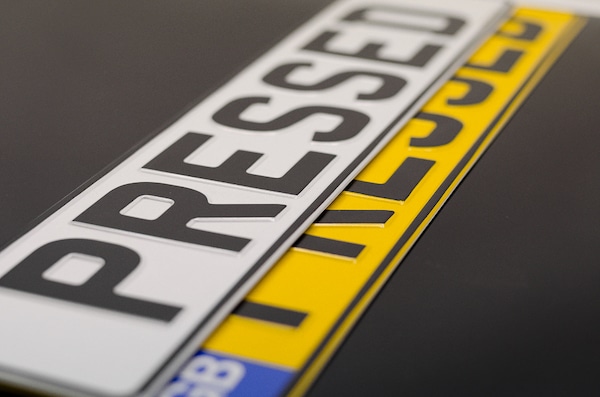 We can now also confirm that we are able to product pressed metal number plates for motorbikes! And if you're looking for metal pressed number plates that have that popping look, but if these pressed metal plates just don't do it for you, then take a look at our 4D laser cut plates…