Pressed Metal Number Plates | Online Number Plate Maker
Get Your Pressed Metal Number Plates
Are Pressed Metal Number Plates Legal?
Yes, our pressed number plates are 100% road legal. As a registered number plate supplier all of the number plates that we sell including our pressed metal number plates are made in line with DVLA laws and pass British Standard (BS AU 145d) regulations.
How do you make pressed metal number plates?
The system works by machines pressing the plates to within a 1% pressure bar. The exposed raw plates are fed through another machine which burns hot foil onto the protruding letters at over 200 degrees. Then they are cooled. It is this process which makes them highly durable.
Why do you make pressed number plates like this?
This production method is used by state departments and Governments worldwide as well as in Germany and other European countries. All of our machinery and associated supplies are from Germany; we do not scrimp on costs.
The registration plates are German made with 3M endorsement! 3M is the most expensive and best material approved for the distribution market. You won't find a more durable pressed metal number plate – ours can even withstand a close-up jet wash attack.
Do you make pressed metal motorcycle number plates?
We certainly do. Using the same methods as with standard pressed aluminium number plates, though with dice (characters) that have been specially designed and manufactured to for the pressed metal motorcycle number plates to adhere to the character sizes on a legal UK motorcycle registration plate.
Why buy your pressed aluminium number plates from us?
Durable, lasting aluminium plates that are sure to stand the test of time
Set yourself apart from the norm with raised 3D style characters
100% road legal and fully compliant with DVLA Regulations and BS AU 145D.
Available for cars, caravans, trailers, motorcycles and more.
Pressed Metal Number plates manufactured using the latest top of the range hydraulic press system.
Our plates are the best on the market. They are superior in every way!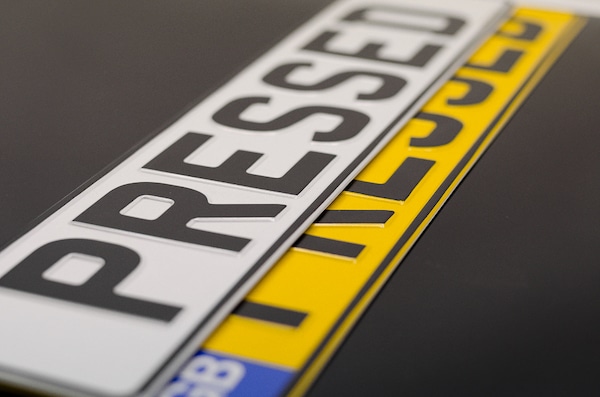 We can now also confirm that we are able to product pressed metal number plates for motorbikes! And if you're looking for number plates that have that popping look, but you these plates just don't do it for you, then take a look at our 4D laser cut plates…