Alfa Romeo Number Plates
Custom Alfa Romeo number plates and replacement Alfa Romeo plates from Number 1 Plates.
Alfa Romeo is one of Italy's best known and perhaps best loved car manufacturers, having produced vehicles since 1910. It has been a part of the Fiat Chrysler Automobiles group since 1986, when it was sold by the Italian government as a result of being unprofitable. 
The Italian manufacturer also has a proud racing history, having been a dominant force in the early days of the Formula 1 World Championship.  The marque historically took first, second and third positions in the first ever race at Silverstone, and claimed back-to-back World Championship successes with Nino Farina and Juan Manuel Fangio. The latter went on to win a further four world titles in the sport. Alfa Romeo continued to supply engines to constructors throughout the 1960's and 70's, re-entering the sport as a constructor themselves in 1977 until 1985, when changing regulations in regards to engines forced them to stop. Most recently, the Alfa Romeo name returned to Formula 1 in 2018, after signing a multi-year technical and commercial agreement with the Sauber F1 team, following a 30 year absence from the sport. 
Historically known for its sports cars, Alfa Romeo now produces a variety of cars, ranging from the Mito supermini through to the Stelvio SUV, with the likes of the Giulietta and Giulia more practical, family hatchback and saloon options. 
Custom Alfa Romeo number plates.
The Giulietta and Mito models both have custom rear number plate sizes available. The Mito, which ceased production in 2018, has a custom size available for models made between 2008 and 2016, which measures 740mm x 126mm. Meanwhile, we can also offer one for the Giulietta which measures 711mm x 142mm. If you can't find these on our Plate Builder, don't worry! You can get in touch with one of our expert team, who will be happy to help you further.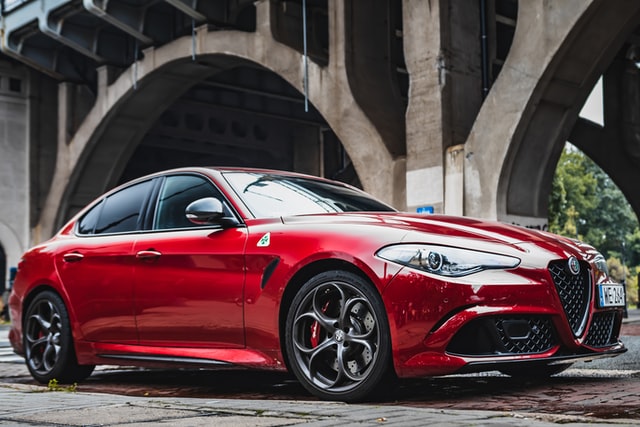 Is the Alfa Romeo offset number plate legal?
Traditionally, Alfa Romeo's have their number plates offset to one side on the front of the vehicle, as opposed to central to the chassis like most other cars on the road. The primary reason behind this is because the classic Alfa grille, which is long and in a triangle shape with rounded off corners, would be obscured and some would argue ruined by a number plate being central to it across the bottom. The positioning of the number plate on Alfa Romeo's is actually entirely legal! Let's be honest, they wouldn't come out of the factory like it if it was against the law! Provided there is nothing wrong with the number plate itself, such as in regards to spacing or font, then Alfa Romeo number plates are perfectly legal.  Alfa Romeo aren't the only manufacturers to build cars with offset number plates either, with the Bugatti Veyron, Land Rover Discovery and Mitsubishi Lancer Evolution all having offset front or rear plates.
If you're looking for a registration plate for your Alfa Romeo then try our number plate builder, which lets you experiment with different designs and styles, ensuring that you find the perfect number plate.