Jeep Number Plates
Buy Jeep number plates and Jeep replacement plates from the UK's number one plate experts.
Founded in 1944, Jeep has certainly made a name for being one of the all-time greats when it comes to manufacturing off-road vehicles. Despite more than 10 changes of ownership over the years, Jeep has always managed to maintain their brand, which is a testament to their determination to succeed in the market. 
There are still questions over the name 'Jeep' and how it came to be, but there is one theory that it derives from the military designation 'GP', which stands for Government Purposes, and was slurred into the word Jeep! However the name came about, it's definitely a world-known favourite for the 4×4 SUV style vehicle. Jeep helped to inspire other manufacturers across the globe, such as Land Rover, Toyota and many others.
Efforts In WWII
Jeep played a key role in the Second World War, with the US Army looking for bids from 135 different manufacturers to make a 1/4 ton "light reconnaissance vehicle" tailored to Army specifications. Only three responded… the American Bantam Car Company, Ford, and Willys-Overland, the forerunner of Jeep. Collectively, they produced the template for the vehicle known worldwide as the "jeep". Willys-Overland delivered the prototype "Quad" (named for the 4×4 system it featured), to the U.S. Army on Armistice Day (Veteran's Day), November of 1940. 
Although the manufacturers all advertised their companies, the name "Jeep" didn't happen until 1945 with Willys CJ-2A. Willy's vehicles were used for all sorts in the war, from cable lying, firefighting pumpers, ambulances to tractors. They were one of the best non-ammunition weapons that the US had. They weren't even restricted to the US, as they were exported and supplied to both Great Britain and the Soviet Red Army – with around 30% of all production going there. 
Models
After their success, Jeep went forward with new concepts and modifications – such as the CJ-V35/U which had a snorkel in the engine to allow breathing underwater for a short period of time.  
Jeep sought to be more accessible and so launched the Civilian Jeeps in 1945 – the 2A, 3B and 5 and further models up to the 7. Soon after, Jeep replaced the CJ's with it's most famous model – the Wrangler. A compact, mid-sized four-wheel drive which has had 3 generations up to date. 
In latter years, Jeep has tried to broaden their market to a more 'luxury' sector. Whilst keeping their notorious 'rugged, off-road' style, they have delved into more on-road practicality, comfort and safety with modern variants such as the Cherokee, Renegade and the Wagoneer. Whilst still keeping the iconic Jeep features such as the round headlights and 7 bar grill, they've managed to adapt and tweak models to fit into the modern aesthetic.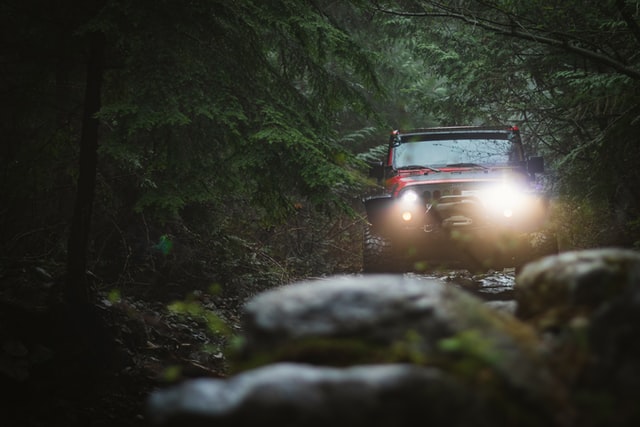 What size are Jeep number plates?
The vast majority of Jeep vehicles use regular UK plates, whether they're standard front and rear plates which measure 520mm x 111mm, a large rear (533mm x 152mm) or a 4×4 plate (279mm x 103mm). Of course, you can make these into custom Jeep number plates by choosing from a variety of options on our Plate Builder, from 4D Neons to 3D Gels too! If you want standard Jeep replacement plates though, then just select the size option and enter your reg!