Lotus Number Plates
Bespoke Lotus license plates for the Exige, Elise, Esprit and more!
Founded in 1948 by Anthony Colin Bruce Chapman, known simply as 'Colin', Lotus have enjoyed a colourful history in the world of motoring. 
Their founder studied structural engineering at University College in London, and built his first trials racing car in a small garage which belonged to his girlfriend's parents. He went on to build the 1930's Austin Seven, which later became known as the Lotus Mark 1, which displayed the registration OX 9292. In 1950, Chapman built his second trials car, which was considered so advanced that it was legally able to be used on the road. It was sold in October 1950 to Mike Lawson, who quickly went on to win the Wrotham Cup.Throughout the 1950's, Lotus would go on to build the start of their rich sporting history, forming 'Team Lotus' and entering a number of sports vehicles into production. 
Over the years, Lotus have enjoyed mixed fortunes both on and off the motor racing circuit. On the track, they have seen greats such as Graham Hill, Jim Clark, Jochen Rindt, Mario Andretti, Ayrton Senna, Nelson Piquet, and more recently, the likes of Kimi Raikkonen and Romain Grosjean, all drive under the Lotus name. 
Away from motorsport, Lotus became renowned for their sports cars such as the Esprit, Elise, Exige and Evora. In July 2021, Lotus revealed a brand new vehicle named the Emira, which will be the brand's last ever vehicle made with a traditional petrol internal combustion engine. The Norwich-headquartered company had already made the first step towards an all electric future with the release of the all-electric Evija in 2019. 
Downfall and Uprise
Their history in Formula 1 and other motor racing is a story of success, however from 1980 onwards the company started to slowly deteriorate from within the market. Due to certain factors, mainly including the global economic recession. Further downfall occurred when Lotus appeared to be involved in the DeLorean Motor Company scandal. The scandal tarnished the Lotus brand and left them penniless. Chapman himself dodged 10 years imprisonment when he had a heart attack and died. 
Lotus has swapped and changed ownership many times throughout the years, and in 2017 finally settled with a split of 51% to the Chinese company 'Geely', and 49% to 'Etika Automotive'. The company is looking to expand its business and get back to where they were in the 70's, they've put in place some announcements to ensure this; by 2028 they will be producing electric only cars, and they have vowed to increase production numbers to tens of thousands yearly (instead of 1,500), receiving £2billion of investment to realise these ambitions.
The Esprit
The Lotus Esprit is arguably the brand's most famous vehicle, having been the first model to reach a top speed of 150mph. It also formed the basis of the 'Wet Nellie' submarine featured in the James Bond film 'The Spy Who Loved Me'.
First built in 1976, the Esprit sold more than 13,000 models over the years, with the Type 82 NA and HC variants being the most popular, which were made between 1980-87. 
The Elise
The Lotus Elise is the most popular Lotus ever made, having shifted well over 30,000 units. The iconic two-seat, rear-wheel drive, mid-engined roadster celebrated hitting 20,000 units sold back in 2004. They also hold their value relatively well, with a good example built in around 2000 costing between £15,000 and £18,500. 
If you do look to purchase a second hand Elise, there's a good chance that you'll want to freshen it up a little. Fortunately, when it comes to replacement Lotus plates, all models are able to use standard UK plates measuring 520mm x 111mm. 
Unfortunately, earlier in 2021 Lotus confirmed the Elise, along with the Exige and Evora, are to end production in 2021 and be replaced by a new family of models.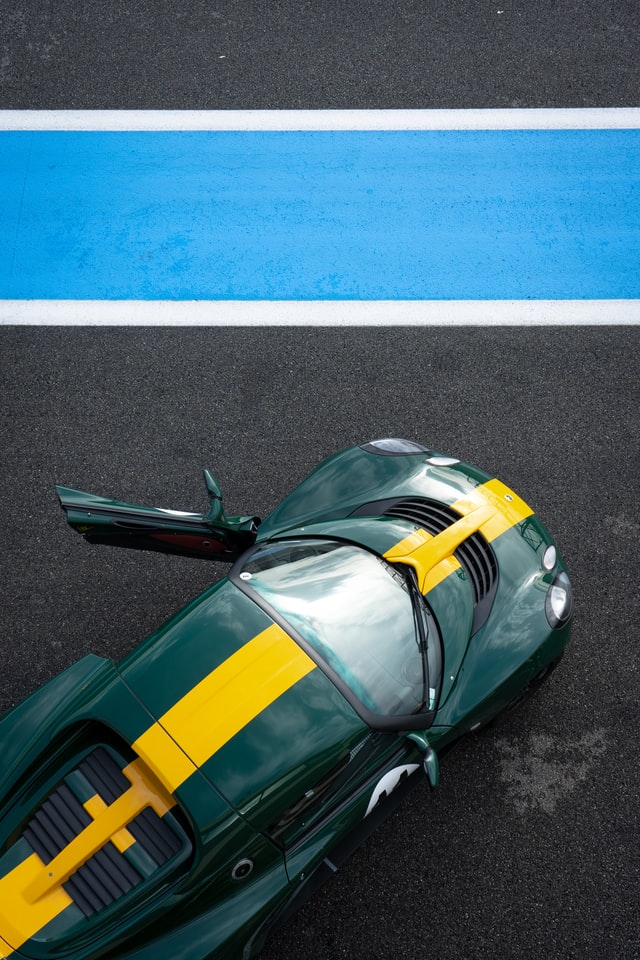 If you're looking for a Lotus number plate, then we can help! Head over to our Plate Builder and get designing! If you have any questions, then do not hesitate to get in touch with our friendly, helpful and knowledgeable team.