DVLA Number Plates
Let's work together to find the perfect DVLA registrations!
DVLA Number Plates are also referred too as DVLA registrations. As you a now probably aware are private plates that you can purchase to add a personalised touch to your vehicle. If you were to shop our huge collection of dateless registrations or dvla cherished plates, you could make your vehicle timeless by covering its true age.
The DVLA is the governing body that is responsible for everything surround assigning and transferring your number plates. This organisations was previously named to DVLC, meaning Driving and Vehicle Licensing Centre. The DVLA is responsible for retaining a selection of 50,000,000+ plates to be sold in the private number plate industry, and you can buy a DVLA reg directly from us here at Number 1 Plates.
How were DVLA private number plates introduced?
The very first number plates were issued in the UK in 1903 in the form of dateless registrations. Naturally, the different registration that you could create with up to three letter and three number ran out. After that, in 1963, suffix number plates were used swiftly followed by prefixed DVLA number plates.
It was during the suffix and prefix plate period that the DVLA recognised that the ever increasing demand for new vehicles and he attraction of a new number plate could pay dividends. As 'H' regs were rolled out in 1990, the DVLA withheld the 'best' registrations that contained numbers like 11, 22, 200 etc. Once a collection was built, they began to auction the plates off to the public.
What format are DVLA registrations?
As we previously mentioned, the format in which a registration is displayed has had to be changed many times over the past 120 years. This is due to the different combinations that can be achieved being exhausted. Here is a timeline of the different types of registration plate formats:
Dateless (1903 to 1963) – Consisting of one or two letters as a regional identifier, followed by a number from 1 to 9999. This was then reversed in areas were different combinations were fulfilled to extend the time that the format would last.
Suffix (1963 to 1983) – Consisting of three letter, followed by three numbers and lastly a single letter, acting as an age identifier.
Prefix (1983 to 2001) – Consisting of a single letter as the age identifier, then one to three numbers and then three letters.
Current (2001 to present) – Consisting of two letters as the area code, two numbers showing the age followed by a random three letter sequence.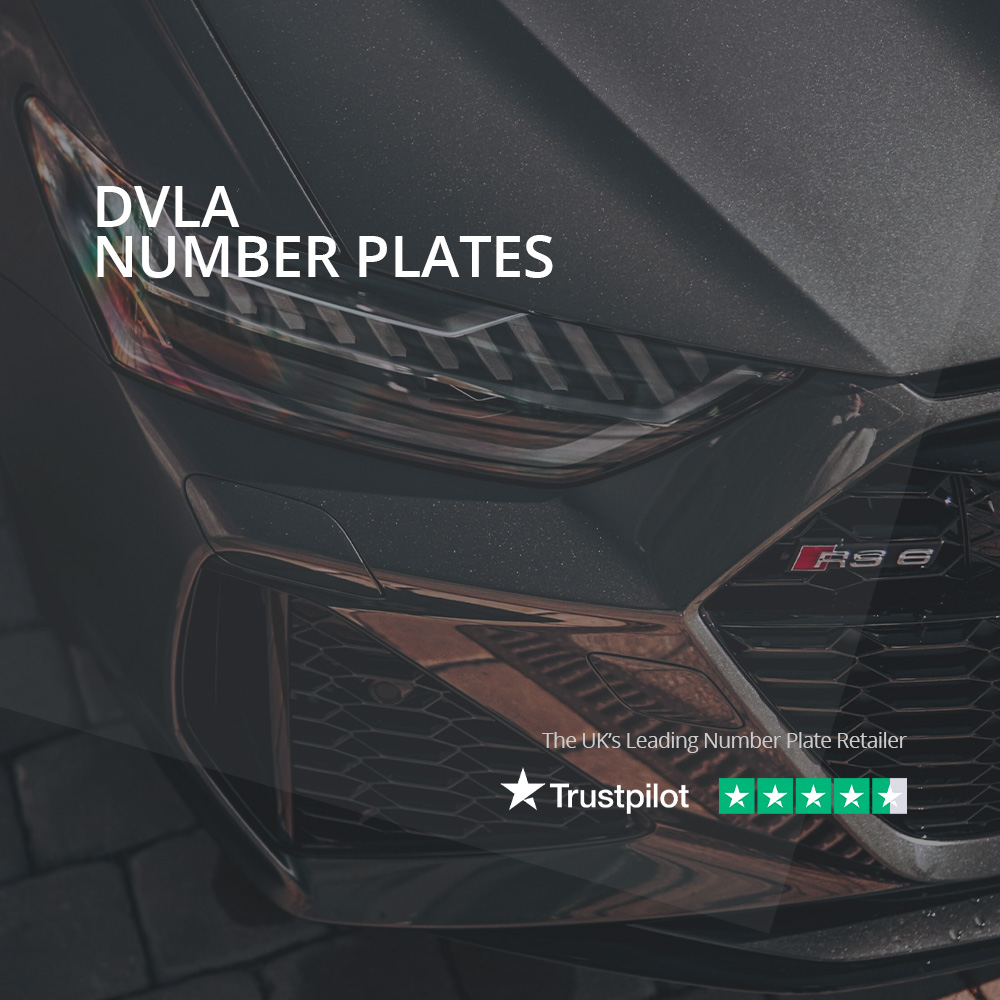 How to buy DVLA Number Plates
As a registered number plate supplier, we have access to the entire collection of over 50 million DVLA plates. Using our helpful customer service team, you are certain to find a registration that has sentimental value. You could find something that spells your name or perhaps an important date.
Once we are able to locate your ideal number plate together, you can simply make payment and we will take care of the rest. The registration will be assigned to you and you will receive your certificate of entitlement within 14 days. This doesn't mean that you can put the new plates on your car yet, though. There's one other step to take before you can do this.
How to assigned and transfer DVLA plates
Assigning your new reg to a vehicle is the final step in displaying it to the world. This will update your V5C logbook to display your purchase rather than the registration that was originally assigned to the vehicle.
To do this, you are required to apply via the DVLA using your V750 Certificate of Entitlement. Sending this along with your V5C allows to DVLA to cross reference all of the relevant information. They can then place the old registration on retention and update your logbook to display your new DVLA private plates.
Once on your vehicle, you are likely to one day be in need of a transfer to another vehicle. For this there is another V317 form that should be sent off the the DVLA.  V5Cs (logbooks) of both your current vehicle and the vehicle that you would like to transfer your registration too.
Can I sell my DVLA number plates?
Absolutely. Hundreds of people have shown people have shown that DVLA private plates can be great investments. Great in terms of both holding value, and massively increasing in value too. There have been dozens of very well documented cases in which the owner of DVLA plates like '25 O' and '51 NGH' brought in £400,000 and £245,000 respectively for their owners.
The best way to sell your registration is likely to be through an auction house. This will give you great exposer and put your plates in front of plenty of potential buyers.
If you need anymore information regarding our DVLA number plates and registrations, please don't hesitate to give us a call or email!