Personalised Number Plates
Let us help you select the perfect personalised plates...
Personalised number plates, also known as private number plates or private registrations, are an ideal way of giving your car, van or bike that extra bit of personalisation, making it instantly recognisable to you and other road users! 
Personalised registrations often reflect a name, date or contain initials which are significant to the owner, and there are a number of different personalised reg plates available, ranging from current styles to dateless registrations, as well as suffix and prefix style registrations! 
Usually, people have something in mind when they come looking for personalised registration plates, and our search function will help you find the perfect private plate for you! Just enter whatever it is you have in mind, and our clever algorithm will match you with some of our most relevant registrations from our database of over 50,000,000 registrations! Whatever you want, whatever you need, here at Number 1 Plates, we've got you covered!
How much are personalised number plates?
Honestly, there's no simple answer to this question, as personal registrations can vary so much in price, with their cost being dependent on so many variables! Typically, registrations are valued with age, rarity, popularity of the characters and comparable current and historical prices in mind, with older, more popular characters tending to be more expensive. For this reason, this is also reflected in the style of the plate, with cherished registrations typically being more expensive than suffix, prefix and current styles. 
However, despite this, we can tell you that personal registration plates can start from as little as £299, meaning that your perfect private reg doesn't have to cost a fortune! 
If you currently own a private registration and you're wondering whether we can help you sell it, then yes, we can do that too! Head over to the 'Sell Your Plate' section to find out how.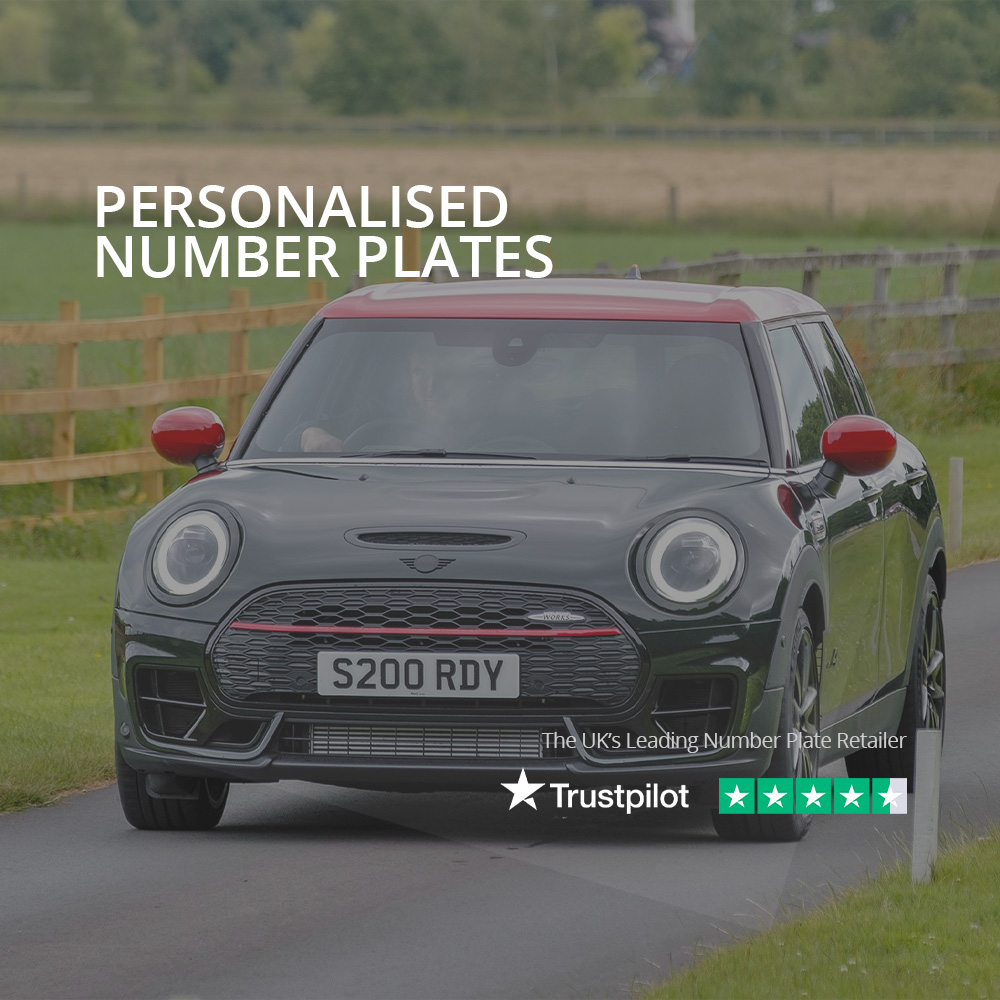 How to get a personalised number plate
If you're wondering how to buy a personalised number plate, then it's really easy! All you have to do is search through our database, find one you like and purchase the registration and hey presto, you're the new owner of a private registration. You can then use the entitlement certificate (V750) to get your registration printed onto some brand new number plates, and get them assigned to your car.
How much are personalised registrations?
The cheapest personalised number plates start from around £299, with more expensive options well into the thousands. If you're looking for cheap personal number plates, here at Number 1 Plates, we've got you covered. With the ability to browse hundreds of cheap personalized number plates using our search function, as well as the knowledge of our team of experts, we can help you find your ideal personalised registration in minutes!
How do I buy personal number plates?
In order to buy a personalised license plate, you'll first need to purchase the registration itself! Unfortunately, it's not quite as easy as making up a registration, getting it printed on some plates and then telling the DVLA you've changed the registration on your car!
From purchasing the registration entitlement to going through to buy a personal number plate, our expert team of professionals can help you throughout the entire process of purchasing a private reg, so you need not worry! We make buying personalised car number plates quick and simple!
We'll help you search for your perfect registration, and help you with all the paperwork to ensure that your reg can be made into number plates and displayed on your car, van or bike in no time at all! 
Over the course of the process, you'll receive confirmation from us regarding your purchase, and confirmation from the DVLA that your plate has been registered with them and is ready to assign. We will work with the DVLA to ensure your registration is assigned as quickly as possible, and once this has been completed, you'll be able to put new number plates on your vehicle, with your new personalised registration there for all to see!
How to register personalised number plates
Are you wondering how to register personalised number plates? We make it quick and simple with our Done For You service. We'll deal with the DVLA on your behalf so you don't have to waste time when it comes to assigning your personalised car plates to your vehicle.
How do I transfer my personalised plates?
Transferring a private registration is as quick and simple as buying one! 
All we need is your V5C and we can do the rest. We'll remove the current registration, place it on retention, and then assign your new registration. 
If you want to remove a personalised registration, then you can do this online via the DVLA. You will have to pay an £80 fee to put the registration on retention. Once this has been done, you'll be sent both a new V5C, displaying the vehicle's replacement registration number and a V778 retention document for the private reg. 
If you have any questions about buying a private plate or transferring a personalised registration, then at Number 1 Plates, we can help you, every step of the way! Why not try us today?