Personalised Number Plates
Let us help you select the perfect personalised plates...
Personalised number plates may also be referred to private number plates, or private registrations. Some of these personal number plates can be used to hide the age of your car. These are called dateless or cherished plates.
At Number 1 Plates we have one of the UK's largest collections of personalised number plates. Whether you're looking for personal plates for yourself or someone else, a name, initials or anything else, we have what you need!
Everyone has an idea of what they require from their personalised plates. Maybe you have a suffix registration in mind, or maybe you have seen something in the current format. If you are unsure as to what you would like, don't hesitate to get in to with our customer service team. They are more than happy to help you find the perfect match.
How much are personalised number plates?
There is no simple answer to this question. The value of the personalised plates that you like in comparison to that of someone else could differ by £20,000. The great thing about the world of private registrations is that you can also find something similar to your idea to save some money.
You may have heard of some personal plates being valued at upwards of £5,000,000. The reality is, there are very few that hold this much predicted worth. You could pick up the exact combination of characters that you are looking for for as little at £165. And that personalised number plate will be registered to you and you vehicles until you decide to sell it on.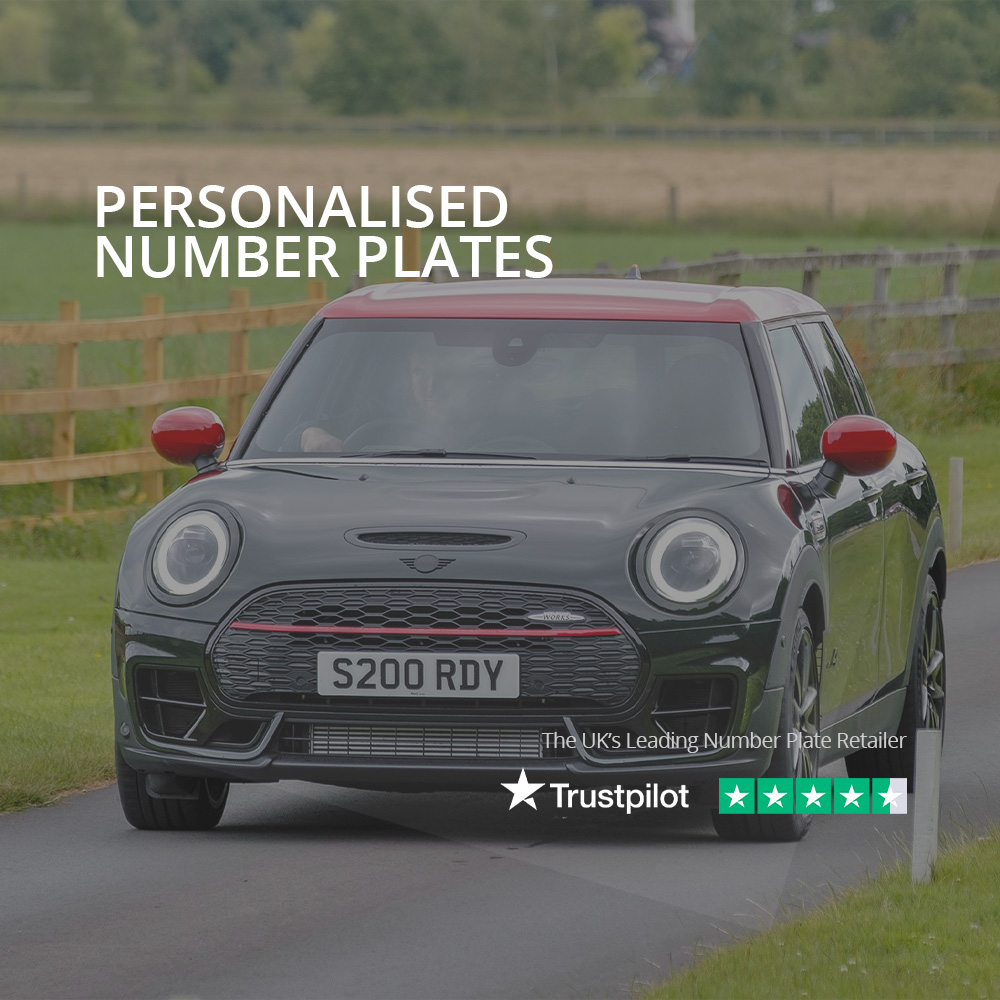 How do I buy personal number plates?
With the help of our expert sales team, you can shop for your desired registration. Once you have found the perfect match, you will see the final fee, consisting of the plate price and VAT. There is also an £80 DVLA transfer fee required to register the plate to you.
Once you have made payment for your personalised plates, we will do all of the legwork for you. Within 14 days you will receive everything you require from us and the DVLA. This will include your certificate of entitlement, essential proof that you are now the legal owner.
How do I transfer my personalised plates?
If you would like to assign your new licence plates to your vehicle upon purchasing personal plates from us, then we can do that too. All you would need to do is send your current V5C logbook into us, and we'll work with the DVLA. With them we will remove your current registration and place it on retention, then assign your new reg.
To remove your reg plates from your current vehicle, perhaps to assign it to another vehicle, head to the DVLA transfer page. Here you can apply online and pay the £80 transfer cost and complete the application without the need to post anything. All you'll need is your vehicle's logbook.
Once the is completed you should be sent:
A new log book (V5C) showing the vehicle's replacement registration number – it can take 4 to 6 weeks to arrive
Your original MOT back (if you sent it to tax the vehicle)
A V778 retention document if the private number is in your name
Have more questions? Get in touch with our customer service team who will be happy to help you every step of the way. If not, get searching!