Tom Stordy In The Headlights
Our Ambassador Today: Tom Stordy
Meet Tom, one of our proud Number1Plates brand ambassadors! We got the chance to have a catch up with him over Zoom this week, and we thought it would be great for our community to get to know him, our ambassadors and the team! So here's the first of our profile series… Tom!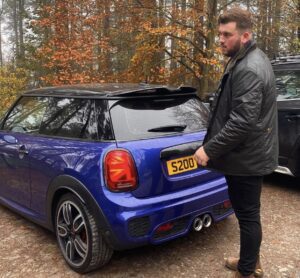 "So Tom, tell us a little bit about yourself!"
"Hi there, I'm Tom Stordy, 25 from Bingley, near Bradford! I'm a real car enthusiast, I'd maybe even go as far as saying a geek! Growing up, I was always surrounded by car enthusiasts with my family and friends. I guess that's probably where my passion came from as it rubbed off on me from a young age. It started off with just taking a few pictures here and there and adding little modifications to my cars, however I soon found a talent within my passion, and so I continued to do so.
Over the past few years, I have gained a decent following within the Mini community on forums, as well as on other platforms such as Instagram. I definitely hope to continue growing my community and give others the inspiration and opportunity to follow in my footsteps with the love for cars!"
"Awesome! What do you get up to in the Mini community?"
"Where shall I start? I mainly find myself speaking to fellow community members and reviewing different specs and models that Mini brings out, however most of my time is definitely spent helping those who want to know more about Mini. Whether they are first time buyers or avid Mini fans, I help to guide them through the purchasing process and advise them on what's going to suit them most. 
I love helping people out with the modification side of things too, as I can really show off my knowledge here! Of course, Mini offers a huge number of customisation options anyway, but there's always aftermarket tweaks you can make. One of the most popular things to do is to rid your Mini of any chrome and replace it with a matte colour.
"Oh great, is there a good community feel within Mini?"
"Definitely. That's why it's my hobby! As cliche as it sounds, there really is that family sense of feeling with us all. I think that as we all have the same passion for Mini cars and we're all there out of choice for a hobby it really brings us together and has helped us all to bond so well. One of my favourite events within the Mini community has to be the MiniBitz event in the Peak District. For those who aren't familiar, it's a day long tour where around 150 Mini's come together and drive one behind each other around the Peak District. Stopping off for food and drinks, it's a great social event where we all manage to come together, not to mention the public love watching our spectacular too! Unfortunately with the pandemic we haven't managed to get back out there as of yet but we're all waiting patiently… Or in my case,  impatiently!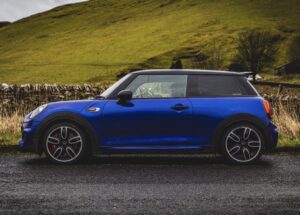 "So… what's your dream car?"
"Interesting question, as I know that most would answer with a flash, souped-up sports car but I'd have to settle with my all-time favourite. The Mini GP. No dispute! 
At the moment though, I'm not quite there yet. I've currently got a Mini Hatch John Cooper Works in 'Starlight Blue' however there's a Clubman John Cooper Works on the way and I can't wait! You'll see lots of pictures of it coming up, so I apologise in advance for the spam! I'll be sad to see my current one go, but I'm definitely excited to move onto a new style with new plates."
"The burning question…have you got our 4D Neon Blue plates for the Starlight Blue car?"
"Ah, you've caught me out there! I don't have the Neon Blue plates unfortunately but I do have the 3D Gels. Personally with the Mini Hatch I prefer the clean glossy look as they match the nimble smooth design which I currently have, however that might change when my new car comes along. I've been taken by the 4D Neon Gels in red to match my red accents – a great finishing touch for my new treat I think – of course supplied by you guys!"
"They'll definitely look great – you've got our approval! What's the best part in your opinion about being a Brand Ambassador with Number 1 Plates?"
"I think what makes your plates stand out from the crowd is the range of designs. As you've probably noticed I am a car fanatic and any little extra that can style it is a winner for me! So with your plates they're definitely something that seems so simple, yet happens to be so effective, especially when you get the styling right.
"Not only does the standout feature appeal to me and so many, but another great bonus for me was the distance. I'm pretty local to Number 1 Plates HQ and it means that not only am I able to get on board with something I love, but I also help local businesses, which is really important to me!"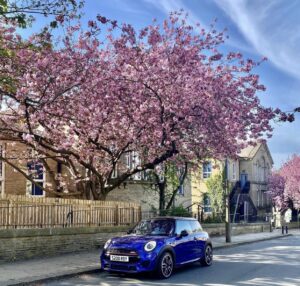 "That's so great to hear Tom! We're so glad. Thank you so much for taking the time to speak with us today, we really appreciate it. You've got some great things going, we can't wait to see what's in store!"
"It's been great, thank you very much! I'm so appreciative of where I've come from and the small following I have so far. There's big plans in the future to help more people style their car and enjoy the thrills that come with it. From bigger platforms and following bases, to full-time blogs! Keep tuned!
---
Take a look through Tom's Instagram page to see his great work, '@S200RDY', and don't forget to follow and like to help support him!
If you're interested in getting involved and becoming a Number1Plates brand ambassador yourself, don't hesitate to contact us – we'd love to hear from you!