Cars With A Hoover
Is A Car Hoover Really A Necessity?
A little topical article for you today… The Car Hoover.
We're all aware of how useful hoovers are, in fact most households will own one. A Dyson, A Henry, A Shark, Mile. etc. These are just some of the common household names which we know. Hand-held/Cordless hoovers are the most recent developments… you can take them anywhere 9pretty much) however there is the downside of having to charge them and empty out the small filters.
Here at Number1Plates, we all have one wish. A discreet inbuilt hoover in ever car. Yes you read that right! In fact, there are actually brands of car manufacturers who implement this ingenious idea already.
The Honda Odyssey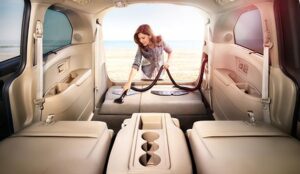 The Honda Odyssey Touring Elite MPV has its own built-in vacuum cleaner. The HondaVAC works just the same as other accessories, but only when the engine is actually running. Alternatively it does manage to run on its own for up to 8 minutes from the rechargeable battery.
Apparently, Honda built the in-car hoover after one of their executives was asked by his young daughter why cars didn't have vacuum cleaners!
The Chrysler Pacifica
The most up-to-date vehicle with a built-in hoover is the 2022 Chrysler Pacifica minivan. They call it the 'Stow' n Vac' and Chrysler first implemented the hoover in 2017. The integrated Stow' n'Vac system works beautifully on all spillages.
How intuitive is that? Pretty awesome if you ask us. As to why these inbuilt hoovers aren't just standard in all cars, it baffles us!
There are 2 types of people. Those who keep their cars squeaky clean and wash them often, and then those who use it as a bin on wheels. (I am guilty of being the latter). regardless of which type you are, car hoovers wouldn't be a waste. Just think, spill your food? Hoover. Mud and dirt on the floor? Hoover. Dusty car? Hoover. Evil, menacing, glaring spider? Hoover. I could go on… But I'll spare you all your precious time!
As a nation, I think that it is time we came together. To put pressure on all car manufacturers to start implementing in-built hoovers in every car!