Dan Linfoot reviews the 2021 BSB Championship
It was an up and down season for British Superbike Championship contender Dan Linfoot. As we sit down with him in his office over at his motorcycle trade centre, Apex-Motorcycles, you can see he's considerably more relaxed than the last time we saw him in the garage at Silverstone. We get comfortable in the office, with pictures of Linfoot's time in various championships hanging on the walls, along with to-do lists and sales targets scrawled across whiteboards. After a tough campaign which came to an early end, we want to focus on the positives to begin with, so start by asking him what his season highlights are.
"It's difficult to find one massive high," he replies. "We had a difficult season clearly, it was a brand new bike for the team whom I'd been with for two previous seasons, and we quickly made some steps with it. But we plateaued soon after that and didn't take too many steps forward. 
"We had some good results, I think maybe 8th was our best [in Race Three, Round 11, Snetterton], and the main group where I wanted to be were perhaps just a second or two up the road. Ultimately though, we just struggled to make that next break. So I think the consistency, if you could call it that, was positive. Clearly the results weren't what we were expecting, but we were consistent in the areas we were finishing in. 
"Racing is a tough sport. It's generally two or three bad weekends followed by one good one, and of course the season ended on a low when we decided to split with the team."
With all his struggles this season, was there a race which stands out as 'the best' in terms of performance? We highlight Round 5 at Donington Park, where the former TAG Racing man finished 12th, 11th and 9th over the three races, in some uncertain conditions. 
"There was a damp but drying track" he recalls, casting his mind back to a gloomy Sunday afternoon in August. It was Race Three at the historic Leicestershire circuit which saw the race stopped with just three laps ridden due to rain. Following some frantic set-up changes, the 20 lap race got back underway.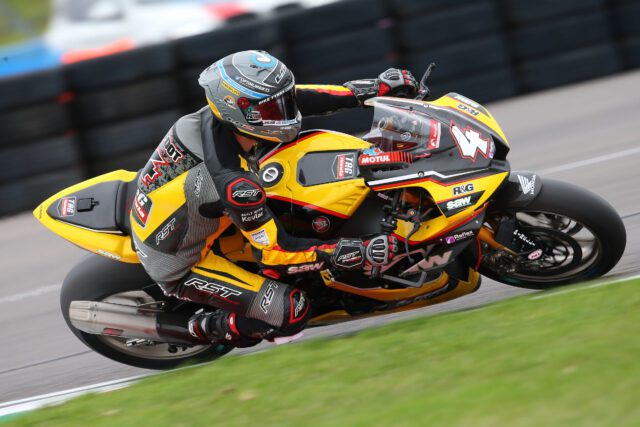 "There was a lot of potential for that race," says Linfoot. "I had a wet front [tyre] and an intermediate rear, and kicked myself straight away. I should have had an intermediate front, and if I had, I'd have been in the top five easily. That was one of my best races this year."
"I'm holding some positive feelings from the season. I feel like I'm riding as normal and as well as ever, but I had some bad feelings with what was underneath me. I'm not saying the bike was bad, because it wasn't. There were just one or two key areas with how the bike felt underneath me that I wasn't quite comfortable with, and that sometimes didn't bring out the best in me."
Dan's season came to a halt just a few days prior to Round 10, the return to Donington Park, when the decision was taken to split from TAG Racing. Linfoot tells us more about what happened:
"We weren't seeing any improvement, we weren't having the best of times, and had stagnated. We were constantly finishing 12th, 13th or 14th, which wasn't where the team wanted to be, and wasn't where I wanted to be either. Obviously, when that goes on for a bulk of rounds, questions are asked. The team started to question my ability, I asked questions of myself, and everyone was questioning the situation. With that, tensions start to increase within the team. 
"We went to Oulton Park, and once again, it was another average weekend. In the morning warm up ahead of Race Two, we had a catastrophic engine blow up, and I had to jump off the bike at 140mph. 
"I was fine, a little beaten up, but fine. I walked back from the crash thinking 'I've been at this for more than 15 years, I can read the signs when it isn't going well. This is a sign to say 'Dan, quit while you're ahead'. I think now's the time to have a chat with the team'. 
"So that discussion was had over the next couple of days, and as a result, we decided to call it a day."
It's not all been doom and gloom for the Yorkshireman though. Away from the British Superbike paddock, he's been involved in the World Endurance Championship on a couple of occasions, riding for Wójcik Racing Team alongside Sheridan Morais and fellow BSB rider Gino Rea at both the Bol D'Or at Paul Ricard and 6 Hours of Most in the Czech Republic.  
"It was a breath of fresh air," Linfoot tells us. "Not only was it a different brand of bike, but it had  new tyres, new tracks, a different championship… It was great. It was probably the first time all season I'd felt like I'd ridden free.
"I've not done a whole lot of endurance, so I was really excited at the prospect of doing a 24 hour race (at Circuit Paul Ricard, France). We only just made halfway before the engine broke, but it took away no enjoyment for me, it was a great experience. 
"After that, we went to Most, Czech Republic, which was a new track on the endurance calendar. We had a new upgraded engine for that event, and straight away we felt like we were strong. I topped my qualifying session, and we had a good feeling that weekend. We had a few little issues during the race, which is normal for endurance racing, but we finished 5th, which was a strong result for us. 
"In my latter years of racing, it's definitely something I'd like to do more of. I enjoy the whole aspect of riding endurance, like working alongside your teammate rather than competing against them, and I'd like to do more of it."
Turning our attention back to the British Superbike Championship, reminding Linfoot of our conversation at the start of the year, where he tipped McAMS Yamaha's Jason O'Halloran for the title, the 33-year-old chuckles to himself; O'Halloran eventually finished third overall, despite leading before entering the controversial showdown part of the season, with his teammate Tarran Mackenzie taking the title.
"I can't say I was surprised to see Tarran win it, he won a load of races and consistently finished on the podium. It could never be a surprise, winning that many races and being that consistent, that you end up in contention for the championship. It was between Taz and Jason, obviously Tommy (Bridwell, Oxford Products Ducati) came close, and (Christian) Iddon was there, but it was always going to be one of the Yamaha's. Unfortunately for Jason, the showdown didn't work out for him."
The Showdown has been talked about a lot amongst BSB fans and a lot of the motorcycle racing media of late. For those unfamiliar with the British Superbike Championship, this year saw the top eight riders in the standings elevated to 1000 points after Round Eight at Silverstone. Podium credits are then applied to this total, with the Showdown contenders rewarded for their efforts in the regular part of the season. Here, riders are awarded 5, 3, and 1 points for every 1st, 2nd and 3rd place they've had in the previous eight rounds (24 races). The Showdown format has been in place since 2010, after Leon Camier ran away with the title in 2009, securing the trophy with four rounds still to complete. However, questions have been raised this year whether it's needed, or even whether it's fair on a rider who has had the skill and consistency to perform week in, week out at the highest level. Discussing the Showdown, Linfoot said "There's certainly a good argument that now is a good time to scrap it, because we feel that it isn't required. 
"It's a tough answer for a rider to give while they're in the season, but I feel like now is a good time to remove it. But, you can't hide the fact that it creates a lot of excitement for the final round. Look how busy Brands Hatch [the final round of the season] was, if it's done for that reason, it's working. So there's arguments on both sides."
By his own admission, Linfoot endured a tough season in the 2021 British Superbike Championship, but what of his plans for next year? As a rider in his early thirties, without any contract in place for 2022, the future looks uncertain for him. He may even have called it a day and retired, but Linfoot remains adamant on a return to the British championship paddock. 
"I'm not planning on stopping just yet. I certainly intend to race, [but] at this point it's too early to know. I'm working on some plans, I want to race in the British championship paddock, and I want to race in World Endurance as well, so I'm going to look to combine the two. 
"I still feel like I've got unfinished business in British Superbikes, I feel like I can ride as strong as ever, I have a lot of energy to give…but it has to be right. The last thing I need to do now is hastily agree to ride a superbike which I'm going to finish in similar positions on.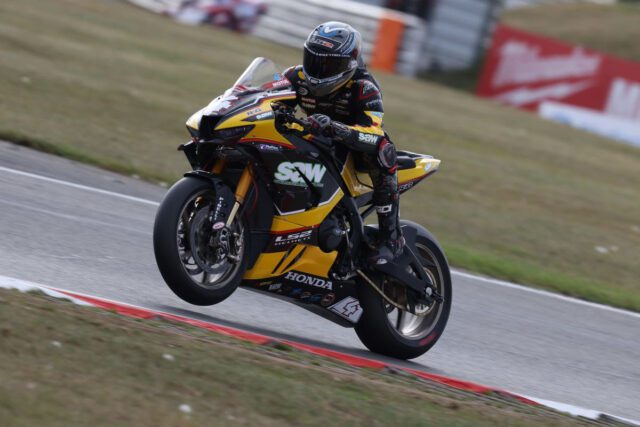 "If that chance isn't there, then I'll look to go across to the National Superstock Championship, with a view of trying to win that. 
"We're at a little bit of a crossroads, and I'm not getting any younger, but I've still got a good four or five years of racing in me at this level. I'm going to work on it over the coming weeks and months, and see which is the most exciting opportunity which can get me on the grid competitively – and competitively is the key word."
So, it's certain that Linfoot wants to be on the grid next year. The challenge is finding a spot within a team, on a machine which is competitive enough for him. However, that's easier said than done, particularly with a number of riders from this season's competition out of contract and looking to secure their spots on the grid in 2022. It is expected that the likes of Josh Brookes and Christion Iddon will continue at PBM VisionTrack Ducati, and Jason O'Halloran will continue at McAMS Yamaha, with Lee Jackson and Rory Skinner for FS-3 Racing Kawasaki, along with Brad Ray and Kyle Ryde at Rich Energy OMG Racing all confirmed, but there will be spots that need filling at other teams. Synetiq BMW Motorrad, FHO Racing, Buildbase Suzuki, and the factory Honda Racing team are all yet to confirm their lineups for next season. 
What's for certain though, is no matter where Linfoot goes, Number 1 Plates will be right behind him!
Like what you've read? You can watch our full interview with Dan here: