DVLA Auctions – What You Need To Know
As you may have already found, we can help you with all things number plates. If you're looking for
cheap replacement number plates
,
show plates
for your sons bedroom or
private registrations
, we have got you covered. We stock a huge amount of different number plate styles. Our 50,000,000+ selection of personalised number plates is also something to be checked out. One thing we can also help you out with, and the DVLA auctions.
What are DVLA auctions?
Annually, the DVLA hold 5 live auctions, and 4 timed auctions. Here they allow people to bid on personalised registrations, that are not available on the common market. They recommend bidding in person to get the full auction house atmosphere. Otherwise a buyer would be able to bid via telephone or internet.
How to the auctions work?
The difference between the two types of auction is that with timed auctions, there is no physical event to attend. The set up is similar to the way that purchasing through eBay bidding works. The bidder enter the maximum amount they are willing to pay which can not be seen by any other potential buyer. There would be a reserve price, which is the minimum figure that the number plate can sell for.
In a competitive timed auction environment the system will increase bid prices by £10 interments. This is done on behalf of the bidder up until their maximum bid. If this is surpassed, you will lose that particular Lot. To prevent Lot sniping, (bidders bidding as late as possible,) any bids made in the last 30 minutes will make the auction end time increase by 30 mins. This is called a "sliding end time".
Live auctions are much more traditional. You can take part but in person and online, with online bids being presented to the auctioneer throughout the Lot auction. Other wise you can call out directly at the event to compete for your desired registration.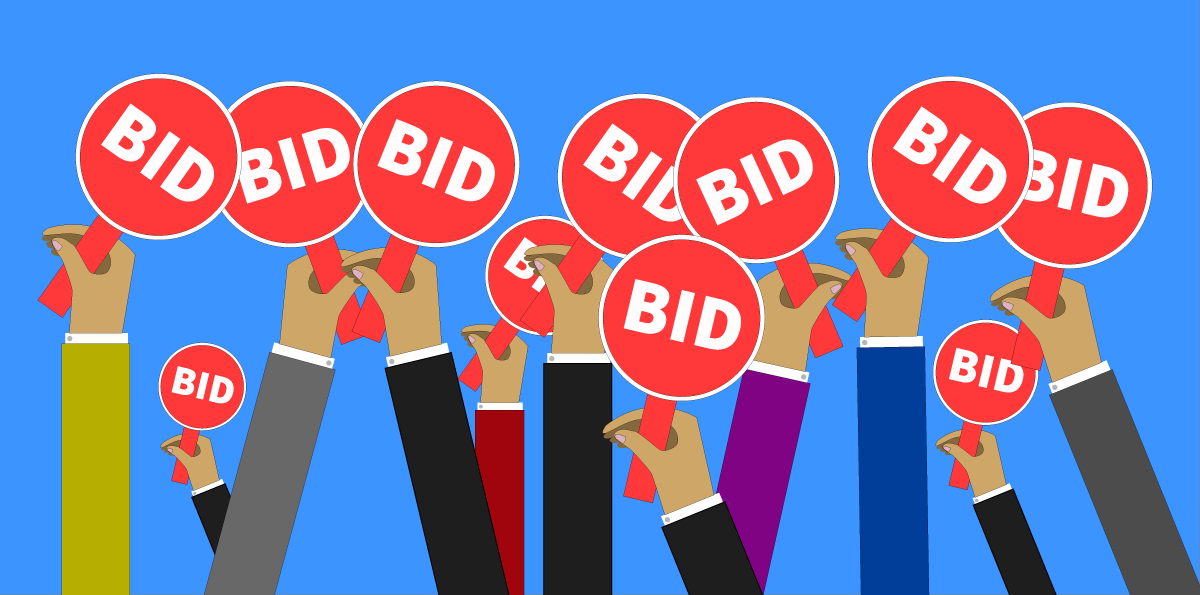 How would I submit a bit?
The Driver and Vehicle Licensing Agency have made that as simple as possible. Both online and walk-in events are free of charge to attend and partake in. All bids are taken securely and safely. Bidders cannot be cancel bids once they are placed, although they would be able to increase their bid right up until the end time. The DVLA even allow bidder to take part by sending their maximum via post, with their Bidder Registration Form.
How much does a DVLA auction plate cost?
There are a couple of added fees that are required to pay when a winning bid is made for a registration mark. On top of the sale price, you will be require to pay added fees. VAT, the Auctioneer's Buyer's Premium 8% with a minimum of £40 + VAT, and finally the standard £80 transfer fee. For example:
Sale Price – £100
VAT –           £20
ABP –          £40 (+ VAT at £8.00)
Assign –      £80
TOTAL –      £248
Sale Price – £430.00
VAT –           £86.00
ABP –           £40.00(+ VAT at £8.00)
Assign –       £80.00
TOTAL –       £644.00
Unfortunately we are not able to host or give you access to the
DVLA auctions via our site
. These are hosted and delivered by the DVLA themselves both online and in person, in alliance with the BCA (British Car Auctions). We will keep you updated with the latest registration auctions so you can be the first there if you're looking to buy.
To keep up with the latest DVLA auctions, all you need to do is search. 'DVLA auctions' in Google and click the first link. This will take you directly to the DVLA site where you can register to take part in the auctions and start to bid on the reg marks that you desire the most. They usually host bi-monthly slots, so you should never have to wait too long before digging into the latest styles.