Father's Day Gift Ideas for the Car Mad Dad
It's no surprise that at Number 1 Plates, both our replacement car and novelty plates are incredibly popular gifts for auto-loving gents – particularly on Father's Day. To make sure you're not driving down the wrong road this year, here's our gift guide for presents any car-mad dad will love (almost) as much as his set of wheels:
Fake numberplate door sign
Ok, ok we might be biased, but this one's probably our favourite – just because (to us) it's the ultimate car away from car gift, that's really just a little bit unique. Whether it's for his man cave (cough, shed), desk at work, or just something to stick anywhere he can annoy your mum with it – novelty plates are a great way for him to showcase his love of cars (without taking up any extra space in the house). Choose from a selection of fonts, colours, borders and badges online or get in contact with us for anything a little bit special. We always love to help customers be a little bit creative when designing.
Don't forget, however, our name is built on road-legal plates. If dad's after something a little more road-worthy, simply build it on our page here.
iTunes Voucher or CD
Let's face it, who doesn't love a singing session on a long car journey (especially now you can cover it up by pretending you're talking on the phone's loudspeaker)? If dad's sung his heart out as much as he should have, his collection of car CDs may be wearing thin on sound quality, or his favourites may not have quite made their way to his smartphone yet.
Consider ways to let dad get the most out of his classic rock for car journeys – buy him an iTunes voucher or Spotify membership, or look at the most worn of his CDs and replace or expand. Have any of his favourite artists brought out new 'best of' CDs recently (perfect for listening to all the top hits during shorter journeys) or are there any bands he might like to discover en route to work? Remember the more he sings in the car, the less he'll need to sing in the shower…
Voucher for a Valet
If he loves his car, he'll no doubt have it cleaned (or clean it himself) fairly regularly. Get him a voucher or book in a professional clean with the best-looking car service you can find and opt for their top-level service. While he's used to cleaning the car himself, he'll not have had it showroom sparkling for a long-while and trust us, it feels incredible.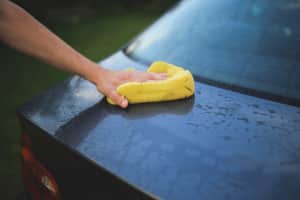 Get any scratches covered (if you've got the funds) and consider replacement plates if they're looking a bit worn. If his car's still running well inside, the surface touch up will mean a lot – giving him a brand new car for next to nothing!
Artist drawing of his motor
Know any good local artists or got a friend who's handy with a pencil and pad? Commission them to do a mantlepiece-sized portrait of your dad's favourite car with a personal message (especially if it's someone you're close to). While he might not want a wall-sized version of his escort, a smaller sketch of it might just mean the world to him – especially in a few years when he may have changed motor.
Any ideas to add? Join the conversation on our Facebook or Twitter pages.