Number1Plates X TopGear and Ferrari
Ferrari … Number1Plates… Top Gear? You read that right!
Before we get into all of the meaty bits of the TopGear Ferrari special-edition magazine… We've got some pretty exciting news! Say hello to our new spot… in the TopGear magazine! We are pretty happy about it and we hope you are too.
Check us out for yourself here in the Official TopGear magazine: After all, we are #Proud!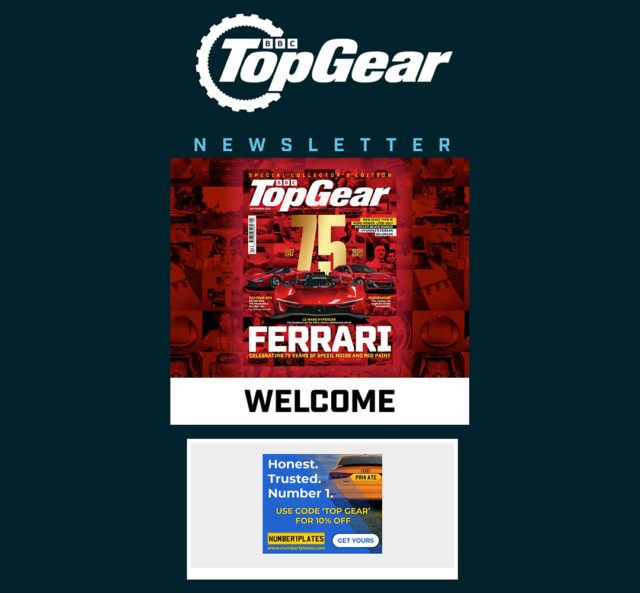 Earlier this week, we all celebrated the 75th Birthday of the most famous users of red paint, high speeds and gorgeous designs; Ferrari.
TopGear celebrated in style with a special issue of their magazine dedicated to the Ferrari life. Let's take a look at some of the featured pieces — with full credits going to the TopGear writers and editors! 

Ferrari highlights through the past 75 years…
1898 – Enzo Anselmo Guiseppe Maria Ferrari was born on 18 February in Modena, Italy. His parents only record his birth two days later because a heavy snowstorm prevents his father from reaching the local registry office.
1920 – Enzo joins Alfa Romeo's racing department as a driver. He's pretty handy, competing in 41 Grands Prix and winning 11 during his racing career.
1937-45 – Enzo creates a new company to build Mille Miglia racing cars. His factory is repossessed by Mussolini's facist government during WW2, and then bombed by the Allies.
1947 – Needing new digs, Ferrari SpAA is officially established in Maranello. The company produces its first standalone car: The 125 S.
Ferrari in the 60's…
1963 – A mooted deal for the Ford Motor Company to acquire the Ferrari brand goes sour after Enzo reneges. Incensed, Henry Ford II demands Ferrari is thwarted at Le Mans – the GT40 makes good on the threat with wins from 1966-69
1973 – Enzo decides to pull out of sports car racing and focus all motosport efforts entirely on F1. Berlinetta Boxer super car launched.
1988 – The twin-turbo F40 supercar – the first road car to officially claim a top speed of over 200mph – Is the final Ferrari in the lifetime of Enzo.
1988 – Enzo Ferrari died 14 August at the age of 90. His death is not made public for two days, to compensate for the late registration of his birth.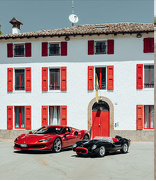 Post Enzo's Death…
1988 – 11 September – Gerhard Berger soon leads home a Ferrari 1-2 at the Italian Grand Prix in front of jubilant tifosi. The Monza race is the only event of the 1988 season not won by McLaren.
1991 – Luca Montezemolo is appointed president of Ferrari, masterminding a return to form and profit in road cars, spearheaded by the F355. He departed in 2014 with Ferrari, recognised as the world's most powerful brand.
1995 – Limited edition F50 supercar fights back against the McLaren F1, Bugatti EB110 and Jaguar XJ220 with an engine block derived from a 1990 F1 car. Jeremy Clarkson hates it.
1997 – Ferrari then introduces its 'F1' semi-automatic paddle shift gearbox to its road cars via the F355. It'll never catch on.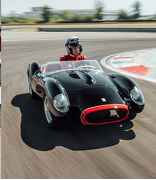 Throughout The Noughties…
2000 – Michael Schumacher wins the first of five consecutive F1 titles with Ferrari, sweeping the driver and constructor crowns for five years on the bounce.
2002 – All of Ferrari's aerodynamic and technical F1 know-how is poured into its new 660bhp V12 hypercar, named after the founder of the company – the Enzo.
2007 – Kimi Ralkkonen becomes Ferrari's most recent F1 World Champion, stealing the title from McLaren's warring pair of Fernando Alonso and rookie Lewis Hamilton.
2010 – Afterwards, Ferrari quietly discontinues the manual gearbox option for the California, meaning all Ferraris are now dual-clutch automatics. Boo!
The Legacy Continues…
2013 – The LaFerrari becomes the first electrified Ferrari road car, with battery boost supplementing its manic V12 to deliver a total of 986bhp. Makes quite good noise!
2021 – The marque officially confirms it will reveal its first ever fully electric car in 2025.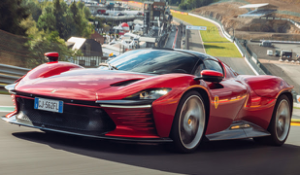 ---
Many thanks to the team at TopGear for giving us that awesome run-through of the Ferrari life so far… I think we can all agree that we are looking forward to the rest of their legacy.
Keep tuned in for more exciting appearances from Number1Plates in your favourite places… we will keep you posted when they happen!
All photo and writing, credits: Top Gear