Record breaker at Goodwood… McMurtry Spierling!
2022 Goodwood Record Breaker
 You may have missed the news (As it was travelling very fast) but there's been a new hillclimb record set over the Goodwood Festival of Speed 2022.
The McMurtry Spierling
We first became aware of the McMurtry Spierling earlier this year. When one of McMurty's Technical Design Engineers ordered some plates through ourselves. So we did a bit of research into who and what McMurtry were. Founded in 2016 by Irish inventor and businessman, Sir David McMurtry. Nestled in the sleepy Gloucestershire Cotswolds, McMurtry Automotive is anything but. They have just a handful of employees, all committed to raising the bar for electric vehicles
At the time of the order earlier in the year, the McMurtry Spierling was finishing development… which revealed last year at Goodwood Festival of Speed 2021. A small, track focused vehicle, designed for maximising EV performance with ridiculous handling.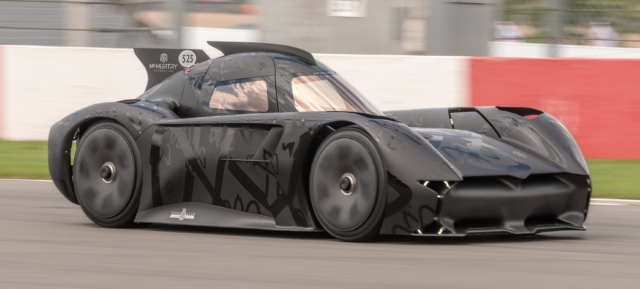 For this years GFoS, McMurtry put former F1 and Indycar driver Max Chilton behind the wheel. With Chilton at the wheel and two electric motors that send all the power to the rear wheels they set a new climb record of 39.08 seconds. The Spierling weighs less than 1000kg, giving it a power-to-weight ratio of 1000bhp per tonne. It's not your average EV, especially due to the noise it produces from the two fans that produce 2000kg of downforce at any speed. How ridiculous is that?!
The best thing about McMurtry's creation is that it is capable of 300 miles on a single charge. Not flat out though! You will be lucky to get 60 minutes of drivetime with track-focus driving.
McMurtry are developing a road version of the Spierling, which you'd hope will be just as good as its track focused baby brother. (I say baby as it's only 3.7m long x 1.7m wide).