The New Range Rover Sport 2022
Hello New Range Rover!
Starting at an eye watering £79,125, it's safe to say that there's plenty of mixed reviews on Land Rover's new reveal. When we talk about mixed reviews, we're talking about the looks and aesthetics of the new car, not the inner-workings. As we're sure that we can all agree, the internal mechanics of the new Range Rover Sport are pretty awesome and intense… let's have a look at these first!
Before we get into the heavy bits for you petrol heads, we can see from the outset that the new Sport has 5 seats only. Controversial to the typical seven-seater design Land Rover often go for. However, less seats only means room for more space. Longer and taller than previously, the boot space boasts of 385 litres. With stadium seating in the rear partnered with more legroom and headroom – creating that cinematic atmosphere.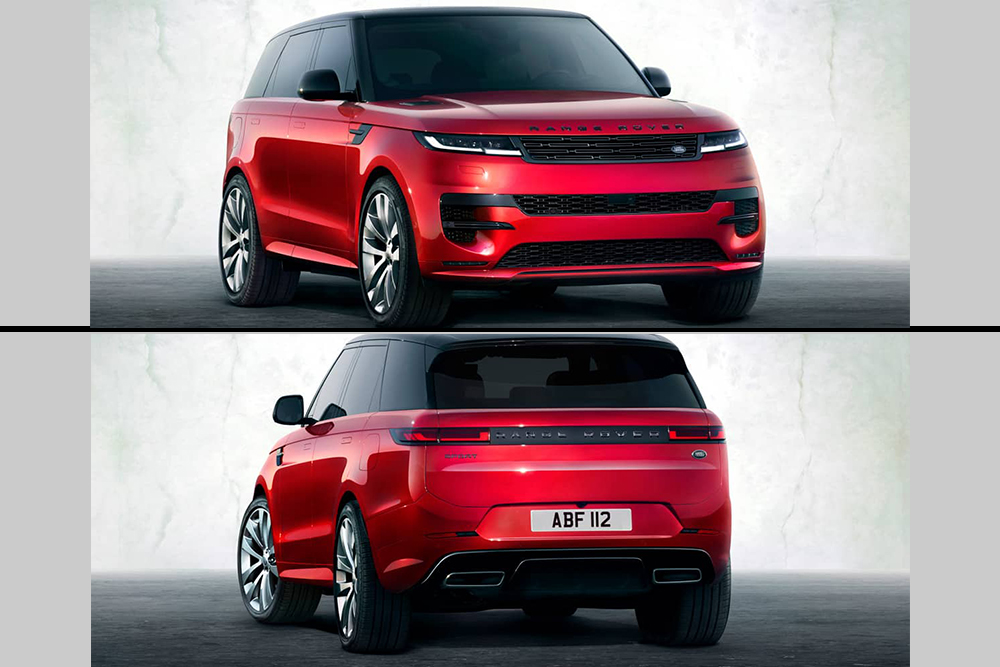 The torsional stiffness increased by 35 per cent, meaning that the Range Rover Sport boasts of sportier dynamics. Further improvements with a 20mm lower driving seat to encourage a sportier use of technique.
Range Rover moves towards a sporty whilst luxurious driving experience; heightened by the steering of the vehicle. All-wheel steering is available along with an electronic active diff, torque vectoring. Not to mention the optional Dynamic Air Suspension combining switchable volume air springs with twin-valve active dampers to easily interchange between rough and tumble handling or smooth cruising. It doesn't stop there however, an optional adaptive cruise control has been implemented into the steering specifically for off-road use, pretty smart! 
What about the internals of the Range Rover?
With six optional engines to choose from, the new Range Rover Sport has all of the rights to brag. With all engines twinned with an eight-speed ZF auto transmission, two of which are plug-in hybrids, three 'mild-hybrids' (two of which are diesel and one petrol), with a new 4.4-litre twin turbo V8. The latter stands as the forerunner of the six with 0-62mph in 4.3secs whilst producing 523bhp. 
The plug-in hybrids (P510e and P440e), combine a 3.0litre six-cylinder petrol engine with an electric motor. Both still in-tact with a 38.2kWh battery unlocking a whopping 70 miles of zero-emission driving range with CO2 ratings of 18g/km. This provides only a small insight into how Land Rover are pushing to offer more sustainable materials. For instance, at a slightly higher price you can swap leather interiors for a polyurethane material – find out what polyurethane is made from here.
We are eager eyed waiting for 2024, when Land Rover will introduce an all-electric version of the new car. Pursuing their pact to become more environmentally friendly within the coming years.
With 22-inch alloys, providing a ground clearance of 281mm and 900mm depth, the alloys are much lighter than previously. The ride height is adjustable depending on personal preference, with a change of up to 135mm. LED headlights are more pertinent than before with over half a kilometre projection available. 
High-Spec… Check!
Now, let's take a look at the interiors of the souped up car. Inspired by the cockpit of an aircraft, great detail has been paid attention to. In particular, a 13.1-inch, curved touchscreen controlling the Pivi Pro system, along with Apple CarPlay, wireless connectivity with an Amazon Alexa voice control. A 13.7in driver display takes over the dashboard, reverting to that 'cinematic' atmosphere we have already felt with the new motor. Now, we might be 'going on' however we have to mention the Meridian sound system, with a minimum of 29 speakers along with noise cancelling technology within the headrests to cancel out road noise whilst driving.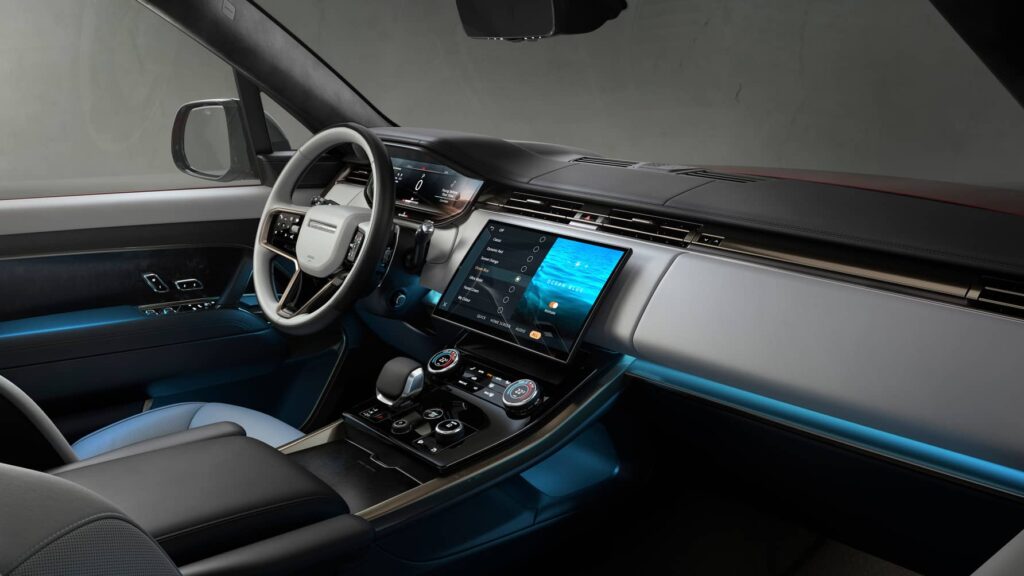 We can confirm that prices start from around £79,125 depending on specs. There are two current trims available, the SE and Autobiography. With a First Edition staying for the first 12 months of production. 
We forgot to mention the ultimate feature of the brand new Range Rover Sport 2022, the brand new number plates for them and all other Land Rover models. That's right! Here at Number1Plates, we can provide your new baby with that extra personalised touch! Whether it is a model-specific plate with many text options to choose from, or a personalised registration. Check out our private registration stock to find your perfect number today!
Here at Number1Plates, we can all agree that the inner-mechanics of the new Range Rover Sport are second to none. Seamlessly thought out with every box ticked. There really is nothing that this motor doesn't boast! However, the conundrum we are faced with is the external aesthetics of the car. 
Call it marmite, some of us love it, some of us aren't too keen. But what do you think? Let us know your thoughts, we'd love to hear from you and see whether there are more fans or critics out there! Or if you have dug deep and managed to get your hands on one of these, let us know how you're finding it!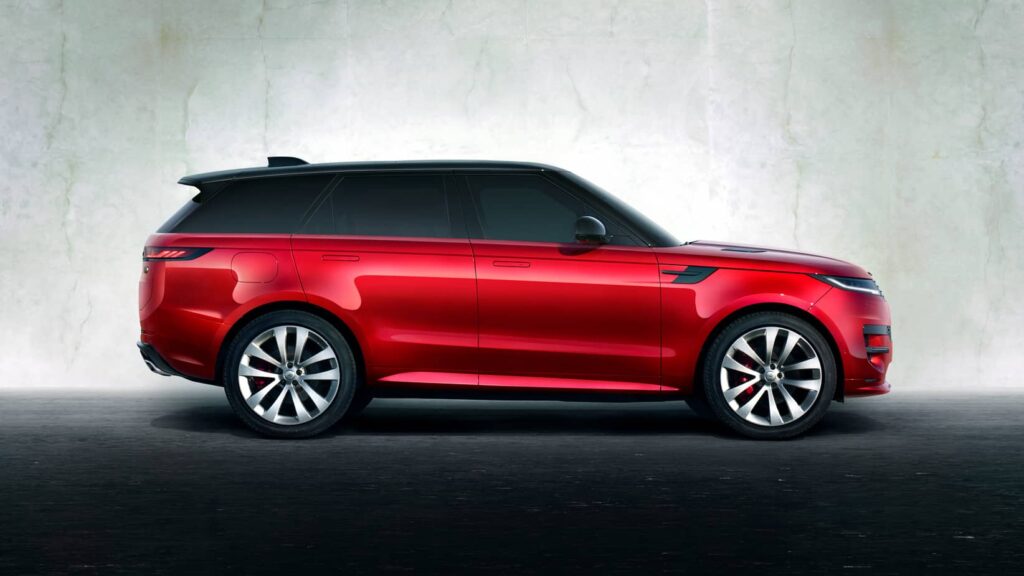 All images courtesy of J. Holding, Top Gear, 'This is the brand new Range Rover Sport'. Available at: https://www.topgear.com/car-news/suvs/brand-new-range-rover-sport