The UK's First All Electric Charging Station
Shell's Electric Charging-Only Station
Shell has recently opened an all-new charging hub on Fulham Road in London. The first in the UK and it features 9 ultra-rapid 175kW charging points. Which are over three times faster than your standard 50kW point. This can get your advanced EV's from 0-80% in 10 minutes. You can have a coffee at the onsite Costa Coffee or pick up some essentials at the Waitrose & Partners store.
Green Charging And Green Stations
The electric charging is not the only green thing at the station, as it is sustainable in its design. There are solar panels that generate renewable electricity for the hub. Paired with double glazed windows that insulate the buildings for less energy consumption. The canopy is made with timber, a more sustainable material than steel as it uses less energy to produce and transport.
Shell has previously announced that by 2025, it plans to install 50,000 on-street chargers and around 800 EV points in 100 branches of Waitrose across the UK.
Shell's global executive vice-president for mobility, István Kapitany said: ''the new hub gives us all a glimpse into the future of mobility'' and that ''EV drivers are looking for a charging experience that is as fast, convenient and comfortable as possible. This is exactly what Shell Fulham aims to offer."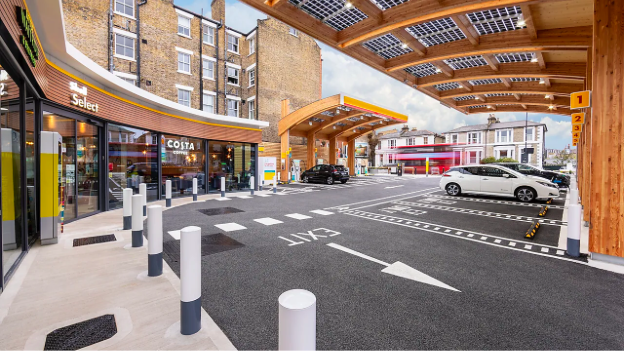 Photos: shell.co.uk