Valentine's Day Gifting Guide
Love is in the air… isn't it? With Valentine's Day fast approaching (yes, most of us forgot too!), supermarket shelves will be lined with cheap chocolates and discounted flowers. Don't get us wrong, we love a cheeky box of Lindor and the odd rose, but it starts to get a little mundane. Plus we all know that really the measly gifts aren't a gesture of your undying love, they're actually more so a romantic social obligation.
We aren't hinting at a full blown 4 week trip to the Maldives, although we guess 'that will do'… No. we're telling you to make an effort this year. Sure, money can't buy love, but a bit of thought, an amazing surprise and a real romantic gesture can. 
Lingerie, football tickets, an experience, a special meal out or a private registration. That's where we come in…
We might not exactly be experts in the industry of romance, but we do know a few tips to help you out this V-day!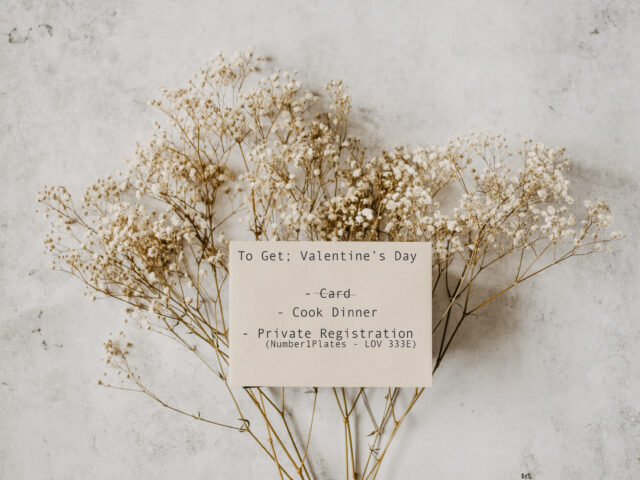 Be creative
Maybe you already know what their dream registration is, however for those of you that don't, this is for you! Remembering the formats of prefix, suffix and dateless registrations, take some time to jot down combinations of names, nicknames, initials, special dates, D.O.B etc. You really have to let your imagination run wild here! It can be tricky, especially if this is the first time you have done it. If you're still struggling, feel free to get in touch with our friendly customer service team who will help you out every step of the way in finding the perfect plate.
Budgeting 
Provide yourself with some pricing guidelines to stick to. This will help you with actually choosing a plate when it comes to it. As you'll probably be aware, the plates that spell names or common words could be very popular and so are more likely to be higher up on the price list. Bear this in mind when you're thinking and looking through..  Remember though that it's not about the money. It's all about a tangible piece of your love…
If you're struggling…
We've got you covered! Don't worry. Take a look at our exclusive 'Valentine's Day' selection of registrations below;
LOV 111Y : £5,106.00
LOV 333E : £4,692.00
C7 UTE : £2,162.00
MR15 LUV : £889.20
DR52 HOT : £2,449.50
PR17 TTY : £3,381.00
---