What Is 'Waze'?
Waze. A Driver's Best Friend.
In todays world, apps are a given. Whether you're and iPhone or android user, you'll be familiar with the vast array of apps available… for absolutely everything!
Want to find out how many snores you do a minute a night? App for that. Want to try a new hair colour on? There's an app for that.
Even in the automotive world there are apps for everything. But one which has proved itself as one of the favourites, is Waze. the navigation app which generates data from users to create real-time maps and navigation.
Waze was created with one thing in mind; creating the fastest route possible for fellow drivers by providing them real0time updates to re-calculate routes to find the user the best possible route. It monitors movements and updates from live users to aid this. The app is actually free to download, and it has been calculated that over 100million people use it across the globe. It was bought by Google in 2013 but remains separate from the Google maps.
Supported by Android Auto and Apple Car Play, Waze have upped their game even more; with music from most sources also available to connect, there's not really much that the app can't do!
Users press alert buttons to add information about traffic, road closures, hazard, speed traps or police patrols – controversially.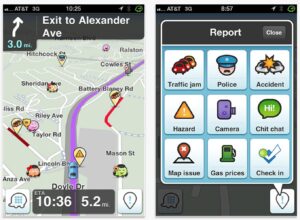 Pros And Cons:
The Pros Of Waze
Turn by turn notifications – with the quickest routes picked by Waze (but alternatively you are able to pick your own). Accidentally made the wrong turn? No problem. Waze will provide you with an alternate route or a way back onto the route within seconds.
The Cons Of Waze
As it is an online system, you will need 4G/3G pretty much always when using it. That been said however, if you have already put it in as a route and then lose signal, don't panic. Waze stores the current route as an 'offline' version. This is so that if you do lose service, you can still follow your route home without any issues! If you do manage to go off route however, then you will need to find service to get back onto the planned route again… pretty quickly!
The further downside is that to alert something or say if the 'hazard' is still there, you will have to use your mobile or car streaming device. It is against the law to use your mobile whilst driving unless it is on the handsfree. So unless you're fortunate to have Apple Car Play or Android Auto, then it's best that you wait until you are stuck in traffic or pull over before you engage.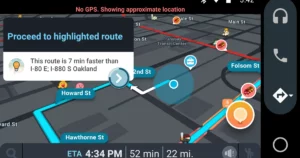 So… does Waze get our vote?
Well, it's definitely a split here ay Number1Plates. Pretty much a 50:50 split! Half of us love Waze, it's our go to when travelling to unknown places, as we love the (controversial) fact that we are able to see hazards, traffic and police patrols. Some however find it more of a nuisance and prefer to just use traditional Google or Apple maps, depending on their SatNav. However, Waze certainly does have many cool features which other navigation apps do not have, so for that reason we are giving it a big yes!