Aluminium Number Plates & Registrations Plates Maker
Number 1 Plates are proud to ultra durable number plates.
Our aluminium number plates are some of the very best on the market. If you have a car, motorbike, trailer that you are wanting to make sure is displaying a clean-cut, super durable number plate then this is the perfect number plate for you. Manufactured from, thin, well wearing aluminium and reflective, these plates are sure to stand the test of time.
Are aluminium number plates legal?
They certainly are. Though most UK number plates are made from from acrylic, this light version is match with British Standard great reflective, meaning they remain perfectly road legal. Remember though, aluminium reg plates are only road legal when they are supplied by a reputable and registered number plate supplier like ourselves.
To ensure that your aluminium number plates are fully road legal for UK use, they must display the British Standards marking (BSAU 145d). To be able to display this the manufacturer, in this case ourselves, must be registered with the DVLA to be able to distribute registration plates in the UK. Anyone providing licence plates with our fulfilling this obligation is doing so illegally.
Buying plates from an illegal supplier could put you and your vehicle in danger of on the spot fines and plate removal. None of us want this to happen, so we make sure everything is done by the book.
Which cars can display aluminium number plates?
Before 1972, every car on the market sported aluminium registrations plates. This is a trend that many people would like to keep up, but some rules do apply. If you would like to display black and silver metal plates, then your vehicle must be registered before 1980. This makes your car fall into the 'classic category and makes it eligible for this sought after style.
Metal number plates are allowed though on any vehicle as long as they display the recommended reflective backing and legal markings. Effectively, they are displayed in the same way as our standard or premium number plates, only they are supported by a different material. Many people choose this style due to its thin and flexibly nature, we truly think this is down to personal preference. They do make for a luxury feel.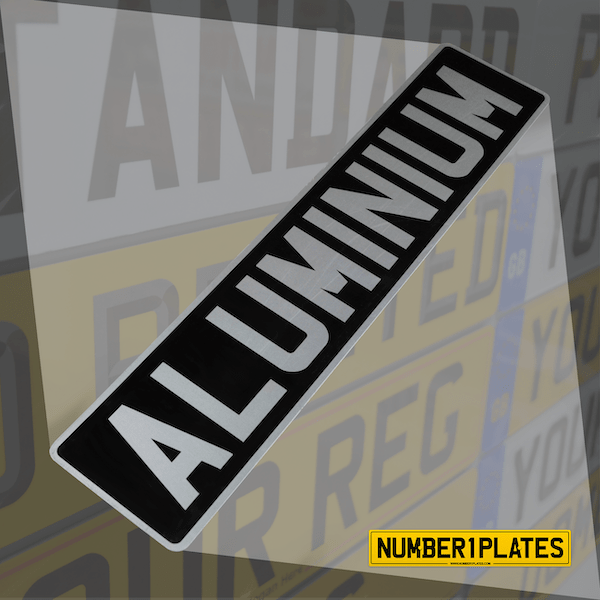 Aluminium Registration Plates and Pressed Plates, What's the Difference?
We actually offer both of these style. The difference between the two is both the thickness of the metal used and the manufacturing process. Standard aluminium plates are made by adding the reflective to the plate, and laying a printed plastic sheet on the surface using a strong adhesive. Aluminium pressed plates however are made by pushing the plate into a hydraulic press and rolling a black vinyl, covering a border and the character selected.
Both styles are a great option for your car, the choice is all yours! Aluminium prices start at £12.50. We also offer pressed aluminium motorcycle number plates over on our Plate Builder. Head over there to build yours, or click here for more information on pressed metal number plates.
Get your durable and flexible aluminium plates today, design them now on our easy to use number plate maker!