Electric Car Number Plates
Incentivised driving with green number plates UK!
In June of 2020, the UK rolled out the first green electric car number plates. Due to the no-emissions build of electric vehicles, there are multiple benefits of displaying a new EV number plate. 
The scheme was introduced to support government plans to stop the selling of petrol and diesel vehicles by 2030. In a bid to improve the air quality of the UK, the government has incentivised the purchase and use of electric vehicles.
Do electric cars have different number plates?
The number plates being displayed will still be manufactured from the same yellow and white reflective and acrylic materials as standard plates. The difference is the addition of green on the number plate.
A small stripe where a badge would traditionally be is enough to differentiate your vehicle from others and allow authorities to identify your vehicle as one worthy of receiving benefits when travelling.
If you were to buy a new electric car today, it would be fitted as standard with a green number plate. You are not legally required to display this though. So if you don't want to display a green stripe on your number plate, then simply reach out to your dealer beforehand. 
This distinction on your vehicle though does come with a range of pros that could make your day-to-day commute a little simpler. 
A full list of potential benefits will be down to local authorities to decide. That being said, there are a few key areas that are said to have been explored as potential benefits. Some of those are:
Access to bus lanes

Cheaper parking for cars with green registration plates

Free roaming in ultra-low emission zones
You don't have to own a new car to display electric number plates. Though they may not have been standard when yours was manufactured, you can purchase your reg plates from us and display them right away!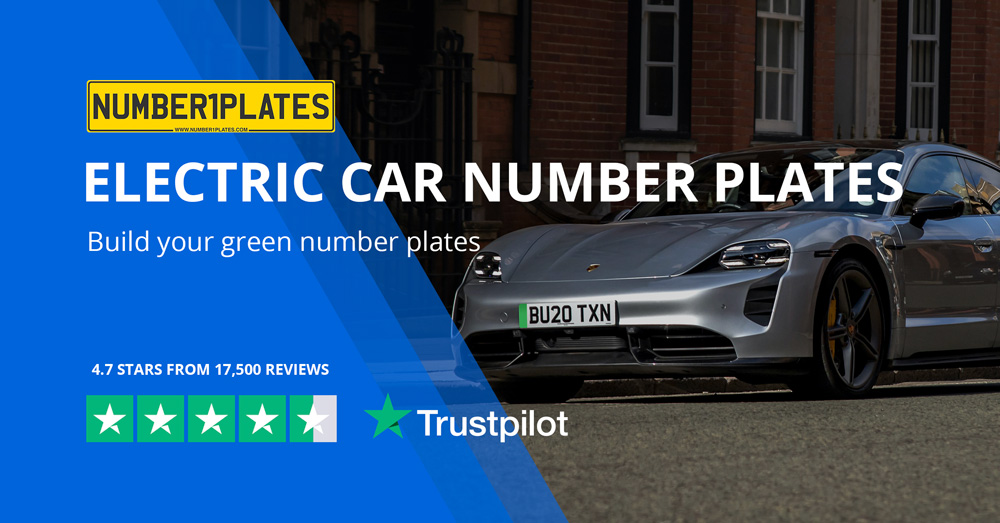 Is an electric car number plate worth it?
For us, we don't see why you shouldn't display a green number plate UK-wide. Though different areas may provide you with differing benefits, any are better than none. 
If you are able to save money here and there or get to your destination a little quicker, why not do so? It is a unique opportunity to gain a small advantage over other road users!
Can I purchase a hybrid number plate?
Technically speaking, a hybrid car number plate doesn't actually exist. As the emissions for the vehicle aren't strictly zero, it wouldn't be able to qualify for the same benefits as an electric vehicle.
This means that hybrid registration plates would be the same as any other number plate. Our pressed metal, 4D laser plates, or short plates could all be used on a vehicle that isn't 100% electric.
Why buy from Number1Plates?
As the UK's leading seller of registration plates and a growing presence in the private registrations sector, we are on the forefront of number plates design and manufacturing. 
You can trust that we only use the very best materials and are frequently in contact with the DVLA to ensure that we are giving the best quality legal products to those that shop with us. 
BS AU 145e Compliant

Safe from all weather

Professionally designed and manufactured

3 Year Warranty

Plate insurance available