Trailer Number Plates & Plates For Towing Online
Build Your Trailer Number Plates
Do I need a number plate for my trailer?
To adhere to DVLA regulations, trailer number plates must display the registration of the vehicle that is towing it, with a legal registration plate made to British Standards (BS AU 145d). If you have multiple vehicles, you can purchase more than one trailer number plate and swap them to match the towing vehicle.
What size are trailer number plates?
We stock a huge range of number plates for trailers. From premium acrylic to pressed aluminium, we can cater for any of the requirements that you have. Usually our standard UK car number plates (520mm x 111mm) or our 4X4 plates (280mm x 203mm) make great caravan number plates. Prices start from £10.49.
Our lipped range make for the perfect trailer number plates if you use your trailer for business purposes. The added area at the bottom of the number plate makes it easy for you to legally place your business name, logo, number or any other details on your plate.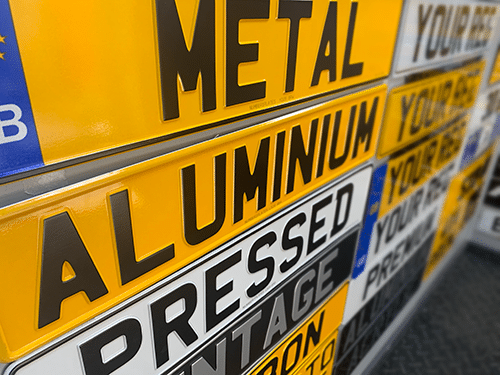 What are trailer number plate laws?
It's important to know that if you have a commercial trailer that weighs more than 750kg, or a domestic one that weighs over 3,500kg  then you must adhere to certain rules when you travel abroad. This means that you may need to register your trailer, and need to purchase a second number plate for it, that will be assigned to the trailer itself.
How to get number plates for your trailer
Getting number plates made for your trailer couldn't be easier. You can have them as soon as tomorrow in a few simple steps:
Go to our registration plate builder
Design your number plate (make sure the reg matches your documents)
Add any borders or badges you like
Add accessories and fitting kits to your order
Place your order and provide your documentation
Receive your order as soon as tomorrow!
We know that sending your documents into us is not ideal, but is essential for you to be received legal number plates. If you were to purchase your trailer number plates from a supplier that does not ask for these documents, then they will have been sold to you legally and are very unlikely to have been manufacture to British Standards (BS AU 145d).
Check out our FAQs if you need anymore information!