Northern Irish Number Plates
Northern Ireland Style Number Plates For For To Search!
Similarly to dateless number plates, Northern Ireland registrations can be displayed on any age of vehicle as they do not represent any specific year of assignment or manufacture. As such, they're a popular alternative to dateless registrations and are usually a little more wallet-friendly than cherished and dateless plates. This means when people go looking for private registrations, their first port of call is often Northern Irish dateless number plates, before moving on and looking for suffix or prefix style options. 
These Northern Ireland number plates are not to be confused with registrations from the Republic of Ireland, always  contain a 'Z' or 'I', or sometimes both, and Northern Irish style number plates were first issued in 1903. 
In the modern era, Northern Irish registrations are handled by the DVLA's office in Swansea. Previously, they had been issued by the DVLNI, with registration transfers for Irish private plates completed a lot faster and significantly cheaper than they previously were.
Similarly to our dateless plate style, this versatile registration format is the perfect gift for yourself or a special someone.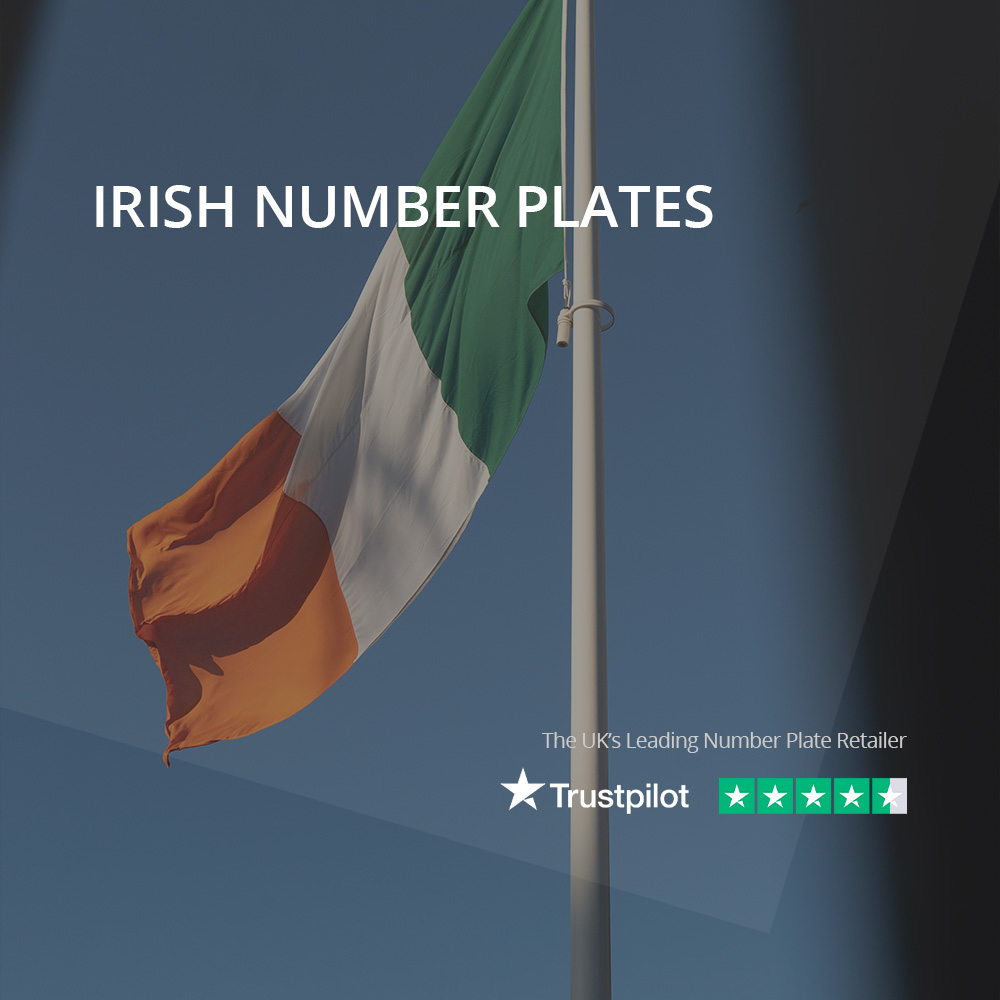 Although the DVLNI or DVLA Northern Ireland aid the governance of the countries registration plate dealings, the exact same rules apply, and registered number plates suppliers in England are legally allowed to distribute plates into Northern Ireland.
Similarly to the registration that were sold in the 'Dateless Number Plates' period in England, Irish Number Plates have a prefix of 1, 2 or 3 letters that display an area code. This area code is the area in which the plate was originally registered to. These letters are followed by 1, 2, 3 or 4 random numbers. Over time, an extra number was added to enable the DVLNI to increase the number of combinations they were able to register.
What is the Northern Ireland number plates format?
Northern Irish plates have a form of dateless registration displayed on them, which has two or three letters, one of which will be an I or Z, with the latter part of the plate displaying a number between 1 and 9999.  For example, NPZ 1234 could be considered a Northern Irish registration plate, as could DAZ 12 or KZK 511. To find your perfect option, why not use our Irish number plate search function?
What else is different about Northern Ireland reg plates?
Aside from their format, NI registration plates can also be seen as different as none of the numbers or letters on them actually relate to a specific year, meaning that they can be a great alternative to dateless registrations. You may also have noticed that the characters 'Z' and 'I' can also be used at the start of NI registration numbers, unlike registrations in the rest of the UK. This is because the DVLA reserved these characters specifically for use in Northern Ireland.
Can I use a Northern Irish registration on my car in England, Wales and Scotland?
Yes, absolutely! Irish car number plates are perfectly legal to purchase and use on your car anywhere else in the UK! 
Do you have Northern Irish number plates for sale?
Yes, absolutely, we have a significant number of Irish plates for sale. Search for yours today!
How much are Northern Irish registration plates?
Northern Irish number plates are a great way of disguising the age of your vehicle and buying a private registration for a relatively small amount of money.
Here at Number 1 Plates, you'll find some of the cheapest Irish plates around – in fact, we've got hundreds of cheap Irish plates currently listed. Our prices start at just £299 for Irish private number plates, meaning you can pick up a bargain simply by searching our database.
Buy cheap Irish number plates from the UK's number one registration experts today!
How do I buy Northern Irish number plates?
You can buy a Northern Irish registration quickly and easily via Number 1 Plates. Use our search function and filter your results to display Northern Ireland styles only and take your pick! We have hundreds of cheap Northern Ireland registrations to choose from, so you shouldn't be stuck for choice. Once you've found one which displays your desired date, name or initials, all you have to do is purchase it. We can then offer a bespoke service where we take care of the paperwork, meaning you can sit back and relax while your entitlement is processed. 
How do I transfer Northern Ireland plates to my car?
If you'd like to deal with assigning your new Northern Irish registration yourself, ultimately, it's exactly the same process as it would be for any other kind of private registration. Once you have your proof of entitlement, such as the V750, then head over to the DVLA website and make sure you have your V5C handy! Go through the process, follow the steps, and then you'll be ready to put new number plates displaying your Northern Irish registration number on your car! 
Searching for Irish plates and buying them has never been easier. Go on, give it a try today!