Best Cars for Summer Driving
After great weather up and down the UK this week, we could be fooled into thinking summer has arrived. Although it hasn't officially arrived we are seeing lighter evenings and if you're anything like us, you'll no doubt be wanting to drive your car off into the beautiful sunset.
At this time of year, convertible sales tend to increase and despite the weather in Britain for the majority of the year, Britain is surprisingly the second largest market for convertibles in the whole of Europe according to industry statistics.
So, what are the best cars for summer driving you ask? Here are our top picks for summer 2016.
Mazda MX5 aka the world's most iconic Roadster
If you are a car lover you will be familiar with what other motorists have to say about Mazda MX5's – a real dream to drive. Over the last 25 years, the Mazda MX5 has become one of the world's best-selling two-seater cars and incredibly popular with us British buyers with almost half of all MX5's sold in the UK.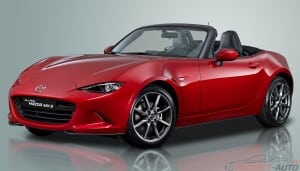 Despite its small footprint on the road, it's available in 1.5 and 2 litre engines and with 6 gears sending power to the rear wheels, this car is perfect for both country roads and summer driving. So, if your pockets aren't quite deep enough for a Porsche Boxster, this car has been built for pure driving pleasure and is definitely one of the cars you'll want to try in your lifetime.
New models are available from £18,995 however you can snap up a great used MX5 for around £9,000.
Mini Convertible
You'll be familiar with BMW's Mini – a British staple and very popular on the roads both the fixed roof and convertible models. After receiving a refresh this year, the new Mini is back with a 'thirst for more thrills' sleek design and new smart technology making it a must for this summer. With 6 gears, sleek interior, relatively cheap to run and complete with intelligent rain warnings, this car is perfect for both those summer adventures as well as all year round on a dry day.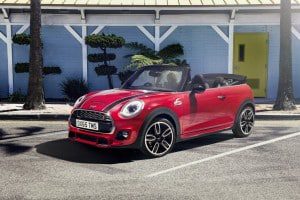 If you can't quite stretch to £18,000+ for the 2016 Cooper convertible, you can snap up a great quality used Mini Convertible with some miles on the clock for around £7,000.
Looking for something a little sportier? Opt for either a 2 seater Mini Roadster or Coupe – it's hard to go wrong with Mini when it comes to summer cars.
BMW Z4
Similar to Mini, you can't quite go wrong with BMW when it comes to summer cars. From the 1 Series and 3 Series convertibles to the Z4 your perfect summer car awaits you. With a spacious cabin, high quality, glossy trim and very low driving position this small roadster is another perfect addition for those summer evenings.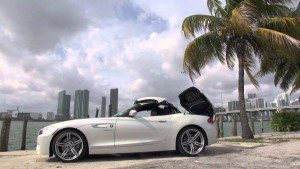 With a turbo-charged engine, the Z4 does what all classic roadsters do – send power to the rear wheels making it a great drive. Combining the sporty element with the metal folding roof makes this car practical in both summer and winters month.
If our top picks are a little out of your price range, these cars are also great summer driving cars albeit slightly less powerful:
Peugeot 206: a great first convertible and can be snapped up at around £3,000 for a car above 6 or 7 years old.
Fiat 500C: although a soft top roof, when retracted this model retains the body structure and the roof rails of the car making it more robust and perfect for keeping the wind at bay. Coming in a range of colours and interior you can design yourself, you can buy a brand new model from £13,000 or a used model for slightly less – the perfect car for lower budgets.
Or, if you're looking for something a little more expensive, the Porsche Boxster is our ultimate favourite summer driving car!
So, once you have snapped up your car, all you need to perfect is that summer playlist and you're ready to cruise!
Let us know where you're headed and your favourite summer driving roads over on Twitter and Facebook.