No Time To Drive: The Top 10 Cars of Daniel Craig's Bond adventures.
In recognition of Daniel Craig's last outing as Ian Fleming's James Bond in the recently released No Time To Die, we're taking a look at some of the cars used across Craig's adventures as 007. Of course, there'll be the usual suspects in there, but we've included one or two left field choices too! You'll have to read on to find out what they are though!
Aston Martin DBS V12 – Casino Royale & Quantum of Solace
First appearance in Craig's first outing as 007. The Aston Martin DBS V12 in Casino Royale is best known for a record breaking barrel roll. If you're a Bond fan, we're sure you'll know the scene – Bond, driving the DBS, is chasing Le Chiffre, played by the incredible Mads Mikkelsen, through the Montenegrin countryside. As he drives along at some speed, he faces a gagged and bound Vesper Lynd. She lays in the middle of the road. Instinctively, Bond swerves to avoid hitting her, but careers off of the road, rolling the DBS several times before coming to a halt. 
The stunt, filmed at Millbrook Proving Ground, Bedfordshire, has a Guinness World Record. After achieving an incredible seven rolls before stopping. This record was previously been held by a stuntman performing six rolls for the BBC TV series Top Gear. 
The DBS was to launch the year after the film's release. Aston Martin hand-built two cars for close-up shots in the film, with another three modified stunt vehicles also.
If Casino Royale inspires you, and you want to buy a DBS V12, it will set you back around £180,000 brand new – back in 2008. But of course, for that, you'll be the proud owner of an Aston capable of 191mph and reaching 0-60mph in 4.3 seconds. 
The Aston Martin DBS V12 also featured in the opening scene of Craig's second film as Bond, Quantum of Solace.
Alfa Romeo 159 – Quantum of Solace
The Alfa Romeo 159 starred alongside the Aston Martin DBS in Quantum of Solace's opening scene –  a car chase along the Via Gardesana Centro, Lake Como, Italy, which sees Bond pursued by Quantum employees. 
Although they perhaps don't have the glamour of Bond's Aston Martin, the Alfa's in this scene have 3.2 Litre 24-valve V6 engines at their disposal, which produce 260bhp and a 0-60mph time of around seven seconds.
Alfa Romeo actually made a limited edition 159 to celebrate its inclusion in QoS, which looked identical to those used in the film. They were all black, with a lowered base, and the same red Brembo brake calipers and 19-inch wheels. A 1.9 JtDM diesel engine, which produces 150bhp is the driving force. Inside, the interior features black leather seats and red illuminated dashboard details. Only 250 units are available of the special edition 159, each costing £22,000 new.  
Ford KA – Quantum of Solace
OK, so this one might raise a few eyebrows but a Ford KA does play a starring role in Quantum of Solace! Driven by Camille, played by Olga Kurylenko, the Ford KA is first seen in Haiti, with Camille inviting Bond to join her in the car before attempting to shoot him! 
Similarly to Alfa Romeo, Ford also launched a special edition KA to commemorate the city car's appearance, which looked identical to the one in the film, right down to the Greene Planet logo on the side! The special Quantum of Solace KA is by Ford of Europe's design team in collaboration with the movie's production designer, Dennis Gassner.
The KA in QoS was the third generation to be released for sale, with the first generation initially released back in 1996, and was built in partnership with FIAT, based on the Italian marque's 500 model.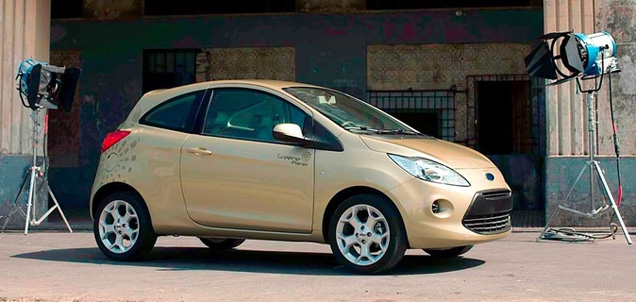 Jaguar XJ L – Skyfall
The Jaguar XJ L makes an appearance in Skyfall, as M's official car which transports her to meetings in the city of London. 
Although it's not known exactly which model Jaguar provided for the film, it is likely that it was the 3.0 Litre V6 Diesel LWB variant in midnight black metallic. The list price of the vehicle was around £60,000, with the options taking it up more towards the £65,000 mark. The XJ L in the film would have been capable of 0-60mph in around six seconds, with a top speed of 155mph!
On shooting the scene with M being driven back to MI6 headquarters, Gary Powell, stunt coordinator for Skyfall said: "There were just so many vehicles, like the Jags, we had a few of those because we took interiors out. So when M is sitting in the back of the car and she's getting driven along, there was a camera in the passenger seat, so we take the passenger seat out, put a camera there. That's one car, and we have another car that you do exteriors with and there's another car that's got all mounts in it. It soon adds up to how many cars that we use."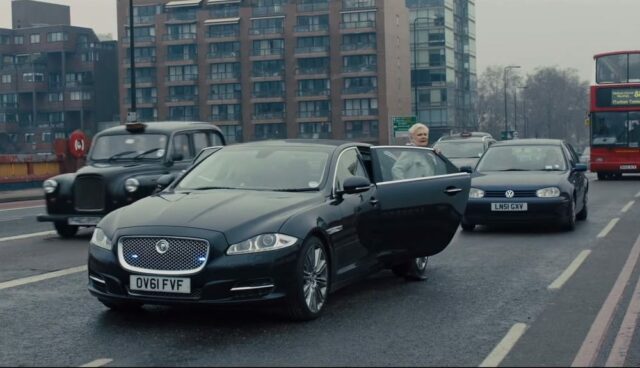 Mercedes S300 – Skyfall
In Skyfall, Bond drives a Mercedes S300 through Shanghai in pursuit of assassin Patrice, who had previously escaped from Bond and Moneypenny aboard a train in Turkey.
This luxurious vehicle was only available in this guise in the Asian market, with it being known as the S280 in the UK, and is Mercedes-Benz's flagship model. It cost a whopping 292,888 Singapore Dollars, which is around £160,000.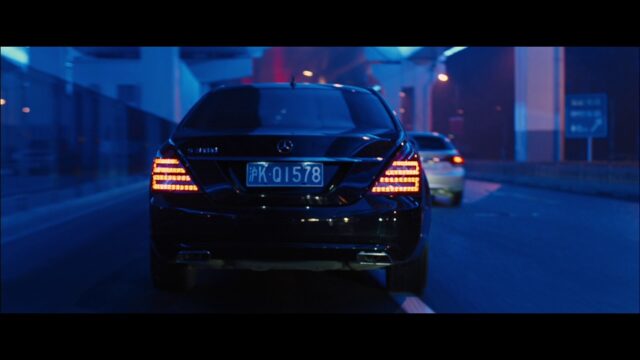 Jaguar C-X75 – Spectre
Jaguar's C-X75 driven by Hinx in Spectre really is one of a kind…Well, sort of. The luxury car manufacturer provided seven examples of this hybrid-electric supercar to the film's creators, and was developed in collaboration with Williams Advanced Engineering. 
With a colossal 850bhp at its disposal, the Jaguar features in a chase around the streets of Rome, in pursuit of the Aston Martin DB10, driven by Bond. It was capable of a sub three second 0-60mph time, and a top speed of more than 200mph!
The C-X75 was never put into production to be made as a roadcar, despite the initial plan being to produce a small number of units between 2013 and 2015. In December 2012, Jaguar and WAE took the decision to cancel the project as a result of the ongoing worldwide financial crisis.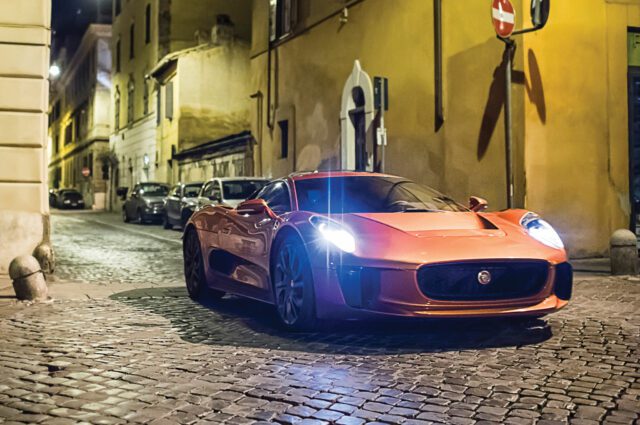 Aston Martin DB10 – Spectre
Similarly to its Jaguar counterpart in the Rome car chase scene, the Aston Martin DB10 was never put into full production, with just ten examples being built. Of those ten, eight were used for filming of Spectre, with the other two being used as promotional and show models, with the car unveiled by the film's director Sam Mendes in December 2014.
The Aston Martin DB10 has a 4.7 litre V8 engine and 6-speed manual transmission, with a top speed of 193mph and a 4.3 second sprint from 0-60mph. Of course, no MI6 adapted vehicle would be complete without a few gadgets either, with Bond using a flamethrower exhaust and ejector seat with parachute to escape the pursuing Hinx, with the DB10 ending up in the Tiber river. 
Several DB10's were destroyed during the filming of this scene alone, but the overall bill from destroyed vehicles came to more than £24m according to some reports!
Rolls-Royce Silver Wraith – Spectre
One of the oldest vehicles to appear in Daniel Craig's Bond films, if not the oldest, is a 1948 Rolls-Royce Silver Wraith was used as a chauffeur vehicle, sent by Blofeld to collect Bond and Dr Swann from the middle of the Moroccan desert. 
Built between 1946–1958, the Silver Wraith was Rolls-Royce's first post-war automobile, and depending on the year, had anywhere between a 4.3 Litre and 4.9 Litre, with older models having smaller engines.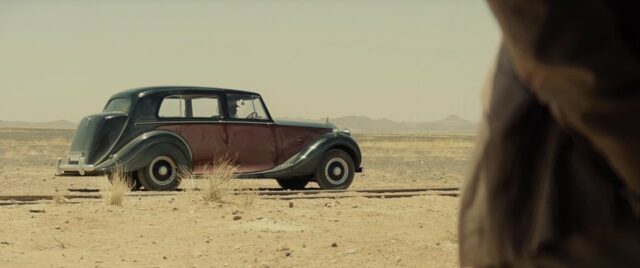 Land Rover Defender – No Time To Die
Land Rover Defender's are a common sight in James Bond films, but the most recent variation of Land Rover's flagship offroader makes an appearance in No Time To Die, alongside a classic Land Rover and a Range Rover SVR, albeit in different scenes!
Similarly to Ford, Alfa Romeo and Aston Martin before them, Land Rover offered a special 007 edition of the Defender, which was limited to just 300 units. With 22" wheels, unique 007 inspired badging and treadplates and powered by a powerful V8 engine, the James Bond edition of the latest Defender is sure to be popular.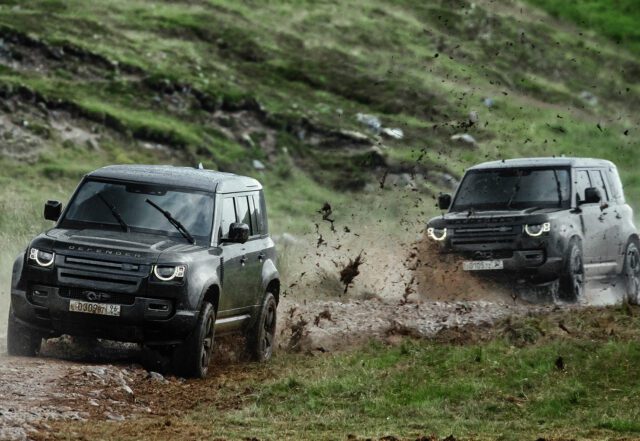 Aston Martin DB5 – Skyfall, Spectre, No Time To Die
How could we possibly do a blog like this without mentioning Bond's beloved Aston Martin DB5? 
First used in the 1964 film Goldfinger, driven by Sean Connery, the DB5 has made several appearances in Bond films over the years, including Thunderball, GoldenEye and Tomorrow Never Dies. During Daniel Craig's era as 007, a left-hand drive variant appears in Casino Royale, with Bond winning it from villain Alex Dimitrios in a game of poker. Bond's original DB5, filled to the brim with classic gadgets, and with the registration BMT 216A, reappears in SkyFall, with Bond driving to his childhood home in it alongside M.  Eventually Raoul Silva destroys it, succumbing to a barrage of heavy machine gun fire. 
In Spectre, Craig's next outing, the DB5 in the lab with Q building it. At the end of the film, Bond and Maddeline Swan driving it away. 
Of course, we also see the DB5 in No Time To Die, this time emblazoned with the registration A 4269 00. It was equipped with twin M134 Miniguns behind each of its headlamps, and also has some classic gadgets including the smokescreen effect. The scenes which star the DB5 in NTTD were filmed in southern Italy between late August and September 2019.
Overall, 1,059 units of the DB5 were built between 1963 and 1965, with each one housing a 4.0 litre straight six engine, capable of producing 282bhp and a 0-60mph time of eight seconds. If you want to channel your inner Bond, and are considering purchasing a DB5, you're going to need deep pockets! Most examples fetch well over £1m, although at the time of writing, our friends at Redline Specialist Cars have one for £985,000!