Remember Hummer? They're Back and They've Gone All Electric.
Hummer, electric? Yes, that's right… but how have they done it?
So, you'll remember Hummer from the H1 that was produced between 1992 and 2006. It was a utilitarian SUV designed for the army but it came into the civilian market due to demand. Who knew people were actually demanding one for the road? They were over 4.6 metres long and 2.2 metres wide. They were huge!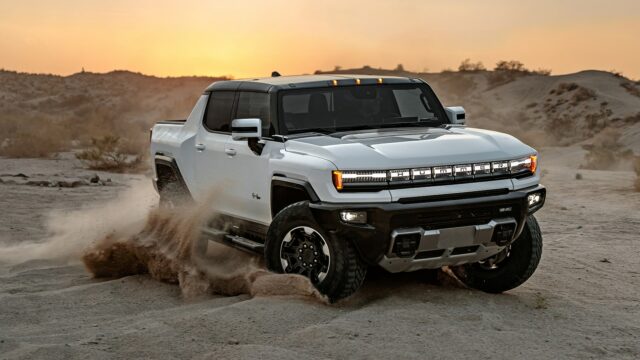 The new Hummer EV has similar dimensions, mostly to hold the whopping 205kWh battery pack and 3 motors; 1 on the front axel and 2 on the rear. Customers who want a taste of the tri-motor Hummer are now able to purchase one quite easily (In the States anyway) thanks to GMC owning the brand. So in America, you'll be able to purchase the new Hummer from any GM dealership. In the UK though, you'll have to rely on an importer to get your hands on one. If you do get your hands on one, you will have quite a decent EV range of 329 miles! Remember the Hummer of old? It averaged around 10mpg! 800v tech powers the battery, where available. 
The Hummers Internal Workings…
So you'll want to know what can power this 4 tonne monster. The three motors combined produce 1000bhp and 1200lb ft of torque. It's capable of 0-60mph in 3.1 seconds and a top speed of 106mph. The air suspended chassis can lift the vehicle 15.9inches from the ground and drop it down to 8inches. That's not the craziest thing though; the Hummer EV has a rather fancy four-wheel steering system that give the EV the same turning circle as a Tesla Model 3 along with a feature called 'crab walk'. The 'crab walk' system combines the front and rear axles to turn the same way, so you can effectively drive the Hummer EV sideways through tricky canyons or tight streets. Impressive!
Another driving feature onboard is SuperCruise. This can get you to your destination almost handsfree with autonomous driving that changes lanes on it's own accord on the motorway. Off-road though it uses it's 18 cameras to autonomously navigate you through tough terrain like vehicles half it's size (A Range Rover comes to mind when you think of the size of this thing).
66,000 people have already reserved the EV and this includes a sell-out of all of the First Edition cars that weigh in at $110K. 
Could you see yourself in the new Hummer EV?