The 6 Spookiest & Most Haunted Roads In Britain
Have the spirits come to play?
We can all get a little unnerved when driving down country roads in the dark, or when it's night time and you're the only car on the road. Most of us will be aware that this is simply the mind playing tricks and paranoia setting in, however there's always a little doubt that there is something out there…
With Halloween fast approaching, we wouldn't be surprised if you got a little spooked…and we're sure you will be if you plan on any of these roads! Prepare the hairs on the back of your neck, as we go through the most haunted roads in Britain, with some chilling real-life accounts along the way! 
Platt Lane, Lancashire… Somebody's watching you…
On the 21st December 1910, the Pretoria Pit tragedy happened when the mine exploded. Killing 344 boys and men, the incident is still classed as the third worst mining incident in British history. Almost 111 years later, we still remember them and some drivers have claimed to even see them! Many motorists have claimed to have seen 'eyes' poking out of the bushes staring at them as they drive past. As freaky as that seems, it gets worse! Other motorists have called the police after witnessing phantom miners slowly walking down the side of the road with coal wagons and picks… we're not saying you have to believe it, but it's a little weird!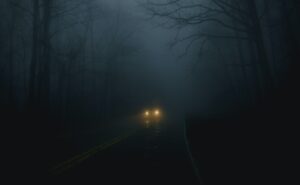 A666, Bolton… Devilish games…
We're not saying there's any coincidence, but surely the numbers in the name of the road (666) and menacing but unexplainable activities is a little strange! There's a figure which limps along the road – which has caused lots of accidents when motorists have caught sight of it. The figure is known simply as the 'A666 Ghost', and dashcam footage from 2015 has shown the white limping 'thing' walking towards the car with a petrified driver and a crying passenger. Interesting! 
B321, Dartmoor… I've got hold of you…
On the road from Postbridge, for at least 90 years motorists have been terrorised by 'The Hairy Hands'. Being one of the most remote areas in England, it's no surprise that paranormal activity is live here. The first account of the 'hands' was in 1921, where a man was on his motorcycle with 2 children in the sidecar. Suddenly he screamed at the children to jump out as he struggled to gain control of the bike and ended up in a fatal crash, whilst the kids survived. This isn't the last case either, as crashes on this road have been said to be caused by The Hairy Hands grabbing the wheel and steering them into a collision! Odd to say the least…
A75, Scotland… Ghouls just want to have fun…
With sightings of paranormal activity going back over 60 years, it is well known as the most haunted road in Scotland, with some lorry drivers even refusing to drive it in the nighttime (found from a study conducted by the BBC). Instead the drivers opt to sleep in the laybays, and wait until morning to continue their journey. It doesn't come as a surprise, with various sightings of paranormal activity; from a couple in worn Victorian clothing, to screaming old men and women with no eyes! One report claims a man actually quit his driving work after seeing "groups of dejected, bedraggled people pulling carts and bundles like medieval followers". The sightings have been so bad that on numerous occasions the police have been contacted. The strangest account was in 1962 with the Ferguson brothers allegedly experiencing witchcraft when their car was shaken so badly they were both violently sick!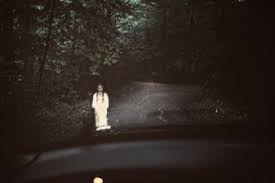 A229, BlueBell Hill, Kent… Till death do us part…
The story begins on 19th November 1965 when a fatal car crash killed three women, one of whom, Suzanne Browne, was due to be married the following day. 
The 24-year-old was returning from her hen night when her Ford Cortina spun out of control on the A229, colliding with a Jaguar heading the other way. It's a common misconception that Miss Browne died on the road, but it was in fact one of her friends, Judith Lingham who passed away there. The other 2 including Suzanne, died in hospital a few hours later.
Despite this, there have been hundreds of reports of a woman in a white dress haunting Blue Bell Hill in Kent. Some claims include drivers seeing the woman running out into the road and being hit by their car. Only for her to have disappeared when they got out of the car to check on her. 
Another man concluded that he carried this 'woman' with minor injuries to the side of the road and wrapped her in a blanket. When he went off to inform the police, he returned to find the blanket on the bank with no woman to be seen! That's a tad odd, however the accounts don't stop there. 
There have been tales of the woman trying to hitchhike, and a handful of people took her up as it was cold and dark. When they arrived at the destination however she instantly disappeared into thin air. Now that can't be coincidental nor the mind playing tricks!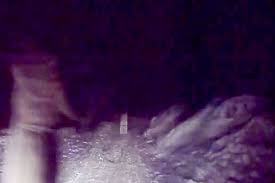 Stocksbridge Bypass, Sheffield… The spirits have come to play…
Known for being a mining area of South Yorkshire, which unfortunately saw the deaths of hundreds of children, this area has seen reports of ghostly children playing in the fields, particularly when the bypass was under construction in 1987. However, to this day, there are still tales that if you look over the fields you will be able to see kids playing in them! The bypass itself has a high accident rate, especially within the first 10 years where there were 14 fatal crashes. Maybe this is due to people swerving to avoid hitting a child…
---
So take it easy this Halloween, after all, it is the day when the paranormal come out to play! As William Shakespeare once said; "Hell is empty and all the devils are here"…
Keep your eyes on the road, but do let us know if you see anything freaky as we'd love to hear about it!