Since the start of car production, there's been an ongoing competition between manufacturers on how fast and powerful they can make their cars. 
They've come a long way over the years on both of these fronts, but the first ever supercar was built in 1966 with the 'Lamborghini Miura' which boasted a top speed of 171 mph and could reach 0-60mph in 7 seconds. By modern standards, the Miura might as well be going backwards, but like we said, supercars have come a long way…
So let's cut to the chase and take a look at our comprehensive list of the Top 5 Fastest Cars in the world!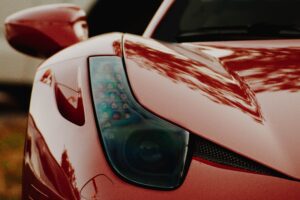 The Top 5 Fastest Cars
We've put together a list of the fastest cars in the world in 2020, from "slowest" to fastest! (Here's a spoiler for you… the slowest of the 5 comes in at 270mph!)
5. The Hennessey Venom GT
The Hennessey Venom GT was born in the USA, on a lotus Exige Chassis with a carbon-fibre chassis. Not only does the low body and lightweight material contribute to the exhilarating speed of the supercar, but it also boasts of an active aero system which allows for greater high speed stability than a standard road car. Its twin-turbocharged V8 engine provides the Venom with 1,244 horsepower and a top speed of 270 mph, giving it fifth spot in our top five! 
4.The Koenigsegg Agera R
The Koenigsegg Agera R was created in 2011 in Sweden. It comes with a twin-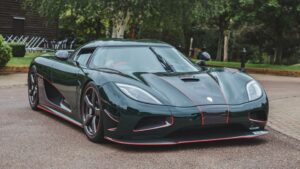 turbocharged five litre V8 engine, built on a carbon fibre body with further weight reduction measures including integrated fuel tanks distributed evenly throughout. This Swedish stunner takes its place at number four on our list, with 947 horsepower and a recorded top speed of 273 mph! 
3. The Koenigsegg Agera RS
Koenigsegg didn't stop with the Agera R, bringing out an Agera RS in 2015, revealing the machine at the Geneva Motor Show. It was billed as the "Ultimate Track Tool" due to its compilation of lightweight and advanced technology. Tested in the Nevada Desert, the Agera RS' 5.0 litre V8 engine produced 1,314 horsepower and speeds of 278 mph!
2. The Bugatti Chiron Super Sport 300+
Developed in Germany and manufactured in France, the 'Bugatti Chiron Super Sport 300+' was first shown at the 2016 Geneva Motor Show. Bugatti has a history of producing high-performance supercars, and has an incredibly successful formula for creating unbeatable speed. The Chiron Super Sport 300+ is powered by a monstrous 8 litre, quad-turbo W16 engine, and is tuned for outright pace, with magnesium wheels and futuristic aerodynamic styling. Just 30 of these incredible machines were produced, with one setting you back more than €3.5m, but that's the cost of 1,577 horsepower and a stunning top speed of 304.7 mph!
1. The SSC Tuatara
The SSC Tuatara is officially the fastest car in the world, with a colossal top speed of 316mph from 1750bhp. Development of the SSC Tuatara started back in 2009, but a production version of the vehicle wasn't shown to the public until 2018.  It was designed with one thing in mind…speed! With high aerodynamic activation from the carbon-fibre chassis, aluminium crumple zones, a class-leading drag coefficient of 0.279 and powered by a 5.9 litre flat plane crank V8 engine, the Tuatara performs to exceptionally high standards. All this makes it the fastest road-legal production car in the world.
In case you were wondering, the name 'Tuatara' comes from a species of lizard native to New Zealand which has the fastest molecular evolution of any creature. 
So there you have it! Our Top 5 fastest cars in the world! Well, that is for this year. Who knows what will be out in a few years time!