Porsche Number Plates & Replacement Porsche Number Plates
Bespoke number plates for all Porsche models.
Porsche are a German car manufacturer, headquartered in Stuttgart, who were founded in 1931 by Ferdinand Porsche. Interestingly, Porsche initially didn't build their own vehicles, and instead were consultants and offered research and development work to others in the industry. Their first notable work came in the form of the Porsche 64, which used many of the parts from a Volkswagen Beetle.
A subsidiary of Volkswagen Group, Porsche are steeped in racing history, with their strongest showing often coming in endurance races such as the 24 Hours of Le Mans. In fact, Porsche has 19 outright wins at the race around the classic French circuit, a record for a single manufacturer.
When it comes to Porsche number plates, Number 1 Plates are able to offer a wide variety of different sizes, styles and designs for all different Porsche models. 
Porsche Number Plate Sizes
If you're looking to buy a Porsche number plate, then it's imperative you know that you're buying the right size plate for the specific model. We can produce custom Porsche number plates for models including the 911 Carrera, 911 GT3, 911 Turbo, Boxster, Cayenne, Cayman, Macan and Panamera. If you're unsure which size Porsche license plate you need, then get in touch with us and one of our team will be happy to help!
Porsche 911 Number Plates
Porsche are best known for their sports cars with the 911 their most recognisable model. The rear-engined 911 was first unveiled in 1964 has sold more than 1 million units worldwide since its inception.
Many people buy 911's second hand and then choose to fit private registrations to their vehicles to hide their age. If you are one of the many people who elect to do this, then you may find it useful to know that Porsche 911 number plates are not all of standard UK sizing. For example, the 911 Carrera (2002-04) has a rear plate size of 600mm x 148mm, whereas the 2019-20 model has a size of 572mm x 144mm. If you're considering 'stick on' plates for aesthetic reasons, these are not road legal and should therefore be avoided.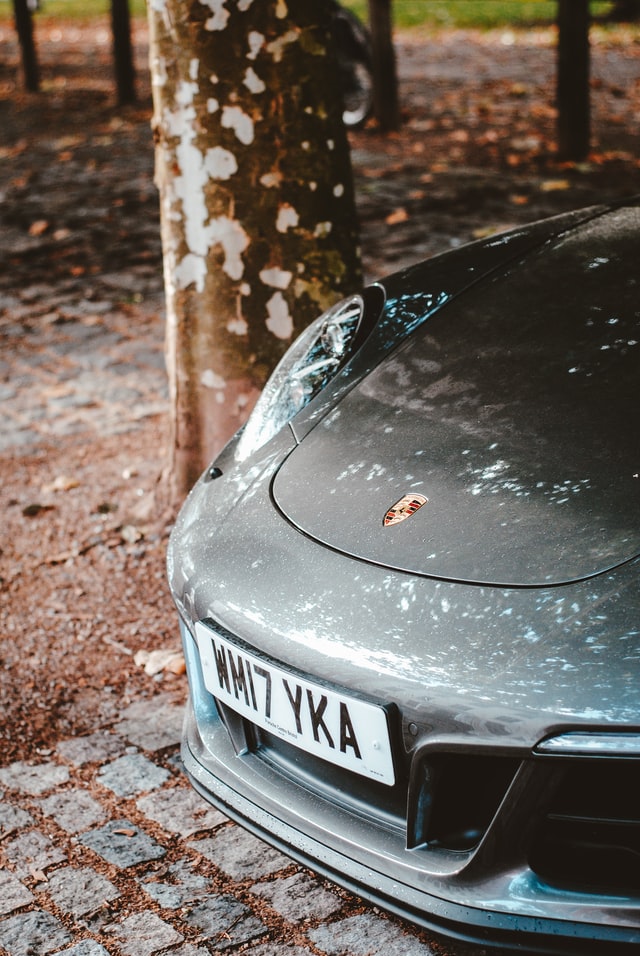 Porsche Cayenne and Porsche Macan Number Plates
Over the last few years, Porsche has extended their range into the SUV and compact SUV market, with the Cayenne and Macan respectively. 
Just like their more traditional counterparts, Porsche Cayenne number plates and Porsche Macan number plates follow standard UK sizing and rules around spacing. However, they do have slightly different sizes available. For example the 2010-17 Cayenne has a rear size of 568mm x 138mm, and the 2014-20 Macan can have a rear license plate which measures 714mm x 150mm. 
Do Porsche's need specific number plates for electric models?
In short, electric Porsche's such as the Taycan do not require special number plates, however some electric vehicle owners are opting to display the green badge on their plate to make their cars recognisable as more environmentally-friendly vehicles. If you're looking for electric vehicle number plates, then we can help! Get in touch with us today for more information.
With a wide variety of replacement Porsche number plates available, you won't want to miss out! Head over to our Plate Builder to start yours today, or if you can't find what you're looking for, get in touch with us!