What Are 4D Number Plates?
What makes 4D number plates different?
4D number plates are the latest style of number plates, with characters made from 3mm black acrylic. As part of the 3D number plate family they are road legal and MOT passable, meaning you can design your bespoke reg plates on our number plate maker and have them on your car as soon as tomorrow.
How do you make 4D number plates?
Using the purpose built Rollsroller flatbed applicator, we back the black acrylic with high strength 3M tape.
We use the latest laser cutting equipment to precisely cut out legally shaped and sized characters.
British Standard grade reflective is used to back the clear acrylic premium number plate that you have chosen.
Using our special guides, we space your registration correctly and place your characters onto the premium plate.
We add a small amount of weight to the plates to ensure the adhesive reaches its full capabilities.
We leave the protective film on your character to ensure a clean finish upon fitting!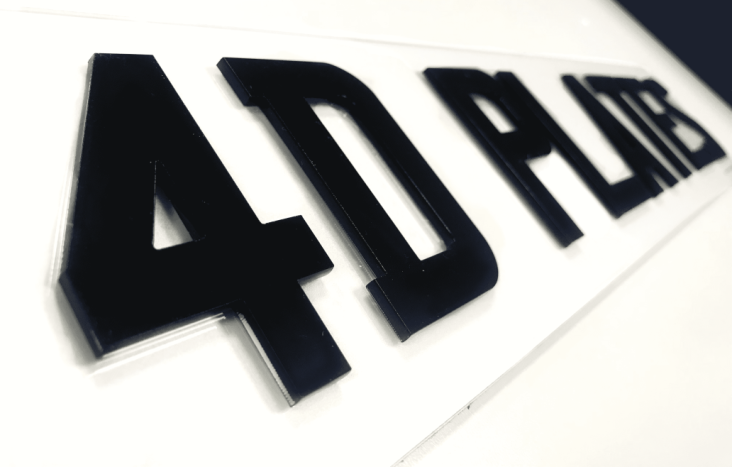 Are 4D number plates legal?
As we mentioned before, our 4D plates are actually part of the 3D number plates group. If you look on the DVLA's 'displaying number plates' page, you will see that they say, 'Characters on a number plate can be 3D', meaning that this type of plate is 100% legal for use on UK roads.
Can I have short or tinted 4d plates?
Short 4D plates are also legal for use on UK roads. As long as there is a minimum distance between the edge of your characters and the edges of the number plate itself then your plates will remain legal and MOT passable. The width of your number plate will be determined by the length of your registration.
Though we do not actually sell these via our plate builder, our customer service team are more than happy to take an order for this type of registration plate over the phone.
Will the 4D characters fall off the plate?
The 3M tape that we use as the adhesive between your characters and the number plate acrylic is recognised not only in the UK but worldwide as one of the best in its class. Being used in many different industries like the motoring and mechanical world of engineering. We are yet to receive any complaints about the durability and lasting nature of this premium style plate!
Do 4D number plates have any other names?
Although '4D' is the most common name for this high spec registration plate, other companies and people in the industry refer to them as '3D Plus'. Find out more about our 4d number plates on our 4D plates page or you can check out these number plates and all of the other specifications in our range when you visit our plate builder!