Short Number Plates Online
Custom Sized Short Number Plates Made Using the Latest Laser Cutting Technology!
.
What are short number plates?
Through huge requests and demands from our customers, coupled with us integrating the latest laser cutting equipment, we've started to produce and supply custom sized short number plates. Though we are unable to change character sizes or alter character shape we can lower the width of the plates to match the length of your registration. This means that the neater, more compact shortened plates will take up much less space on your most prized possession. Make the most of your new private registration with these tidy short plates. If you would like to take it further and add 'V' cut sides, or an oval finish, be sure to let us know and out helpful customer service and manufacturing teams will do all they can to fulfil your wishes.
Are short number plates legal?
Absolutely. Like all of the products that we manufacture, our small number plates are completely road legal. The size that we can laser cut the plates too would depend on you registration, once we know that we can get to work creating the perfect cut down style for you and your vehicle. If you need something completely bespoke and not part of our smallest legal number plate range, then take a look at our custom number plates page.
Whether you are looking at small front number plates or small back number plates, Number 1 Plates can help with all your small car number plate requirements.
What size should a number plate be?
For a full sized registration, the legal size is 520mm x 111mm. This is the most common type of registration plate that you seen on the roads in the UK and all new vehicles display this style. Should you personalised registration be smaller though, then you are able to purchase shortened registration plates. An example image of a shortened number plate has been provided for you below.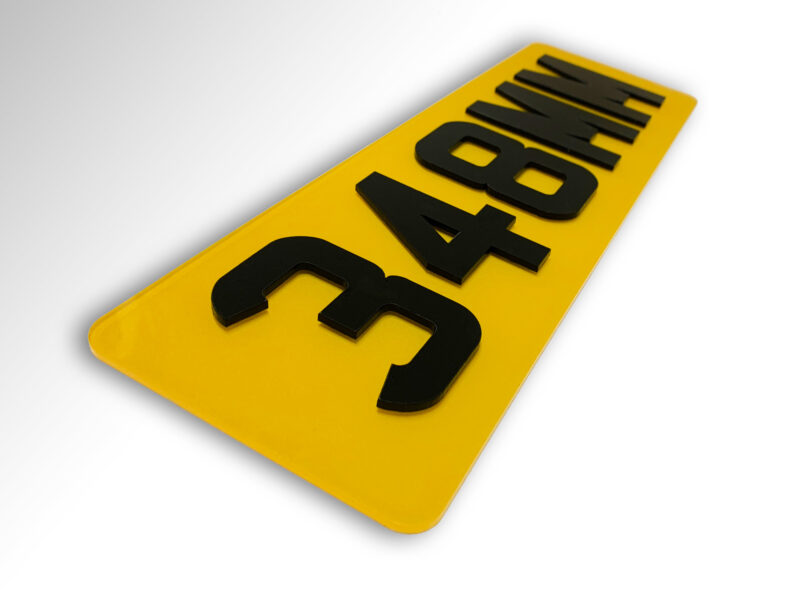 Need more info on our short number plates for sale? Get in touch.