Hex Number Plates
Hex Plates & Lambo Shaped Number Plates
Hex number plates are the latest trend in the car world at the moment. With the custom shaped plates adding something a little extra to your car, taking personalisation that one step further.
The shape of the lambo-style plate provides a quirky but aesthetic feel and look to your car, regardless of whether it is a Lamborghini or not! Don't be put off by the name 'Lambo-Plate', as you can see below they aren't exclusive to Lambo owners – it's just an industry name.
Emphasising the curves and contours of the car, our Hex plates are sure to turn heads for all the right reasons.
Do we make Hex-plates?
Yes. Each lambo shaped number-plate is professionally manufactured by our in-house team, the plates are designed with cutting-edge laser technology and styled by our design team. We are happy to accept 'personal' requests in regards to the design of the plate – just get in touch with our customer service who will be more than happy to help you out.
Are they legal?
Here at Number1Plates, we pride ourselves on the fact that every plate we send out is 100% road legal and MOT acceptable. As a DVLA registered company, we ensure our customers that they can feel safe and happy when ordering through us. Of course with different styles and different opinions it can be quite confusing as to whether a plate style is legal or not. Luckily, the Hex-plate is one of the many that IS legal!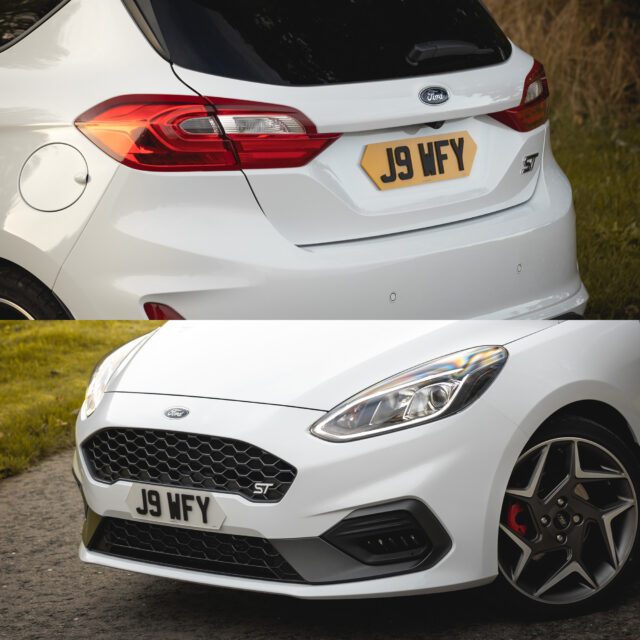 Can I have 3D or 4D letters on my Hex number plate?
The simple answer is; yes! We have a whole range of different fonts and text styles for you to choose from. Whether you're looking to make your plate stand out even more with some 4D Gels, or would rather go for a more discreet look with standard printed text. If you're ever unsure about what you can or can't have, get in touch with us and we can advise you.
Can I purchase them from Number1Plates?
Of course! We're really excited to launch our Lambo style plates and can't wait to see them on your cars. The new style is something we've had in the pipeline for a while and we can finally reveal them to you all! Starting from as low as £29.98, if you're looking for something to add to your car then this is it. The lambo style number plates are here.
Like all of our plates, our team work meticulously to ensure that all of our shapes are perfectly laser cut. A hex number plate can be made from either our standard abs or premium acrylic material options, both of which can provide your car with a fantastic finish.
Why purchase from us?
As the industry-leading number plate manufacturer, we pride ourselves on our stylish, reliable and legal number plates. We always ensure that we are up-to-date with the latest laws (and trends!) to keep our customers informed and safe. Here are just some of the reasons as to why you should get your unique hex-plates from us;
BS AU 145e Compliant

Safe from all weather

Sturdy and strong in damage

Professionally designed and manufactured

3 Year Warranty

Plate insurance available

Up-to-date with trends – just take a look!

We offer private registrations that would perfectly match your hexagon number plates