Buy your Tesla number plates and Tesla replacement plates from the UK's number plate experts.
Founded in 2003 as Tesla Motors by Martin Eberhard and Marc Tarpenning, Tesla is now arguably the world's most recognisable electric vehicle brand, having sold more than 360,000 units worldwide in 2019, with the figure closer to 450,000 in 2020. 
The American company is synonymous with South Africa-born entrepreneur, designer and engineer Elon Musk, who funded Tesla's early work and now serves as their CEO.
Tesla now builds much more than just its impressive range of electric cars, having branched out into what it describes as "infinitely scalable clean energy generation and storage products".
Tesla Model 3 Number Plates
The Tesla Model 3 is the manufacturer's best selling vehicle, and indeed is the best selling electric vehicle worldwide. It was also the best selling car in the UK in December 2020, shifting around 6000 units to British EV fans.
Number plates for the Tesla Model 3 when supplied with the car are made of aluminium, which either clip in on the rear, or slide in on the front, into the respective plastic holders. The holders fit a standard UK size number plate, however, many Model 3 owners choose to remove the plastic holders, which are screwed into another plate behind, for aesthetic reasons. However, if you'd prefer to take the holder off, we can offer a custom Tesla Model 3 plate which measures 790mm x 155mm, filling the majority of the crevice in which the plate sits. 
The Model 3 has a whole host of famous admirers, with Matt Damon, Leonardo DiCaprio, Steve Wozniak and even UK Transport Secretary and MP for Welwyn Hatfield Grant Shapps owning one of the popular EV's.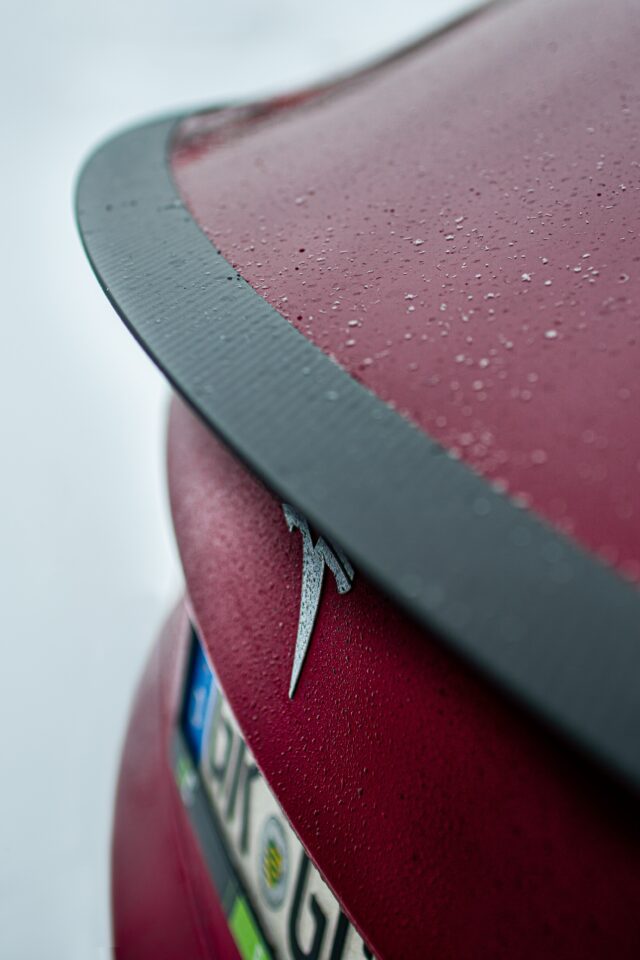 Tesla EV Plates
If you're looking to buy a Tesla license plate, you may also want to consider one of our Green EV Plates. EV number plates have been available since the end of 2020, and are designed to both raise the profile of electric vehicles and pave the way for incentive schemes to encourage people to buy them. If you're looking for a set of Tesla number plates, either with or without the green EV flash, then you'll find them over on our Plate Builder. Head over to it now and start to build your Tesla license plate!