Jaguar Number Plates Builder
Bespoke Jaguar Number Plates Builder
Distinguished Jaguar Number Plates for a great British classic
While most avid Jaguar fans will love the oval-shaped number plates adorning the back of their XK8 or X-type saloon, we can understand the quandary when you want a 'Jaguar-sized' private plate on the back of your Jag.
That's why we created a plate builder with a range of Jaguar model-specific plates available. Simply input your model, type in your registration and explore our range of road-legal styles. We then design and manufacture your plates and send them out on the very same day*
Aside from road legal replacement plates, we also have a wide range of personalisation options for customising your own show plates. Use them on show cars (off road), for advertising purposes or just to show some serious Jaguar appreciation – we think 'JAG FAN' has a rather nice ring to it…
Explore our plate builder or contact us if you have any queries about our Jaguar replacement number plates.
*Dispatched on the same day when ordered before 1pm.
About the famous car manufacturer…
Initially founded as the Swallow Sidecar Company in 1933, Jaguar became a brand of its own in 1945. In 1966, the company merged with British Motor Corporation, with the company renamed as British Motor Holdings (BMH), of which Jaguar was still a marque, with BMH in turn merging with Leyland Motor Corporation, becoming British Leyland in 1968.
In 1984, Jaguar was listed on the London Stock Exchange before being acquired by Ford in 1990. Ford then also bought Land Rover in 2000, before selling both Jaguar and Land Rover to Indian company Tata Motors in 2008. Tata then created Jaguar Land Rover as a subsidiary holding company, with Jaguar Land Rover Limited being formed in 2013, with the company being the sole design, manufacture, sales company and brand owner for both Jaguar and Land Rover vehicles.
Despite being owned by foreign owners, many people still see Jaguar as a British institution, which is as a result of their manufacturing history and their motor racing heritage. Jaguar still manufacture many of their vehicles from their plant in Solihull.
In February 2021, Jaguar Land Rover announced that all cars made under the Jaguar brand will be fully electric by 2025.
What Jaguar number plates do you offer?
Here at Number 1 Plates, we're proud to offer a wide range of number plates for various makes and models, none more so than our range of Jaguar shaped number plates.
Over the years, we've found that various Jaguar models have different size rear recess areas for the plate to go, which means a requirement for a different shape of plate. This has lead us to develop bespoke shapes and sizes that are available from our Plate Builder. We can help you create a bespoke and tailored size Jaguar license plate at an extra cost, though we already have some of the more popular models covered. These include the:
Jaguar XK8
Jaguar XJ (V1/V2)
Jaguar X-Type Saloon
Jaguar S-Type V2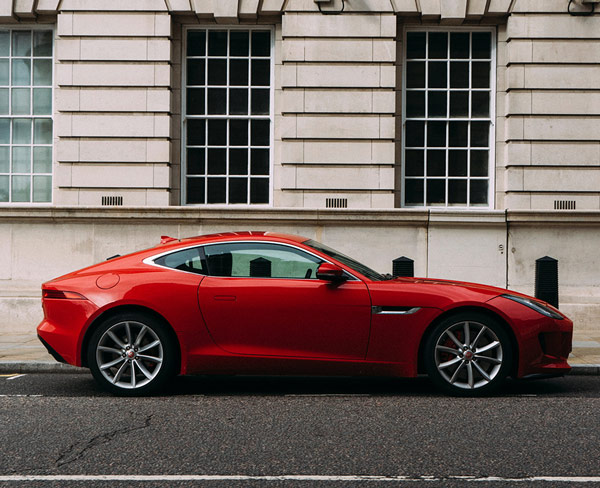 In addition to their classic sports and saloon cars, Jaguar also have executive saloon options in the form of the XE, XF and XJ models, with the XF also available as a 'sportbrake' configuration. As a result, we have a number of options when it comes to Jaguar XE number plates and Jaguar XF number plates. One of our most common requests when it comes to Jag plates is for the Jaguar XF rear number plate. For 2008-12 models of the saloon variant, the custom rear plate for the XF measures 632mm x 175mm, with the 2012-15 of the Sportbrake variant measuring up at 573mm x 150mm.
More recently, Jaguar have stepped away from their racing history and have produced models in the SUV sector, such as the E-Pace, F-Pace and all-electric i-Pace. The E-Pace is actually be able to sport one of the largest Jaguar plates on offer, with a product which measures 685mm x 180mm.
By comparison, Jaguar F Pace number plates are slightly smaller for 2014-16 models, measuring in at 527mm x 199mm for a custom rear Jag number plate. To purchase one of these specific Jaguar F Pace rear number plate options, then head over to our Plate Builder now.
Whatever model you're looking for, whether it's a specific Jaguar rear number plate or a complete set of standard sized plates, here at number 1 Plates, we've got you covered!
Could I get a personal registration for my Jaguar?
We are now a registered private registration plates dealer. This mean that you can search our personalised plate pages in order to find the perfect reg for you and your Jag; a private registration which contains the word  'JAG' could make for a perfect Jaguar registration! Why not search for your ideal Jag registration today? As popular and historical as the Jaguar brand is, a new registration plate could add that last touch of class. Head over to our Private Registrations page and find your perfect Jaguar plate today!