Novelty & Funny Number Plates
Novelty & Funny Number Plates
Novelty Number Plates for Fun
Having number plates purely for vehicle use is just the beginning. We are able to add anything to a fun number plate, whether it's your name in number plate font, a number plate for a lorry window or a family picture to have in your garage. Maybe you want a pretend joke number plate for your truck, there's very little that we can't do. Number plate signs are growing ever more popular and you can get yours delivered to your door as soon as tomorrow!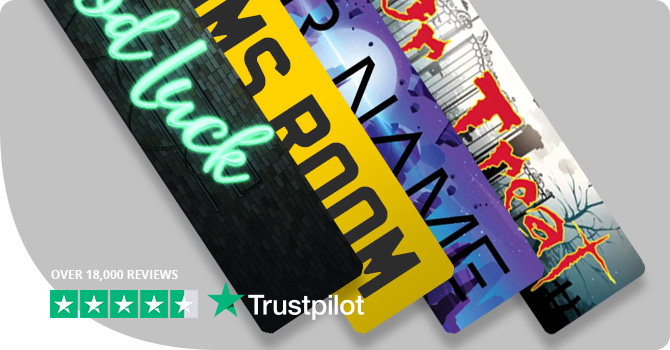 Can I buy name plates for cars?
In short, no. Name number plates or funny licence plates can not be displayed on vehicles that are being driven on UK roads. Registrations are an identifier for all vehicles that travel in and around the UK. ANPR cameras recognise registrations that pass them throughout the day and without them, there are a host of crimes that could be committed with car 'undercover'. Fake plates could act as a way for individuals to hide the true identification of their vehicle.
For the purposes of an event or a photoshoot, a vehicle owner may wish to display car name plate. Such plates like 'FERRARI' or 'ALFA' can be displayed in this kind of setting. For purely decorative purposes in an off-the-road setting. This type of plate may not display a registration of any form.
Why buy your fun number plates from us?
With our fake number plates, fancy number plates and decorative number plates, the possibilities are endless, whether you want help to create your personal design, or if you have an image you would like to send over to us we can work with that too. Use our number plate builder for fun, to design a joke plate or novelty plate today!
Many colours & fonts available, coloured backgrounds, images uploaded on all of our fancy plates.
Please call and let us know what you want if you can't design what you need on our Plate Builder.
Go on have a laugh and we'll make whatever fun number plates you desire!
Remember a Novelty Show Plate is no affiliated to the DVLA. Novelty plates are not registration numbers to display on your vehicle!
Prices starting from just £10.99
If you're looking for something a little more serious for your vehicle, check out our cherished plates.
We can manufacture pretty much any design you could wish to display in your window, bedroom, garage or anywhere else you may wish. Even perhaps a number plates for lorry windows? All of our number plate shapes double up as perfect guide from your signage needs. Here's an example of what we can do!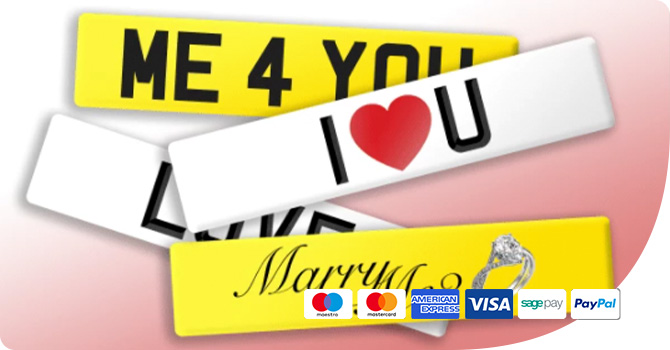 What kind of fun number plates can I buy online?
We do our very best to fulfil every request that is sent our way for novelty license plates and fun plates. Maybe you are looking for a number plate for a mobility scooter, or a funny number plates to gift someone for their birthday. We ensure that we will do everything in our power to put your thoughts into production on any item, including our novelty personalised number plates.
As novelty number plates can't legally be assign to vehicles, it is probably worth noting how to spot fake number plates. If you look on our private number plate pages, you will find insight on legal UK registration plate formats. Anything that doesn't fit in to these combinations will be an illegal or 'fake' plate.
If you are to use your fun number plates in the right way, then we are more than happy to manufacture them for you. It is also worth noting that you are responsible and liable for the way in which you use your fun registration plates. It is out of our control where you choose to display it, and we will be unable to take any responsibility for repercussions of misuse.