Private Number Plates
We have everything you need to find you your perfect private reg!
Are you wondering how to get private number plate or thinking of buying a private plate? If you're reading this, then the answer is probably yes! Whether it's for your own use or as a gift for a loved one, a private number plate is a way to make any vehicle it's assigned to stand out from the crowd while adding somewhat of a personal touch to it. Fortunately, we have a wide range of personalised registrations and private regs available in a number of different formats and combinations of characters. 
Of course, every vehicle has its own registration plates upon manufacture, but these plates often hold little to no significance to the vehicle's owner, nor does it hold any form of financial value. This is one of many reasons why people come to us on a regular basis looking for personalised registrations, and why so many people have private car number plates. With more than 50,000,000 different private plates to choose from, there's something for everyone in our database; if you've come to our website today looking for private plates for sale, we're confident you'll be able to find the perfect private reg for you.
Different Types of Private Registrations
There are five types of private registration plates available to buy, some with formats dating back to the early 1900's! Read on to find out more.
Cherished (dateless) – Dateless format registrations first appeared in 1903, and were assigned to new vehicles until 1963. Typically, the format of these registrations started with one, two or three characters, which were regional identifiers, which was followed by one, two, three or four digits. This layout was reversed in order to extend the lifespan of the dateless format. 
Suffix – Suffix registrations appeared in 1963, following the discontinuation of the dateless format. Suffix style reg plates consist of three characters followed by a space, and then one, two or three digits, and then finally a character. For example, XYZ 321A is a suffix registration, with the final character being the age identifier. Any plate with 'A' as the final letter first appeared in 1963, with Y being the last letter used in 1982.
Prefix – Prefix registrations were introduced in 1983 and ran until 2001. In the case of prefix registration plates, the age identifier letter came first, followed by three numbers, a space and three letters. For example, A123 XYZ would be a prefix style registration, which could have first appeared in 1983. Similarly to suffix plates, the letter Y was the final one used in this type of registration in 2001. 
Irish – First issued in 1903, Northern Irish registrations always contain a 'Z' or 'I', or sometimes both. Just like cherished registrations, Northern Irish plates do not have a specific year associated with them, which means they can be assigned to any age of vehicle.
Current – In 2001, the prefix style was replaced by the current system we have in place today! In this format, there are two letters, which are regional identifiers, two numbers, which symbol the year the car was registered, followed by a space and then three randomly assigned letters. For example, a car which had the registration YD53 KMX would have been registered in Leeds, Yorkshire between September 2003 and February 2004. In relation to the age identifier, there are two released per year. September 2001 saw '51' used, with March 2002 seeing the first '02' plate, followed by a 52 in September 2002, and so on. In 2021, the registration identifiers are 21 and 71.
Here at Number 1 Plates, we have a wide variety of private number plates for sale, spanning all different formats of number plates. Why not search for your perfect personal plate today?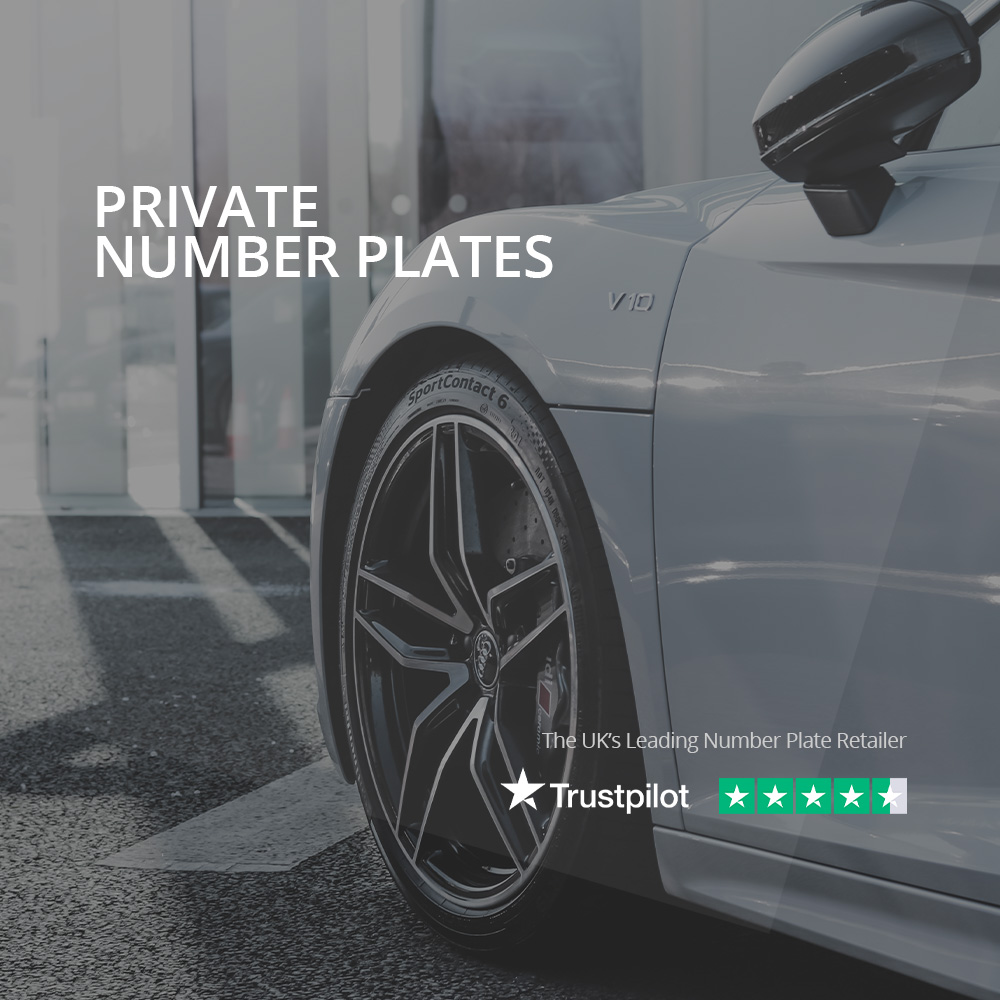 Are private number plates good investments?
Private number plates make excellent investments over time, especially if they're particularly rare. Many people have made considerable sums of money through the buying and selling of private registrations, one of whom is none other than Bradford businessman Afzal Kahn, who famously owns the 'F 1' plate. Originally owned by Essex Council, Khan purchased the plate from them for around £350,000. It was reported back in 2018 that Kahn was prepared to sell this desirable plate for a whopping £14m, but most recently it was listed for nearly two and a half times this, and that's before VAT and fees! 
Although it's unlikely that most people would see this sort of return on investment, number plates can still make a tidy investment, particularly as it's incredibly rare that your private number plates would reduce in value.
How much are private plates?
The prices of private reg plates really vary, and ultimately it all depends on various factors such as the age and rarity of the plate, the popularity of the name or initials represented by the plate, the desirability of the numbers, and how much similar plates have sold for both recently and historically. We're sure there's something to suit every budget, but typically the cheapest private number plates starts at a minimum of £250, so you can have a cheap private reg for very little in reality. However, private registrations can end up costing tens of thousands of pounds for the most desirable formats and character combinations. 
Private number plates need not be overly expensive, and we'll always work with you to find you the perfect plate within your specified budget. So, whether it's a cheap private plate or a long term investment, if you're looking to buy private plates, then you can trust us to provide great service, helpful advice and offer great prices too!
Important things to know when buying private registrations
The first thing to note is that you can't use a private plate to make a car appear younger than it is. For example, you would not be able to assign the registration AB13 XYZ, a plate released in 2013, to a car registered in 2005. 
Secondly, if you're assigning a private registration to a vehicle, it must have a current MOT and valid Road Tax (or be declared with a SORN).
Finally, you should not alter private registrations in order to try and make them 'more bespoke'. For example, the registration J4 MES should not appear as J4MES to make it spell 'James'. Likewise, P1 PPA should not be displayed as P1PPA to make it read 'Pippa'. This is classed as an illegal alteration to your number plates, and there is a strong likelihood that it will attract the attention of local law enforcement. This will also result in an MOT failure.
What happens when you buy a private number plate?
When you buy a private number registration, you own the entitlement to it. You then have two options. Your first option is to assign it to a vehicle and then get number plates made up. Your second option is to keep the registration on retention, to be assigned at a later date, either by yourself or the nominee.
What to do when you get a private number plate…
If you've been bought a private registration as a gift and you're wondering what to do next, then you need to assign your plates to the vehicle you want the registration to appear on! If you're not sure on how to do this, then we can help you through it. Just get in touch with us and we'll be happy to offer you the option of our "Done For You" service – all we'll need is your V5C (log book) and the V750.
Of course, when you're assigning your registration, you'll need to ensure that you have your private plates made to go on the car or vehicle. Fortunately, we can help you with this with the aid of our private number plate maker. Our Plate Builder tool allows you to create your own private plate design using the new personalised registration you've just bought! On our private plate maker, you'll find hundreds of different options available to choose from, including standard sized plates, model specific shapes, hex and diamond plates, as well as different text options such as 3D Gel and 4D Matte variants. This will allow you to get you private plates printed or made to your exact specifications. So, once you've purchased a private registration from us, give our private plate creator a go and create your own number plates which perfectly fit on your car, van or motorcycle!