Range Rover & Land Rover Number Plates Builder
Range Rover Registration Plates & Number Plates Builder
Build Your Bespoke Number Plates
What are Range Rover Number Plates?
Range Rover number plates, along with other larger cars and SUVs, are shaped number plates that fit the large recess at the rear of your vehicle. This means that we have had to create custom shaped number plates for your Range Rover that fit the contours of the rear. The Range Rover number plate size varies depending on the model you have, with the standard Range Rover, Sport, Evoque and Velar all differing slightly.  The standard Range Rover rear number plate size is 540mm x 160mm for models between 2002 and 2013, and 658mm x 169mm for those between 2013 and 2021.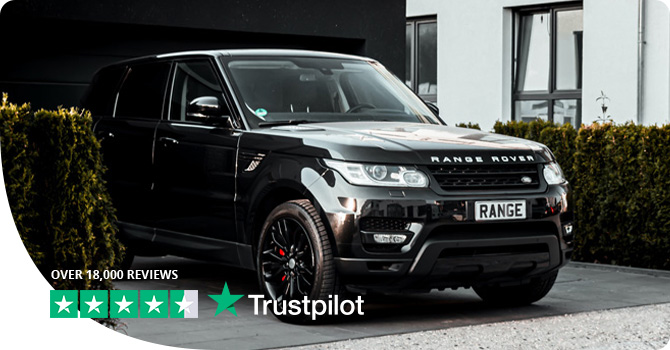 The front number plate will remain a standard UK car shape. The change in shape doesn't mean that you are restricted in the design of your bespoke plates though, you can still add badges, borders and other texts styles to your Range Rover number plates order!
Whether you need a Range Rover rear number plate or a front and rear set, Number1Plates is the number one choice!
Why buy your Range Rover Number Plates from us?
If you drive one of these luxurious cars then it is important to make sure that your are making the most of your registration plates. Our Range Rover plates are laser cut to ensure a perfect finish is guaranteed every time. Great plates to match your amazing car.
Custom and replacement plates for your off-roader. Our Land Rover number plates and Range Rover number plates are ideal for owners looking to replace existing number plates or add their own DVLA personalised registration to their 4×4.
Our plate builder proves particularly popular with customers looking to convert their private DVLA registrations to larger Land Rover or Range Rover style plates. For regular off-road enthusiasts, we also specialise in incredibly fast turn-around times – ideal for quickly replacing plates cracked during 4×4 activities.
We can additionally provide novelty plates in Land Rover/ Range Rover specific sizes for show/dealership models. Please use our plate builder or contact us to find out about single and bulk orders.
As with all of our number plates, any orders placed before 1pm are dispatched on the very same day, so get in touch with Number 1 Plates today if you are looking to buy Land Rover number plates.
Range Rover Sport Number Plates
If you're looking for a Range Rover Sport plate, you're in luck! We know that with the different specifications of Range Rover Sport's available, there are also different needs when it comes to number plates for Range Rover Sport's. Generally, the Range Rover Sport number plate size for the rear of vehicles made between 2014 and 2020 is 6277mm x 172mm. However, older models have slightly different sizes. For example, a 2005-2013 split tailgate Range Rover Sport would require a plate which measures 624mm x 174mm, whereas a non-split tailgate version would need a rear number plate which measures 582mm x 176mm. You can use our Plate Builder to select the option you require, but if you can't find what you're looking for, then just drop us an email with your requirements and one of our team will be able to help you.
Range Rover Evoque Number Plates
The Range Rover Evoque is Land Rover's more affordable luxury SUV and as such it's one of the most popular on the road.  We are often asked about the Range Rover Evoque rear number plate size, as some find it difficult to replace them if they need replacing. The Range Rover Evoque number plate size for the rear of the vehicle is 574mm x 175mm if you have a model built between 2011 and 2018. If you're in need of Evoque number plates, then we've got you covered! Head over to our Plate Builder to make yours, or email us if you need something more bespoke!
Land Rover Discovery Sport Number Plates
Billed as the heir apparent to the old Defender, the Discovery and Discovery Sport are incredibly popular Land Rover models. Similarly to their Range Rover siblings though, they do have slightly different shaped number plates. The Discovery Sport number plate size is 542mm x 158mm for models manufactured between 2015 and 2019. The rear plate for Discovery models from between 2009 and 2016 measures 402mm x 220mm, and the 2018-19 model requires a rear plate which is 605mm x 161mm.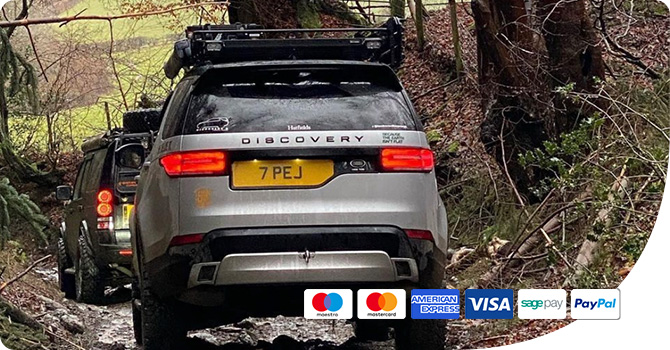 What's new from Number 1 Plates?
As always we are looking to revamp our product listings and give you even more options to choose from for your Range Rover registration plates. With prices starting at just £18.98, we have updated our model specific plates for these vehicles. The vehicle manufacturing industry is always moving forward, and we have to keep up. That's why we are proud to say we are the only number plate manufacture company to laser cut their own bespoke shapes and sizes.