Ferrari Number Plates
Bespoke custom and replacement Ferrari number plates.
Ferrari is a world famous supercar manufacturer, originally founded in 1939 by Enzo Ferrari, from Alfa Romeo's racing division.  The first Ferrari car, the 125 S, was built in 1947, and revealed at the Piacenza racing circuit, in the Emilia-Romagna region of northern Italy.
The Ferrari name is synonymous with two key elements –  the Rosso Corsa colour, which translates to 'racing red', and Formula One. With 16 World Constructors Championships and 15 Driver's World Championships, the Scuderia are the most successful Formula One team of all time. 
Back on the public roads though, Ferrari has an impressive offering of high-powered supercars, ranging from the 812 Superfast, through the F8 Tributo to the Portofino and beyond to special edition cars such as the Monza SP1 and SP2. However, these cars come at a price, with a £263,000 starting price for the 812, and a price of more than £2m for the limited edition Monza SP1 and SP2, of which only 500 were made.
Naturally, Ferrari's are incredibly popular with the rich and famous. David Beckham, Gordon Ramsay, Simon Cowell, and even Mercedes F1 driver Lewis Hamilton all have Ferrari's parked on their driveways!
Do you need specific Ferrari number plates?
In short, no, you do not need a special type of plate for your Ferrari. Ferrari number plates are of standard UK size. If you have a short registration then you'll be able to order one of our short number plates to ensure that the beautiful aesthetic of your Ferrari remains uncompromised.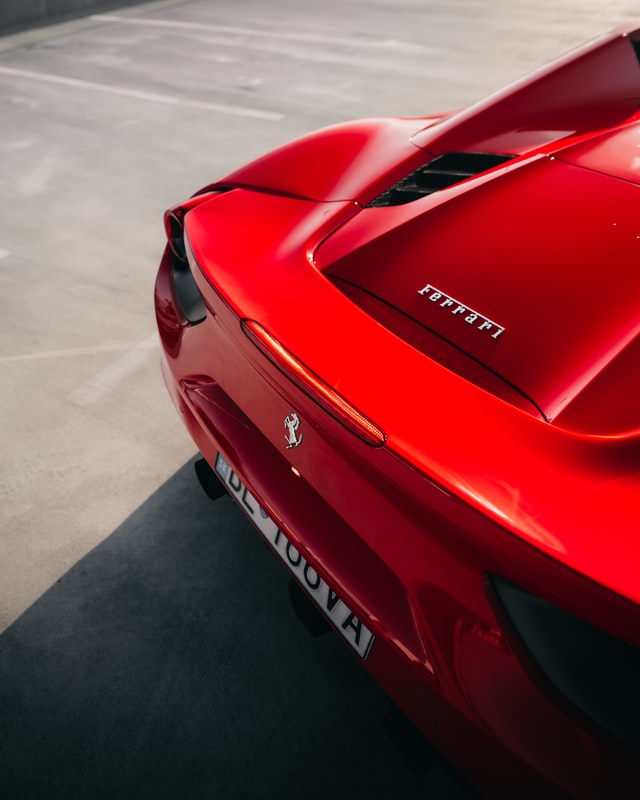 Custom Ferrari number plates.
Despite not needing specific Ferrari number plates for your Italian stallion, it's still possible to get custom sized Ferrari plates for specific models. For example, for a Ferrari California (2008-14), we can produce a bespoke 648mm x 138mm rear plate, or for a Portofino (2018-21), we can produce a custom 519mm x 119mm rear plate. All of our Ferrari plates are made of the highest quality premium acrylic to ensure that it blends with the expert craftsmanship of the car itself.  If you'd like a custom size plate for your Ferrari, then get in touch with one of our friendly, helpful team who will be happy to find the perfect product for you.
Registration plates for Ferraris.
If you're looking for a new Ferrari registration plate for your pride and joy, you may want to consider more premium materials such as aluminium or pressed aluminium to ensure that your Ferrari number plate matches the quality and craftsmanship of the car itself! 
To make your perfect Ferrari registration plate, then check out our quick and simple number plate builder.